Why the cloud best delivers customer- and industry-specific innovation
White Paper
Why the cloud best delivers customer- and industry-specific innovation
In the early wake of a global pandemic, organizations are quickly restructuring to reduce overhead expenditures and risk while rapidly innovating to meet demands of their customers and employees. The pressures of EBITDA, rapid innovation, supply chain disruption, regulatory compliance, and new business models are driving technology buyers to consider ditching on-premises software for cloud deployments. Ray Wang from Constellation Research shares tangible business considerations for migrating ERP deployments to the cloud in a volatile market, such as:
Acceleration and scalability of innovation cycles
Flexibility in licensing and deployment models
Ownership and impact of regulatory and legal compliance
Industry-specific, out-of-box functionality, and services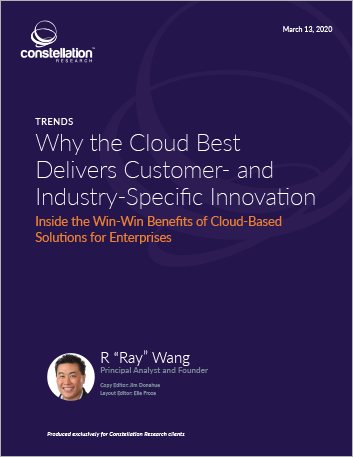 Please complete the form below
Fields with * are required.
Let's Connect
Contact us and we'll have a Business Development Representative contact you within 24 business hours
By clicking "Submit" you agree that Infor will process your personal data provided in the above form for communicating with you as our potential or actual customer or a client as described in our Privacy Policy.