3 things how to stay relevant with Enterprise software solutions
februari 27, 2020
Av Håkan Strömbeck
"One must be frank to be relevant!" - Corazon Aquino
I have earlier explained the risks with long time periods between ERP upgrades but also how you can future proof your business but just doing one more upgrade.
In this blog post I will describe what we at Infor are doing and how we can resolve both the things mentioned above.
As pointed out earlier, a multi-tenant ERP will in reality mean that you move away from low frequency upgrades of new functionality and technology supporting the needed changes in a fast-moving business environment. Multi tenancy lets you move away from upgrades to a world of conscious improvements delivered as a service.
This might sound easy but there are a few things one needs to be aware of to be successful moving the ERP to the cloud, things that we at Infor are supporting in a good way.
1. A relevant solution
A move to the cloud will mean more than just a new delivery model. Suddenly you have a foundation to work with as a standardisation agenda. From the minute you have access to your environment or, tenant, as we say it will not just be access to the software or the toolbox in other words. At Infor we are focusing on industry verticals and if your tenant will be an industry specific cloudsuite it will be pre-defined with best practices processes just for your industry vertical or micro-vertical within the industry. I.e. is there a difference for the supporting processes for a brewery and a bakery even if the both are in the "Food and Beverage Industry". The processes for industry will be in place, but not just that. There will be predefined industry specific KPIs and dashboards to mention another example. This doesn't mean that you can't configure in order for you to be able to do that but you will not start with an empty sheet but with the knowledge that we at Infor have gained about your industry throughout decades. And guess what, this will of course make your project - your last upgrade! - faster and more predictable.
2. True multi-tenant
To be honest, multi-tenant is a way to deliver, however the important thing is what benefits you can gain from using it. We at Infor deliver an upgrade every month. That means that you will have improvements, new features, and better functionality enriching your solution every month, but that is not the only thing. You don't need to test it. Once it is available for you it is already tested. We have tested it every day throughout a period since the last upgrade. We are also taking full responsibility ensuring that all integrations in between Infor solutions are tested and are working.
When we say multi-tenant we also mean one version of the code. This means that in reality that there are no differences in the good no matter if we are in development or in production however release toggles and feature toggles are decisions which are accessible for the customer or not (release toggle) or if the customer has activated the feature or not (feature toggle).
3. Extensibility
Since we know that we never to a 100% will support your specific business needs we at Infor need to provide functions and capabilities so that you in an efficient way can create and maintain extensions. Our philosophy is to make our industry cloudsuites as rich with industry functionality as possible so our customers don't need to do extensions for things that you should expect in an industry solution. Instead that time could be invested in things that are creating pure competitive value and in other words creating innovation by standardisation. When doing these extensions Infor as a vendor must make sure not just to deliver the capabilities to do so but also have the way of working so we can guarantee that the extensions are working when we are doing our continuous upgrades. That is our commitment, and a great one.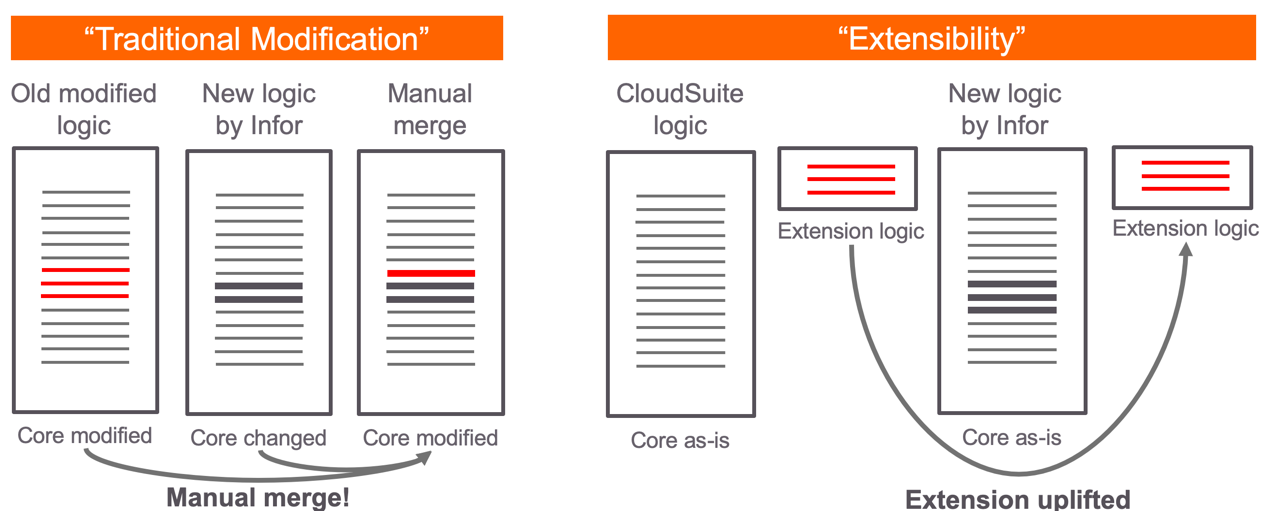 Prepare for the future already today
To be competitive today as well as in the future is, besides a great business idea/product/solution/service, a question how fast a company can act and react on changes in business conditions. One way to increase the capability needed is to base the company on a business solution that gives access to new functionality and leverages new technology through continuous deliveries, with deep industry functionality so that you as a business can focus on the things that create true business value with tools that will extend and work together with your backbone. We at Infor see that as our mission, to help companies become future secured to meet and excel all future challenges.
Arkiverat under
Cloud
ERP
Technology
Trends