How continuous upgrades of your ERP will future proof your business
januari 9, 2020
Av Håkan Strömbeck
"They must often change, who would be constant in happiness or wisdom."
― Confucius

In my previous blog, "To improve is to change" - so why do you upgrade your ERP that seldom?, I wrote about the low frequency companies in general have between their upgrades of their ERP systems and what impact that could have in a fast-moving business environment. This time I will focus on ways to avoid that situation.
A change or an upgrade of an ERP might be question of a one-to-one conversion or a wider scope where new business requirements, process improvements, changes in steering model and other things are taken into the scope.
Far too often we can notice that upgrades often mean just a technical upgrade to a new version and this is due to a number of different reasons like resources, time, complexity and other types of constraints creating project fatigue. In reality this means that a major number of companies try to keep the upgrades to a minimum leaving out business improvements and the possibility to fully leverage technical leaps and new functionality. In other words, it is not just the low upgrade frequency that is the problem but also the upgrade itself.
So, what is the recipe to avoid this situation? Well there is a simple answer - stop doing upgrades! Now you might think that I have completely lost it, and yes, I am not 100 % honest, you need to do one more upgrade. It is time to move to the cloud!
The best way to avoid cumbersome expensive upgrade sessions is to move your ERP to the cloud. And not just the cloud, but to a multi-tenant environment.
A single-tenant, private cloud solution is in reality an on-premise solution hosted by someone else. You might still have the challenges with major modifications of the source code which will lead to more complex upgrades of your single tenant and that will eventually mean that you don't have the energy to do the upgrades at the expected pace but leaving out every second upgrade or just doing every third or fourth. Suddenly you have the same problems as in your on-premise solution.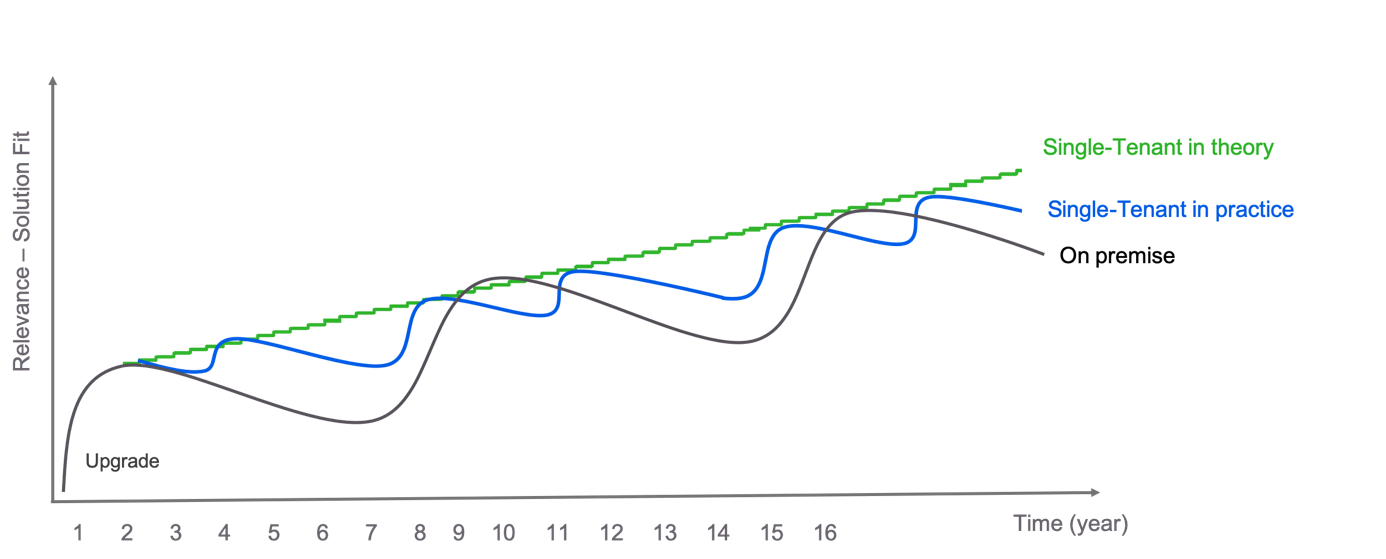 In the same way as the on-premise solution the single-tenant will loose relevance in between the upgrades. Maybe not with the same pattern but still it will not be "up to speed" at every single moment in time.
With a multi-tenant solution your upgrades will take place more or less as a continuous flow with monthly or quarterly upgrades as the most common patterns. In other words, your solution will always have the latest features, embrace new technologies and also free up time and resources in your organisation. The resources that were required for upgrades could now be focused on business improvements and innovations creating true differentiation and business value.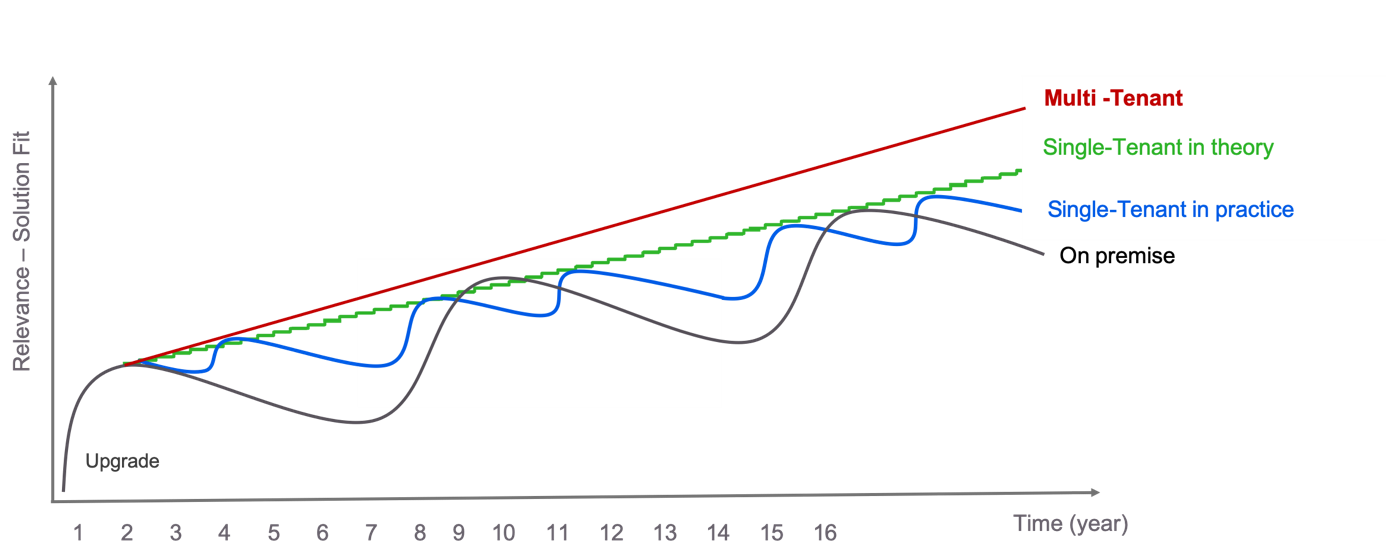 The time has come to future proof your business by moving your ERP to a true multi-tenant cloud environment. It is not any longer a question about if, but more to decide when.
In my next blog post I will describe how we at Infor work with ERP in the cloud and how we can increase innovation by standardisation. Stay tuned!
Arkiverat under
Cloud
ERP
Technology
Trends