Infor supports ActionAid as part of Inspire Online, April 21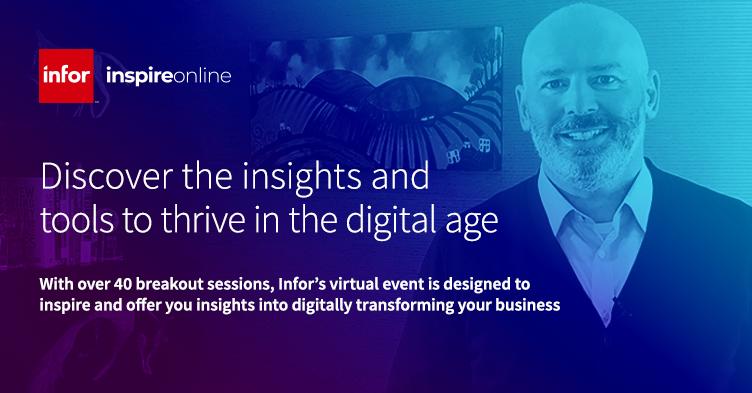 Infor Inspire Online, set for April 21, will provide a chance to virtually connect with hundreds of industry peers and technology experts—without leaving your home or office. The event will also spotlight a worthy charitable organization with world-wide connections, doing work in countries where meaningful change is desperately needed. You can support their far-reaching efforts by listening to their stories, sharing awareness, and donating.
The customer viewpoint
The organization is ActionAid, an Infor customer and women's empowerment group with a presence in 40 countries. Their customer case study will share tips and insights derived from a recent deployment of Infor solutions to manage their company finances, procurement to payment. In a video about the project, Jason Hier, Global Financial System (GFS) project manager, ActionAid, shared facts about the roll-out:
53.77% of the Federation Incomes transacts though Global Financial System
Current users: 170. Eventually, there will be 243 users.
Planned requisition users: over 500
Solution includes SunSystems 6.3, IDM, Ming.le and Business Intelligence
Engaging youth in climate change: In Ghana, Action Aid helped a youth group create music videos with messages about the impact of climate change on Africa, encouraging others to get involved to counteract the damage.
Making the workplace safer for women and girls: 28 countries banded together with trade unions, civil groups, and feminist organizations to call for the end of gender-based harassment and violence against women and girls and promote adoption of international laws to protect the safety of women and children. The ILO Convention 190 was adopted, and ActionAid is now calling on governments to ratify the treaty and make the world of work safer for women and girls across the world.
Helping women gain economic security: In India, a country with very few women taxi drivers, Action Aid helped 70 women to be trained and licensed to drive a taxi, thereby giving them economic freedom they otherwise couldn't access.
The charity side of the story
ActionAid is an international not-for-profit that works with women and girls living in poverty. ActionAid has three main areas of work; ending violence against women and girls, supporting women's economic empowerment and helping women to emerge as leaders during humanitarian or climate change crises. They currently have active programs in 40 countries.
Some examples of work in 2019 includes:
Rebecca Rawle, Head of Private Sector Partnerships at ActionAid UK, and her team work with the private sector to address all three core areas of work, but they principally focus on two areas where business interests and expertise meet ActionAid's experience and need. These are 1) achieving gender equality and workers rights in global supply chains and, 2) putting gender justice at the heart of any climate change response. Both interventions are vital to untap the potential of women and to create sustainable change which will positively impact whole communities and countries.
Anne Corbin, Infor VP and Chief Customer Officer, International, is a passionate supporter of ActionAid. As a native of eSwatini (Swaziland) and a world traveler, Anne says she has witnessed many examples of violence against women and examples of poverty-stricken women with few resources or support mechanisms in place. "I have seen more than I would like to admit, but it's the images of women and children struggling for safe living conditions, food, and homes that I always notice when I travel," she says. "And, those images stick with you, long after you have returned home."
Anne describes scenes in Mozambique she witnessed. "It was tragic to see and meet women who were so desperate to find jobs—and keep them. The resistance to women working is still great in some countries. It takes a brave woman to stand up to family members, city officials, and company owners and confidently tell them you can do the job."
She adds that while a lot has changed globally in recent years, gender inequality is still prevalent in the world. Together we can make inroads and start to enact change, though, she urges.
"Action Aid brings my two worlds together – personally and professionally. They relentlessly fight for women's rights, social justice, and causes that adversely impact that most vulnerable. I am happy to help the organization gain awareness and supporters," she says.
Learn more about ActionAid's mission here and the customer case study here.
Register for Infor Inspire Online here.