"To improve is to change" - so why do you upgrade your ERP that seldom?
december 19, 2019
Av Håkan Strömbeck
"To improve is to change; to be perfect is to change often."
― Winston S. Churchill
How many times haven't we heard that "things are moving faster than ever before but will never change this slow again". And how many people have left seminars about disrupters thinking about how they can change their own company and becoming a disrupter…
Well, I will tell you something – most companies out there will not be disrupters – that is the way it is. It is not because you are all bad, with too low ambitions, or the wrong set of skills or because you don't have the guts or whatever other reason there might be.
One main reason for not being a disrupter is just because it is much easier for a newly started company to disrupt just because the lack of legacy. The lack of legacy in culture, in processes, in systems, in mind set, in brand and so on. If you start from a blank paper, you don't need to consider existing structures. There is a saying that it is easier to build a new house compared to rebuilding an old one - and the same goes for established companies and their potential to be disrupters.
So, if one considers that we have a fast-changing business environment that will most likely mean an increasing need for changing our business model, steering mechanism, go to market model, offerings, competition from disrupters and several other things. And guess what all of that will in one way or another lead back to? The core systems in your organization - the ERPs, the CRMs, CPQs and so on.
Taking all of that into account how come that we still are upgrading our ERPs in general with an interval of 6-9 years?
If we let's say put ourselves in the middle of that range, 7.5 years, we are at the beginning of 2012! Could you recall what was new at that point?
iPhone 4S was the latest model of iPhones running on iOS 5.0. We were still running Windows 7 and the user penetration of smartphones in Europe was around 15% (compared to approximately 70% today). Tinder was not launched at that time and Loreen won the Eurovision Song Contest with Euphoria.
In other words, quite a few things have happened since then. I.e. iPhone has had 13(!) hardware upgrades since then, not including the launch and upgrades of the + and Max series. And iOS has had 8 generation shifts since then with a number of upgrades on all generations.
But there are not just technical changes that we have seen during that time. Also new business models and companies have seen the sun rising.
In 2012 the Swedish company Klarna (founded 2005) launched Klarna Checkout- an end to end solution for e-commerce today where they are providing payment solutions for 60 million consumers across 170,000 merchants in 17 countries.
Since 2012 the subscription services has increased at a high pace and according to trend analysis it will continue to skyrocket. Now you can buy nearly anything from trucks, chainsaws and toys for dogs…
The number of IoT sensors are around 8.7 B on a global basis and during the next coming year we are expected to pass 50 B sensors.
In other words, things are moving and they are moving faster then ever and yet we are upgrading our ERPs with an interval of 6-9 years…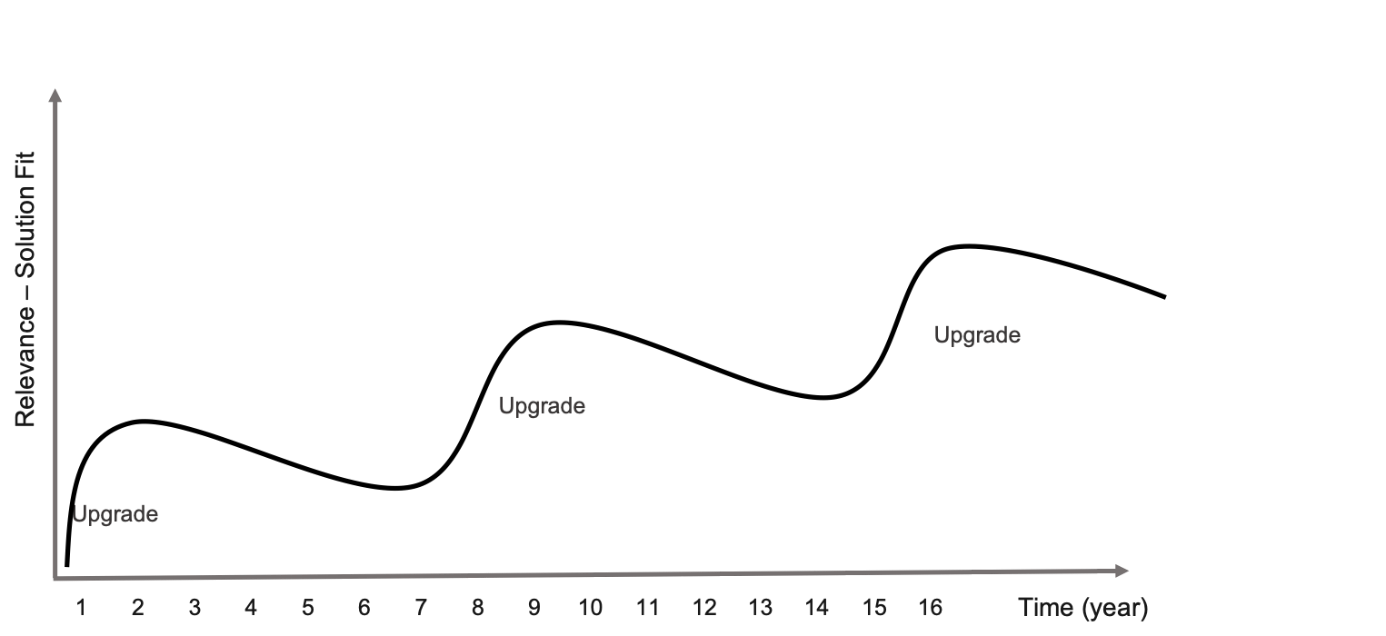 An upgrade or implementation is most relevant the time after the upgrade when the users have learned to use all new features and functionality that come with the new release and also is familiar with any new processes and ways of working that have been implemented at the same time as the upgrade. However not too long after the upgrade or implementation has been done solution relevance is declining. This could be based on a number of different things - the business environment, technology leaps, refocusing of the company's business model, M&As, etc.
And how do we deal with the new requirements and needs that occur? Just doing nothing is of course one way – that will most likely mean that we have end-users that are unsatisfied (to put it mildly), increased risk for complementary solutions with expensive "shadow-it" and new integrations as a possible scenario.
Or we can start to modify and change the existing version of the ERP to try to keep up with the needs which of course well means that will deviate from the original solution.
In both cases we will end up in a more complex situation when we are doing our next upgrade.
We can of course try to do the upgrades more frequently, so we are increasing the frequency in the curve above. This might be a bit cumbersome and expensive, however.
Most companies are stuck in a situation with an old way of upgrading and governing their ERP and at the same time the need for changes is bigger than ever – a catch 22?
Stay tuned in my next blog post where I will point out the way forward.
Arkiverat under
Cloud
ERP
Technology
Trends