October 14, 2020
This National Hispanic Heritage Month in the United States, Infor developed a Q&A series to learn more about our Hispanic and Latinx colleagues and how their cultural backgrounds influence their work at Infor. For our final piece, we are featuring Talita Silva Braga, who shares how family, relationships, and community inspire everyday life.
Infor is also excited to launch our newest employee network—Somos Infor—to coincide with this year's month-long observance of the independence days of 8 Latin American countries.
About Somos Infor
Somos Infor, which means We are Infor, is a global employee network (EN) that supports our Hispanic and Latinx population through community, knowledge sharing, and employee engagement. The name Somos Infor reflects unity and inclusion regardless of culture, country, language, or background.
We are excited to welcome all Infor employees across the globe to learn more about the EN's mission and get involved in planning and supporting future programming.
Meet Talita Silva Braga
Talita is based in Sao Paulo, Brazil, and is controller for Brazil and Venezuela in Infor Finance.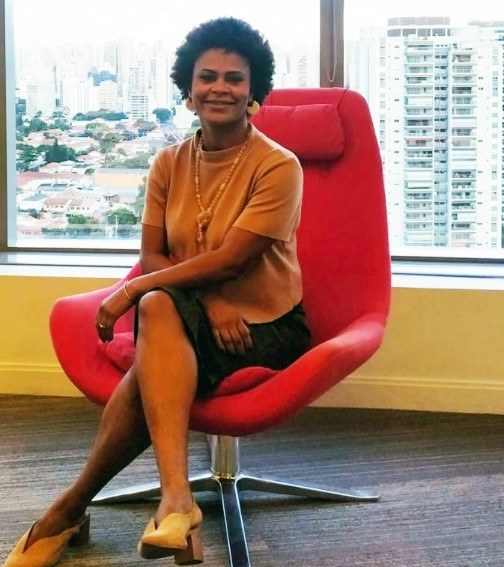 "A jornada do auto conhecimento é uma ferramenta essencial no processo pela busca da auto realização do ser humano, é o que nos permite reconhecer cada etapa da vida e seus significados.
A espiritualidade nos contempla com o equilíbrio que buscamos, seja ela da forma que se apresentar. E esta é a base das minhas relações interpessoais."
— Talita Silva Braga
Translation: "The journey of self-knowledge is an essential tool in the process of seeking human self-realization, which allows us to recognize each stage of life and its meanings.
Spirituality contemplates us with the balance we seek, be it in the form that it presents itself.
That is the base of my interpersonal relationships."
— Talita Silva Braga
Tell us about your role at Infor
I am the Controller of Brazil and Venezuela and have been with the Infor Finance team for 7 years. As a business partner, my goal is to serve other areas of the business and, as a team, help Infor achieve its goals.
I believe in the value of each human being and their contribution, that all of us can add value to any relationship. Therefore, it's important to foster a constructive and safe environment to unlock people´s potential and encourage their continuing development, which also includes focusing on mental health well-being. COVID-19 and its work-from-home challenges has put a spotlight on the importance of physical and mental well-being. Addressing both in our daily routines is essential in keeping the team focused and able to meet our objectives. Through our collaborative relationships, each team member's individuality, and the way in which their talents intersect, we are able to deliver positive results, both personally and professionally.
On a personal note, I am married, I have two dogs, and I am passionate about sports. Running helps keep my mind clear and sharp. I am enthusiastic about reading and like to study, seeking new ways of doing things, which helps me to broaden my horizons. My first language is Portuguese, and I am also a Spanish and English speaker.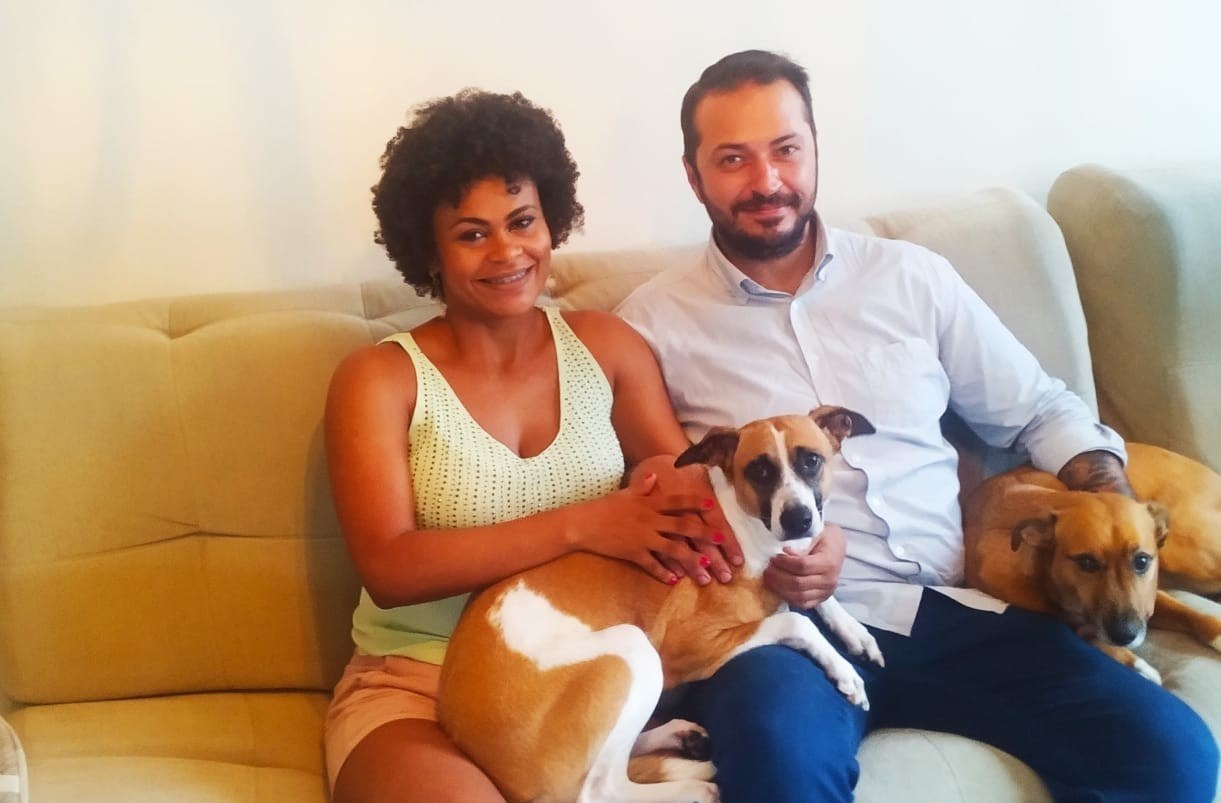 Talita with her husband and two dogs
How has your cultural identity shaped your perspective?
I believe what you think and do everyday shapes who you are and what drives you to evolve and achieve success in life, in whatever area you want to focus on.
From my perspective, family is the first example of leadership. Family comes in all shapes and sizes, and whatever your family looks like for you, they are an important support channel to help you accomplish your goals. In my case, my family is definitely where my inspiration comes from, where I learned integrity and the importance of ethics, to be a respectful person. Additionally, the environment in which you grew up or even live in now is also a major factor in helping you see the challenges in front of you, your strengths and weaknesses. What makes a real difference, is how quickly you adapt and learn, creating discipline and executing the plan.
Having worked in different industries from different countries has enabled me to have a broader perspective, and my exchange program abroad in England provided me the flexibility to adapt to new environments.
Which cultural traditions/customs are most meaningful to you?
One of my traditions is to skip 7 waves as a New Year resolution, making a wish for each one and giving thanks for the past year. As a "bon vivant" I like getting together with friends and I am always looking for ways to celebrate life.
I am very attached to my family, and to be with them is my favorite free-time activity. I love to go to the beach and do outdoor activities, being in touch with nature is something that brings me pleasure and energizes me. Lastly, I could not forget that to drink a Brazilian coffee to welcome a new day is a must.
Why are employee networks important and how do you plan to contribute to Somos Infor?
I joined ​​Somos Infor, our newest employee network, to support the Hispanic and Latina/Latino/Latinx community across the company. It's really exciting to see a way of creating more connections, highlighting the contributions that each of us provides from our experiences, and how our challenges in many different ways help us to collaborate with each other.
In addition to Somos Infor, I am a facilitator for the Women's Infor Network (WIN) employee network in Brazil and a committee member of Black at Infor (BAI). These employee networks have allowed me to actively support and participate in programs within my company which I am passionate about, and that is fantastic! I feel fulfilled to collaborate on these important efforts.
Open to all employees, Infor's ENs empower employees to encourage them to be the protagonist of their lives and develop leadership skills. In my view, the support from other members and across the company is fundamental in the development of our employees, which is what enabled me to grow professionally and to be the first woman to lead the finance department in Brazil. I am very thankful for this support. I hope to see more companies committing to creating and enabling new opportunities for women.
I truly believe that actively working to create a business ecosystem that supports and increase opportunities in a safe and respectful environment helps to develop new skills and enable women and underrepresented groups to progress in their professional life, sharing knowledge and failures is indispensable.
I think companies that are committed to corporate social responsibility, are companies with a purpose that will succeed across decades. We have been going through difficult times, which demonstrate how much we still need to evolve as human beings to cooperate to build a truly united and happy society, but I am hopeful that day will come. The more we talk about inclusion & diversity initiatives, the more they become natural and a better world will shine in front of us.