June 17, 2022By Joerg Schwarz
At the end of May, we met with AWS Healthcare leaders both in Washington, DC at the AWS Summit and in New York at our HQ. Our discussions focused on how we can provide better services for our clients in healthcare and life sciences. We share a common understanding of the importance of healthcare data interoperability not only for the delivery of care, but also for healthcare operations and research.
I'm excited to share that Dr. Shafiq Rab, Chief Digital Officer, System CIO, and Executive VP at Tufts Medicine, was a featured keynote speaker at the AWS Summit, where he talked about Tufts' incredible journey to migrate its EPIC installation to the AWS cloud without a hitch. He also thanked Infor as a partner in this journey. Similar to how Jeremy Marut expressed it in our joined talk at HIMSS 2022, Infor Cloverleaf as EPIC's core interface engine was migrated to the cloud "in an afternoon." Cloverleaf now serves as the central nervous system that connects clinical applications with EPIC, and EPIC with Infor CloudSuite ERP to achieve modern data analytics for the combination of clinical data with operational data. Moving Cloverleaf to the AWS cloud was a major milestone in the migration process and essential to guarantying a smooth transition without service interruptions.
The AWS/Infor collaboration will go far beyond reliable and scalable day-to-day operations for healthcare delivery—the new frontier is clinical data analytics. Together with our partners at AWS, we are looking at ways to enable health data and analytics, population health, and even clinical trials.
In the next few weeks, you'll see several announcements about how our clinical interoperability capabilities deployed inside of AWS allow clinical data to be analyzed, in addition to API orchestration for flexible, modern workflows.
Speaking of modern data workflows. It was also exciting to meet federal and state agencies at the AWS Summit in Washington, D.C. Cloverleaf not only enables a compliant exchange of clinical data between state and federal agencies with private healthcare providers, but it also supports modern types of data integration for Social Determinants of Health (SoDH). Research published in the Canadian Medical Association Journal (CMAJ) has demonstrated conclusively the importance of SoDH for population health . A growing number of public health agencies are interested in integrating SoDH data with clinical data for improved whole person care.
Infor will participate in the CMS FHIR Connectathon from July 19–21. We are actively recruiting data trading partners for demonstrations and tests. With our tools such as FHIR Bridge, FHIR Server, and API Gateway we can capture traditional healthcare data and translate it in real time into HL7 FHIR, then persist it in the FHIR Server, and expose it through a secure API orchestration layer to utilize selected data in modern workflows that could also include patient generated data or SoDH data from other agencies.
I'm looking forward to implementing and showcasing innovative use cases for the next generation of public healthcare and Cures Act compliance at the event.
Written by: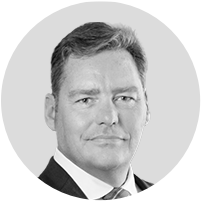 Joerg Schwarz, Infor Healthcare Interoperability Solution & Strategy Director