May 8, 2023By Paul Boatman Ph.D. | Sr. Director, Head of Science
Talent assessment tools come in a wide range of types and varieties. They also offer a wide range of promises; everything from increased performance, to decreased turnover, to improved team functioning, to identification of leadership talent, to time savings and simplicity. What if you could find everything you need in just one assessment?
The Talent Science assessment approach
Infor Talent Science utilizes such an assessment. Talent Science takes an innovative approach to understanding your applicant pool and your employees by helping you to identify the cognitive, behavioral and cultural preferences of your people in a comprehensive way. This means that separate assessments for each position in each organization are unnecessary. Instead, you can utilize one assessment for all applicants and employees and compare them to custom performance profiles.
In other words, the single-assessment approach works by measuring people on the same things. What differs for each position is how responses are scored. In each case, those characteristics which are most predictive of success of the job, are identified and used to create a custom performance profile. As you might imagine, different characteristics are important for different jobs, so performance profiles are unique to each position.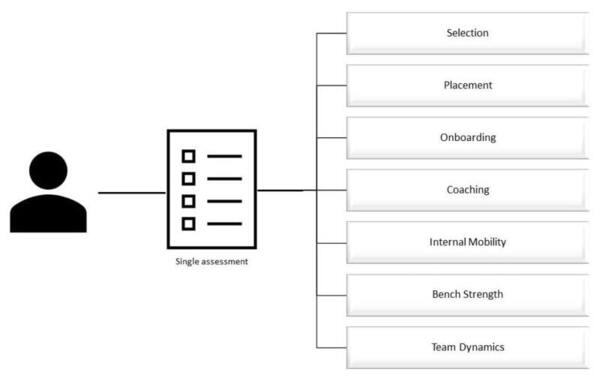 Single assessment benefits: Selection
If you think of custom profiles as scorecards, you can begin to see some of the benefits to using a single instrument. For example, any applicant or employee can be instantly compared to any profile which exists in an organization. This means time savings for all involved, streamlining the process internally as well as helping ensure each person lands in the best possible place.
These benefits are not limited to external candidates. By measuring employees once and comparing them to multiple profiles, you can help them identify their next career move within the organization, whether that be a lateral move to a different department or role or a promotion.
Single assessment benefits: Onboarding and Development
But selecting the best talent and placing them in the roles they are best suited for is just the beginning of the benefits organizations can realize from a single-assessment approach. Because the Talent Science assessment is designed to obtain a complete picture of individuals' work preferences and tendencies, the information gained from the assessment is valuable throughout their employment lifecycle. By not only helping people find roles that best align with their talents and interests but also helping them grow as individuals and teammates, Talent Science enables organizations to maximize the potential of their workforce.
This includes helping employees have a strong start after they join an organization or enter a new role. With Behavioral Onboarding, Talent Science enables organizations to help employees and their leaders understand employees' preferences, such as how they like to work, interact with others, and be led. This maximizes their chances of having a successful and rewarding first 90 days, which research has shown is critical for retention and time to productivity.
Beyond those critical first 90 days, the insights gained from the Talent Science assessment can be used to help employees grow and improve year-over-year. When comparing the behavioral preferences of people against the ideal preferences identified in the custom performance profile, almost nobody shows a perfect alignment. This is ok! In fact, it provides a great opportunity to use these identified gaps to equip people with the skills to adjust their behaviors to better align with the job. This can be done either proactively to maximize employees' opportunities for success or as a way to address performance issues.
Single assessment benefits: Team Alignment
In addition to helping employees maximize their effectiveness individually, the Talent Science assessment can be used to help teams function more effectively. Very few people work entirely independently. As workers partner with and rely on each other, their individual interests and preferences interact in ways that can either be mutually beneficial or a potential source of conflict. Once again, the insights gained from the single Talent Science assessment can be leveraged here to help team members understand and appreciate one another and identify how they can best work together.
As we have outlined, employees' behavioral preferences play an important role in maximizing their potential throughout their careers. It is an investment of both time and resources to ask candidates and employees to complete an assessment. Why not maximize the returns on that investment? With the Infor Talent Science single-assessment approach, you can apply what you learn about people not just to placing them in the best role but also to helping them be more successful employees and team members.
Learn more about Infor Talent Science