Sweden-September 30, 2021, 06:00 PM
Infor project manager and her blind teammate ride beyond their paracycling goals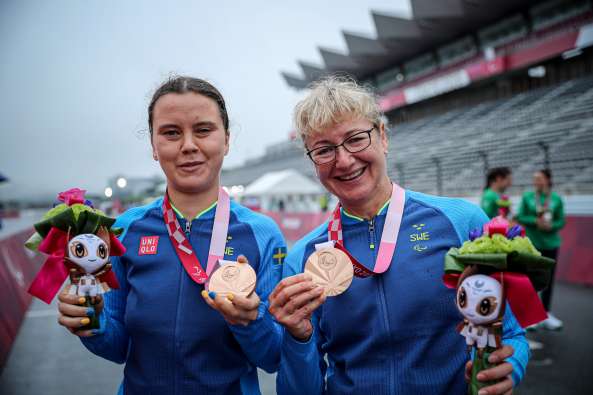 Their goal was just to make the Swedish team and go to the Paralympics in Tokyo. The Paralympics is the biggest event in parasports. Every team there is among the best in the world. It would be easy to come in last.
"We didn't set any specific goal; we just wanted to be able to perform at our very best," remembers Infor project manager Anna Svärdström. But then she and her blind teammate Louise Jannering took bronze in their first race — the paracycling time trial.
"When you get a medal, it's just crazy."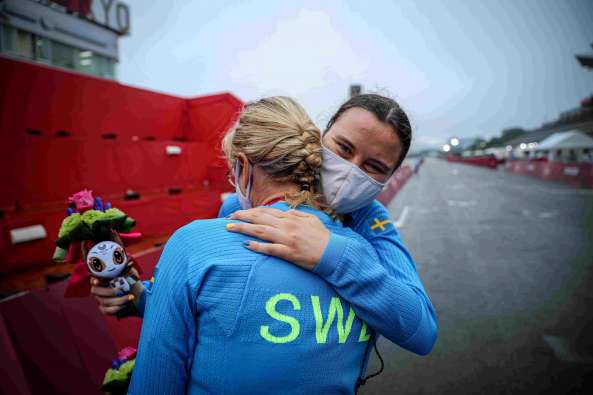 They couldn't rest on their laurels, however. They had another race – a much longer, more grueling road race – in three days. With their goal already exceeded, they quickly raised their ambition: Let's win two medals.
"At first, we were trying to relax and not think about the next race. But it was raining, and it was raining so bad, we just got in a bad mood." Because of Covid restrictions, they couldn't go sightseeing or shopping, or even watch other Paralympic events. They were stuck in the bicycling accommodation 2 hours away from Tokyo and the athletes' village.
Louise wrote down some lyrics to go with a popular Swedish Christmas pop song. In Swedish, Christmas is "Jul" and wheel is "hjul," spelled differently but pronounced the same. So the song, instead of singing, "We want more Christmas, more Christmas," they sang, "We want more wheels, more wheels." To help keep their minds off racing, they decided to record their song and post it on their team Facebook page. "This activity gave us energy but it was very different from preparing for the race the way we had planned," Anna said.
When road race day came, they were ready. "Every team on that starting line had beaten us previously this year," Anna said. "But we managed to be in our top form at the Paralympics, and we performed very, very well."
"We knew we were strong from the time trial, but in a road race, it is not enough to be strong. You need to be tactical and smart also," Anna said. "Plus it was raining so bad, and I don't like going downhill in the rain. At 54, I'm too old to take large risks in the turns. And yet, during the race, we were sailing ahead of everyone going downhill.
"Anna used to say she is too old to learn anything new. But she is wrong," Louise observed. "She has become a much better tandem pilot this year."
About halfway into the race, the Swedes, together with the Irish and Great Britain teams, managed to form a leading group. "When we finished bronze, it's almost like we lost the silver, because we were only one meter behind the 2nd place team," Anna said. But bronze is a beautiful color.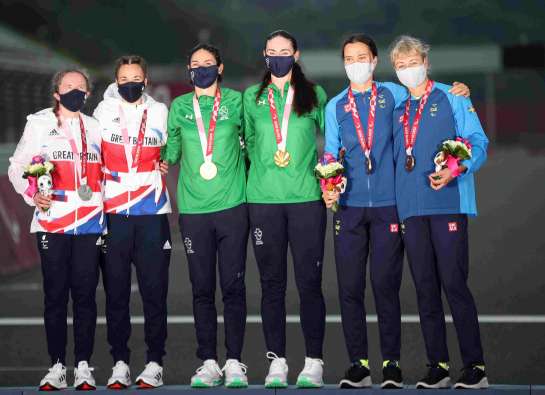 Already a champion
Anna was a seasoned individual world cycling champion when she was paired with Louise to start competitive paracycling. Among her honors, Anna won the individual cycling world championship for women over 50 in 2017. She came in 20th woman overall in the Hawaii Ironman in 2001. She is also internationally competitive in cross-country skiing.
"I am very competitive," Anna says. "Some people say they are addicted to training. But I am more addicted to the racing situation."
How they started
Louise lost her sight slowly from a disease until she was completely blind by age 6. She became interested in paracycling at age 18 after she tried tandem racing bikes at a sports camp.
"I was simply hooked. For me, it is the speed and the wind that create a huge feeling of freedom," Louise says in her Paralympics profile. "It makes me feel incredibly alive."
A racing colleague introduced Anna to Louise in 2014. "He asked me in the right way. He said, 'You are so strong on the bike, and I know this blind girl who needs a pilot for tandem racing.'"
"We started in a small way – not too much commitment – and it was fun to teach her everything I know. It grew from there."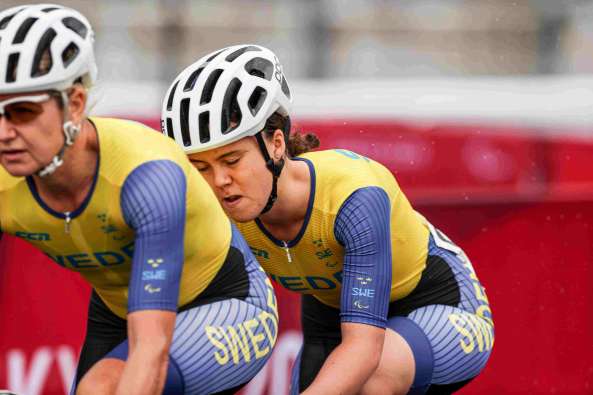 How paracycling works
In paracycling, the "pilot" rides in front, steering, shifting and braking. The impaired partner rides behind as the "stoker." Both provide power to one drive chain. Two cyclists will never be 100% synchronous in their pedal strokes, so some power gets lost.

As a team, Anna and Louise train on how to optimize their performance. It can be techniques, like how Anna takes the curves, or how to communicate while racing to synchronize their efforts. "If it is very urgent for me to get a lot of power from Louise, I shout 'push!' I can also prepare her verbally for going easy and possibly stop pedaling. It is not so nice for her knees if I come to a firm stop when she is pushing forward."
They train a lot individually, Louise on a stationary bike; Anna on roads, and in winter, doing virtual racing on a stationary bike. When they travel for a race, Anna acts are Louise's guide. They are together 24/7, and have become very close.
"Tandem cycling is a team effort. It is not only power in the pedals that decides how well you will perform. It's also strategy, trust and comradery," Anna says.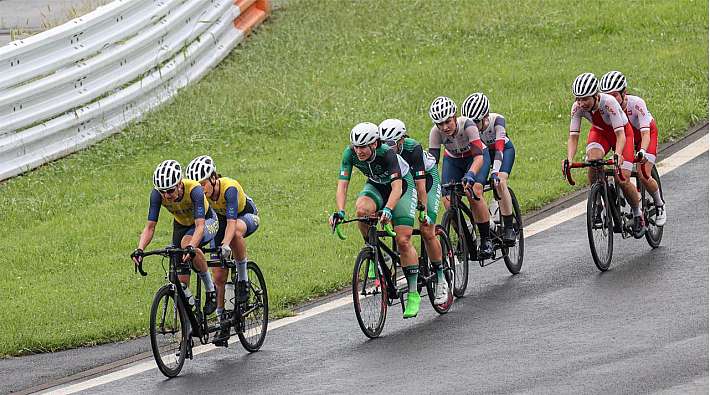 The road to Tokyo
Over the years, while Anna stayed in top physical condition, Louise continued to improve. Their race results showed it – a steady rise in rankings at increasingly bigger races.
In September 2019, they were named candidates for spots on the Swedish Paralympics Team. "We were really happy. We got to go to candidates camp and got some training around handling the Tokyo climate and the media."
Then they and the entire Swedish Paracycling Team had to earn points from international races to qualify for Tokyo. "We also had to convince the Swedish Paralympic Committee that we were good enough to win a medal –and we didn't think we were that good."
But in June this year, at the Paracycling World Championships in Portugal, they performed better than ever before – finishing 4th and 5th. On June 30, their slot on the team was confirmed.
At the Games
"The climate of Tokyo was our biggest challenge," Anna said. Swedes are not used to such heat and high humidity.
They had GPS trackers on their phones, so officials would know if they had been in contact with anyone who got Covid. They had to be tested for Covid every day, and where masks at all times – right up until race time. "That was awful! Not being able to breath freely when rolling up to the starting line," Anna said.
They were not allowed to leave the bubble of the Olympic village except to compete. No sight-seeing, no shopping.
Anna's husband, Nichlas Aldén, was allowed to come along because he served as mechanic for the entire Swedish cycling team. "He said, with all my traveling to races, becoming team mechanic was the only way he would get to spend time with me," Anna said.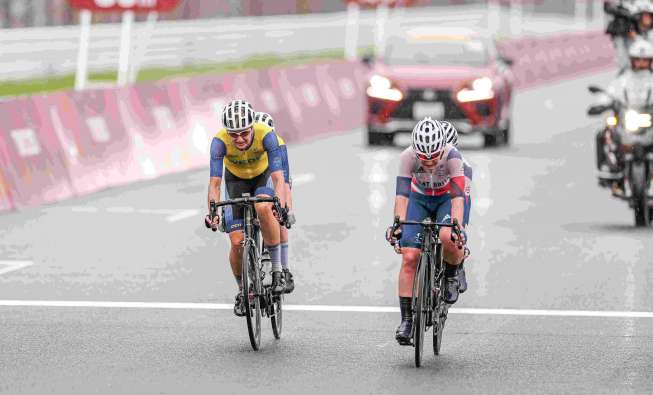 Media mania
And so they medaled twice, winning two bronze places: the time trial (a 32K race against the clock without head-to-head competitors) and the road race (a 92K with all teams starting and racing together).
"It was unbelievable how much media attention we got. There had never been this kind of mania for my wins before," Anna marveled. "These games are special."
Anna and Louise had many interviews with Swedish TV, radio and newspapers. Their picture and story made the front page of Dagens Nyheter, one of the country's biggest papers.
Recently, they braved a live appearance on a Swedish TV talk show. Anna took the opportunity to announce her retirement from paracycling and to call for a replacement to come forward to team with Louise.
Louise is upset about losing Anna as pilot. But at 54, Anna knows her powers have peaked, and Louise, at 24, needs a new long-term partner.
Anna at Infor
Anna's racing has to dovetail with her job as a project manager at Infor's Kista office near Stockholm.
"I'm pretty good with juggling time. I have always felt a bit that Infor is sponsoring me – by giving me the flexibility to train and compete. People have been very understanding of me being away a lot this year. I couldn't ask for more."
She didn't tell her team much about her racing triumphs, but since she and Louise started posting on their team Facebook page, colleagues have been watching.
"We were all super excited and proud when they won two bronze medals," said Sharmala Sharvanandan, senior enablement manager, Global Enablement & Education. "Anna is so amazing."
Is this the pinnacle?
Medaling in the Paralympics is the highest achievement in racing. Anna is going to slowly withdraw from paracycling, but she's still going to compete individually.
"I love racing. I guess that's why I'm still doing it at 54 years old. I still think I can beat most women. And sometimes, I still do."