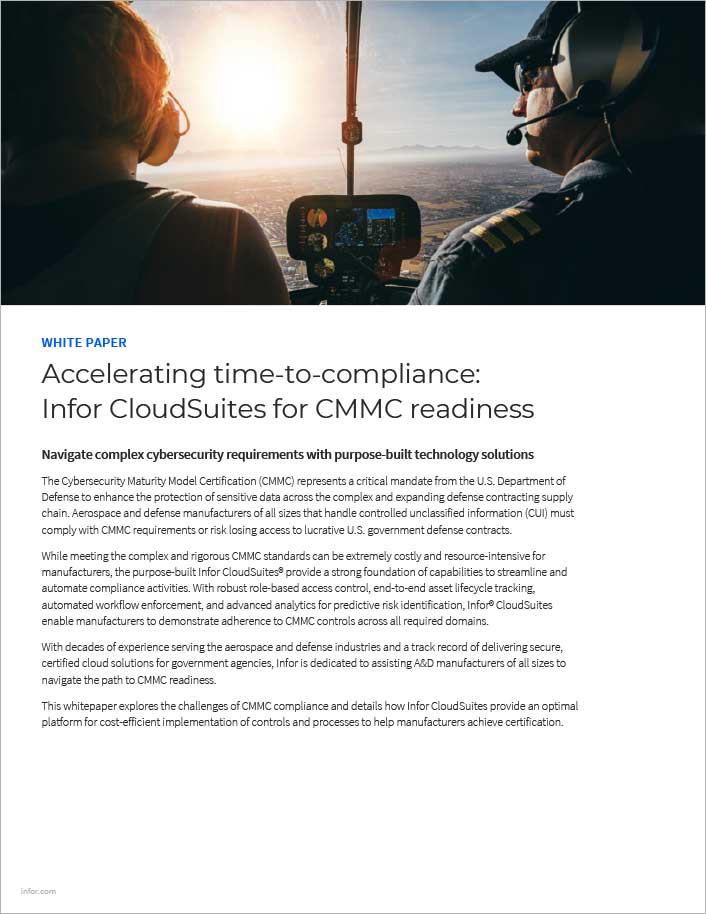 White Paper
Meet the complex and rigorous CMMC standards with cost-efficient implementation of controls and processes
Overview
The Cybersecurity Maturity Model Certification (CMMC) represents a critical mandate from the U.S. Department of Defense to enhance the protection of sensitive data across the complex and expanding defense contracting supply chain. Aerospace and defense manufacturers of all sizes that handle controlled unclassified information (CUI) must comply with CMMC requirements or risk losing access to lucrative U.S. government defense contracts.

While meeting the complex and rigorous CMMC standards can be extremely costly and resource-intensive for manufacturers, the purpose-built Infor® CloudSuite Aerospace & Defense provides a strong foundation of capabilities to streamline and automate compliance activities. With robust role-based access control, end-to-end asset lifecycle tracking, automated workflow enforcement, and advanced analytics for predictive risk identification, Infor CloudSuite Aerospace & Defense enables manufacturers to demonstrate adherence to CMMC controls across all required domains.

With decades of experience serving the aerospace and defense industries and a track record of delivering secure, certified cloud solutions for government agencies, Infor is dedicated to assisting A&D manufacturers of all sizes to navigate the path to CMMC readiness.

Download this whitepaper to explore the challenges of CMMC compliance and learn how Infor CloudSuite Aerospace & Defense provides an optimal platform for cost-efficient implementation of controls and processes to help manufacturers achieve certification.
Please complete the form below
Fields with * are required.
By clicking "Submit" you agree that Infor will process your personal data provided in the above form for communicating with you as our potential or actual customer or a client as described in our Privacy Policy.
This site is protected by reCAPTCHA and the Google Privacy Policy and Terms of Service apply.