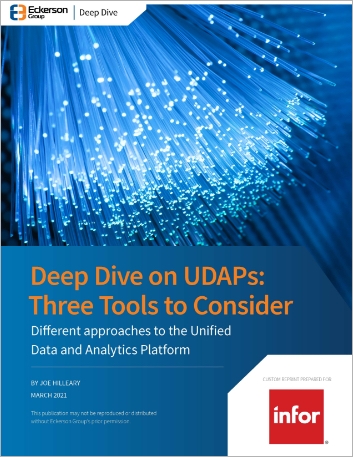 White Paper
Eckerson Group: Deep Dive on Unified Data and Analytics Platforms
Overview
Unified data and analytics platforms, or UDAPs, promise to simplify data access and usage, consolidate data management and governance, and accelerate the pace of analytics while reducing expertise and people requirements. Read this Eckerson Group deep dive to understand the evolution of UDAPs. The report includes a detailed profile of Infor Birst, a cloud-based UDAP which, according to Eckerson Group, "stands out through its patented data warehouse automation feature that uses AI to create star schema data models in memory without human input."

Please complete the form below
Fields with * are required.
By clicking "Submit" you agree that Infor will process your personal data provided in the above form for communicating with you as our potential or actual customer or a client as described in our Privacy Policy.
This site is protected by reCAPTCHA and the Google Privacy Policy and Terms of Service apply.