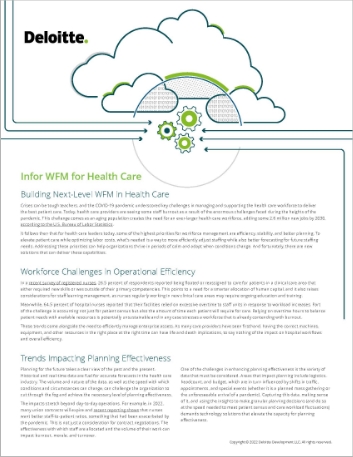 White Paper
Infor WFM for Health Care
Overview
Today, health care providers are seeing some staff burnout as a result of the enormous challenges faced during the heights of the pandemic. For health care leaders today, some of the highest priorities for workforce management are efficiency, stability, and better planning. Read through this Deloitte whitepaper, in partnership with Infor to find out more about the solutions that can deliver these capabilities.
Please complete the form below
Fields with * are required.
By clicking "Submit" you agree that Infor will process your personal data provided in the above form for communicating with you as our potential or actual customer or a client as described in our Privacy Policy.
This site is protected by reCAPTCHA and the Google Privacy Policy and Terms of Service apply.