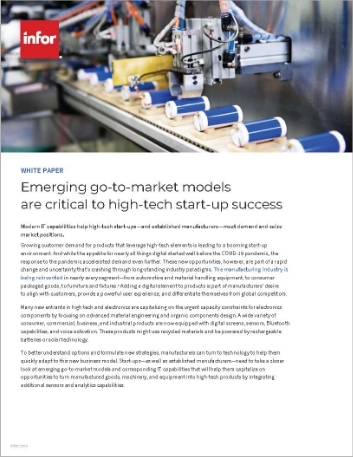 White Paper
Emerging go-to-market models key to high-tech start-up success
Overview
The growing customer demand for high-tech elements is leading to a booming start-up environment, as the pandemic-led acceleration of nearly all things digital continues. These new opportunities, however, are part of the rapid change and uncertainty crashing through long-standing industry paradigms. The manufacturing industry is being reinvented in nearly every segment, from automotive and material handling equipment to consumer packaged goods and furniture and fixtures. Adding a digital element to products is part of manufacturers' desire to align with customers, provide a powerful user experience, and differentiate themselves from global competitors.
Start-ups – as well as established manufacturers – need to take a closer look at emerging go-to-market models and corresponding IT capabilities to capitalize on the opportunities around turning manufactured goods, machinery and equipment with additional sensors and analytics capabilities into high-tech products.
Please complete the form below
Fields with * are required.
By clicking "Submit" you agree that Infor will process your personal data provided in the above form for communicating with you as our potential or actual customer or a client as described in our Privacy Policy.
This site is protected by reCAPTCHA and the Google Privacy Policy and Terms of Service apply.