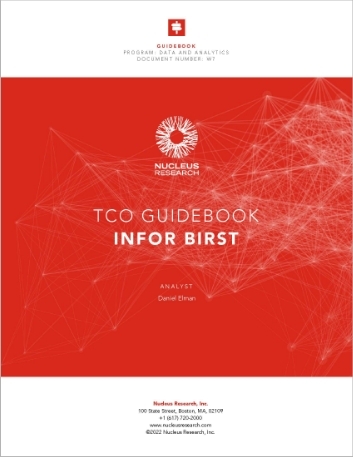 Analyst Report
Nucleus Research TCO Guidebook: Infor Birst 2022
Overview
Nucleus Research determined the lowest total cost of ownership option for enterprise analytics solutions is Infor Birst. Rapid deployment time, low consulting costs relative to 'competitors' deployments, and the Infor OS platform's extensibility to enable complex use cases are the key value drivers used to maximize ROI. Read this report to explore the details.

Please complete the form below
Fields with * are required.
By clicking "Submit" you agree that Infor will process your personal data provided in the above form for communicating with you as our potential or actual customer or a client as described in our Privacy Policy.
This site is protected by reCAPTCHA and the Google Privacy Policy and Terms of Service apply.