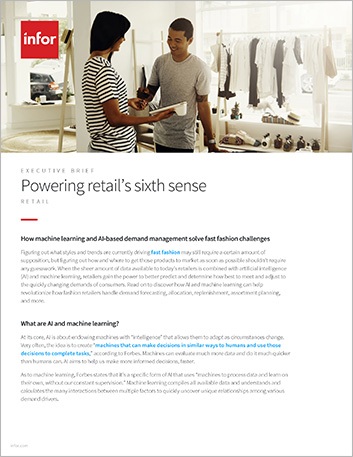 White Paper
Powering retail's sixth sense
Overview
Figuring out what styles and trends are currently driving fast fashion may still require a certain amount of supposition, but figuring out how and where to get those products to market as soon as possible shouldn't require any guesswork. Read this executive brief to discover how machine learning and AI-based solutions solve fast-fashion challenges such as demand forecasting, allocation, replenishment, assortment planning, and more.
Please complete the form below
Fields with * are required.
By clicking "Submit" you agree that Infor will process your personal data provided in the above form for communicating with you as our potential or actual customer or a client as described in our Privacy Policy.
This site is protected by reCAPTCHA and the Google Privacy Policy and Terms of Service apply.