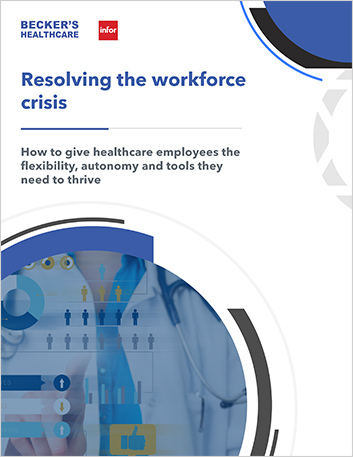 White Paper
Giving employees the flexibility and tools they need to thrive
Overview
Today's workforce challenges are putting pressure on healthcare organizations to find staffing solutions that work. Conventional strategies are no longer good enough; the industry must make significant adjustments to operations and culture.
Becker's Hospital Review recently spoke with Infor's Marcus Mossberger, Future of Work Strategist, and Joanna White, Chief Nursing Executive, about the current workforce challenges in healthcare. The discussion results are encapsulated in a whitepaper that answers recurring questions on the workforce crisis and ways technology can help mitigate its harms.
In this whitepaper, you'll learn:
Ways to improve nurse retention rates
How to reenergize burned out employees
Practices for enhancing employee flexibility and autonomy
Read the whitepaper now to discover new ways to empower your staff.
Please complete the form below
Fields with * are required.
By clicking "Submit" you agree that Infor will process your personal data provided in the above form for communicating with you as our potential or actual customer or a client as described in our Privacy Policy.
This site is protected by reCAPTCHA and the Google Privacy Policy and Terms of Service apply.