October 6, 2020By Jocelyn Arthur
Melissa Amell's supply chain expertise developed through years of frontline experience as director of supply chain operations responsible for billions of dollars of supply spend for major health systems including Tenet Healthcare and Vanguard Health Systems, after building her career through various supply chain positions at Ascension Health St. Thomas Health Services in Nashville, Tennessee.
Today, Melissa serves as industry solution and strategy director of healthcare focused on supply chain at Infor where she works closely with Infor Healthcare's product management team , solution consultants, clients, and prospects to provide direction and leadership on overcoming the challenges of supply chain management including lowering costs, improving efficiencies, analyzing business and clinical operations, and implementing industry best practices, all with a focus on outcomes and superior patient care.
We asked Melissa to share her thoughts on how today's healthcare crisis is shaping the future of supply chain management in healthcare. Here's what she had to say:
Q: The theme of this week's AHRMM National Health Care Supply Chain Week is, "Health Care Supply Chain Heroes". In your view, who are the heroes of the healthcare supply chain?
A: All of my fellow supply chain colleagues are people I admire every day.
According to Theodore Roosevelt, "Far and away the best prize that life has to offer is the chance to work hard at work worth doing." This sentiment sums up the way I feel about every hospital and health system supply chain worker as we celebrate National Health Care Supply Chain Week.
This week—in fact, every week—I believe that supply chain professionals deserve to be acknowledged for their work in healthcare. The work they perform in every role at every level is absolutely 'work worth doing,' and is crucial to ensuring positive outcomes while keeping every patient, clinician, and support staff in their facilities protected and safe.
This has been a challenging year, as those on the healthcare supply chain frontline can attest as they continue to support the entire healthcare organization. While there have been obstacles, I think it's time to offer hope and encouragement, so I'm pleased to share my thoughts about what I've witnessed in the past months, potential possibilities for the future, and how Infor fits into the picture.
Q: What would you identify as the top lesson learned from the global health crisis, from a supply chain perspective?
A: Let's hone processes and best practices.
Some health systems already had a seat at the executive table for their supply chain leaders, while others, that had not, quickly realized the value this approach delivers to their organization. One thing that became increasingly evident during the pandemic response is that supply chain functions are as critically important as the clinicians and caregivers who need them. As a result, we see the focus on supply chain being elevated to where it should be—around the executive table, as more healthcare leaders demand visibility into:
Which distributors and manufacturers are bringing the most value to the healthcare supply chain.
Where products are in the ordering and fulfillment cycle, especially for critical supply items that are used to care for patients and keep caregivers safe.
Right sizing and diversifying inventory control, warehousing, and emergency preparedness to access the right product or piece of equipment at the right time.
Vendor performance measurements and accountability reviews to drive different partnerships, as well as how contracts are structured, and how products are sourced.
Predictive modeling and forecasting rather than a reliance on looking at the past to predict the future.
While the need to deliver new visibility and efficiencies may require completely replacing supply chain management systems, new technology alone will not get the job done. Today's supply management best practices, data management and standardized business processes need to be understood and implemented concurrently. This will help healthcare supply chains evolve at a pace that makes sense for their organization and team members—who likely include a range of staff experience representing multiple generations.
Q: Speaking of best practices, how can health system executives and supply chain leaders prepare for future crisis events?
A: It's time to diversify.
While supply shortages were a daily headline during the first weeks of the pandemic, I've seen some amazing things happen within the healthcare ecosystem in the past few months. Organizations that most certainly competed against each other for patients or customers—ranging from hospitals, health systems, Group Purchasing Organizations, Global Healthcare Exchange (GHX), manufacturers, and distributors—in some instances started working more cooperatively together.
This collaboration allowed a dialog to start on how to address supply chain gaps, such as the amount of raw goods and materials that are sourced or manufactured overseas. My belief is that there will be more diversification of healthcare supply chains post-pandemic because we simply can't afford to put all our supply eggs into one basket.
Let me give an example of a lesson learned from Hurricane Maria in 2017, when IV Therapy products were in short supply, because hard-hit Puerto Rico manufactured some of these products. Consequently, heavy investment into mainland US manufacturing capabilities were set up as a safeguard by some organizations. While this isn't an exact an apples-to-apples comparison because of the difference in the level of impact of a global pandemic versus a regionalized natural disaster, I feel it's a prime example of how a crisis event can inspire change. The pandemic is global, and regardless of where supplies, equipment, and materials are sourced, manufactured or distributed, there likely will be rolling shortages, which makes diversification even more important.
Q: What should be expected of technology to help shift the paradigm?
A: Your solutions should connect your business and clinical healthcare ecosystem.
At Infor, we understand the unique nature of the healthcare industry, and provide a team that shares the same passion and focus as our customers. Many of my colleagues here at Infor have decades of combined experience working directly in health systems or hospitals. I can say with absolute certainty that this team is all-in on our healthcare focus, and we are here to support the challenges providers are facing.
I can also say that we are driven to support patient care and outcomes by connecting clinical and business systems. This delivered integration built into our solutions and continued development allows caregivers to focus on why they became nurses or physicians—to deliver care and heal the patient—not to spend a significant percentage of each shift on administrative tasks. The combination of our industry-specific cloud solutions, deep industry expertise, and commitment to healthcare make that aspiration a reality for our clients.
Any final thoughts on National Health Care Supply Chain Week?
Again, to every hospital or health system supply chain professional—Happy Health Care Supply Chain Week. Thank you for your dedication and hard work that ensures a safe, efficient healthcare ecosystem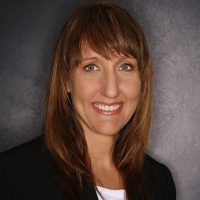 Melissa Amell, Industry Solution & Strategy Director, Infor Healthcare
To read more about Melissa's expert views on healthcare supply chain management, check out more industry articles.

To understand more about the role technology can serve in responding to today's crisis and in laying the groundwork for both the 'new normal' and future crisis escalation, we invite you to read our best practice guide: 5 steps to responding to a crisis.