July 19, 2019
We sat down with Patrik Sjoberg, Senior Director Product Management to get the scoop on Infor Factory Track, and why this warehouse mobility solution is such a powerful resource for our customers. During our conversation, Patrik explains the history behind the product, highlights the most impactful features, and shows us how Factory Track integrates with Infor M3 for greater operational efficiencies.
Click here to listen to the podcast
About Infor Factory Track
Infor Factory Track is an end-to-end mobile warehouse and manufacturing automation solution, capturing inventory transactions and labor- and process activities in real-time. Designed to help companies streamline production, speed inventory operations, keep labor costs in control, and integrate with Infor M3´s manufacturing platform. Get the visibility and insight to understand true costs, improve cycle times, and respond to customer expectations for on-time delivery.
Go Deeper at Infor TechEd for M3
Two Infor Factory Track sessions will be offered at Infor TechEd for M3, December 10-12 in Stockholm, Sweden, where you can learn even more about the solution and meet Patrik in person for deeper discussions.
About Patrik Sjoberg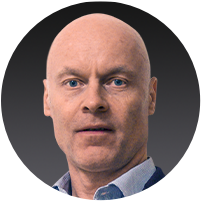 Patrik is Senior Director Product Management, for M3 within food & beverage and process industries at Infor. He also manages synergistic solutions like Factory Track for M3, M3 Planning Products, Graphical Lot Tracker and more. He has 20+ years of experience related to food & beverage-specific solutions and has held roles in pre-sales, implementation consulting, project management, and product management. Patrik has specific expertise in solutions within ERP, business intelligence, warehouse mobility, advanced planning, quality management, track and trace, and product lifecycle management.