June 14, 2022
Consumer culture in every industry has become increasingly digital, representing a fundamental force to drive how business operations have shifted. As a result, the evolving role of the restaurant point of sale solution has only increased in importance in our current age. This has taken many forms, from the way that guests engage with an offering via restaurant POS technology, to the way that solutions have played a role in determining overall business strategy.
Point of sale solutions for restaurants have gone past utility to serve a single stage in the guest journey. They have become an integral part of business intelligence as well. It is at the center of how to create strategy, a sense of engagement, and to put the power into the hands of guests and service staff to make their experiences meaningful and even culturally resonant. Let's look at how that works.
Many avenues to a unified restaurant operations path
Modern restaurant guests expect a spectrum of choices to serve diverse preferences and circumstances. The point of sale must connect with various order placement avenues, and then channel those orders into a frictionless process to enable quick and accurate fulfilment. This means traditional drive-through and fixed terminal orders. It includes curbside and other pickups initiated via mobile orders via QR scans, too. This also applies to orders placed through popular third-party apps.
Restaurant POS solutions must also be easily integrated with loyalty programs, meal plans, and with a range of hardware all enabled for a spectrum of payment options. This makes it easy for service staff to intuitively manage the process via terminals and tablets. The modern POS also enables guests to manage orders themselves at a kiosk or by way of a web-based interface on their mobile devices. No matter what the order placement method is, a robust POS solution creates a single and efficient path to make sure that the process is fast, accurate, and friction-free.
Connecting the restaurant operations dots
Apart from the range of options to engage guests and empower staff as necessary, the POS plays a vital role after orders are placed. Connected to other essential stations, the POS makes sure that all stations play their parts at the right time. Ensuring visibility for kitchen staff is integral to success as always, with modern POS integrated with KDS creating clarity, reducing stress, and minimizing delays and errors.
The technology also plays a vital role in connecting all locations as well as all stations and stages in the ordering process. It is a collector of key business data that tells an important story about how guests are responding to an offering. It helps to provide the basis for what makes the most sense when it comes to adjusting global menus, promoting new items, specials, and combos, retiring items that aren't as popular, and more. When all locations are unified above store in this way, operations across the whole organization will benefit.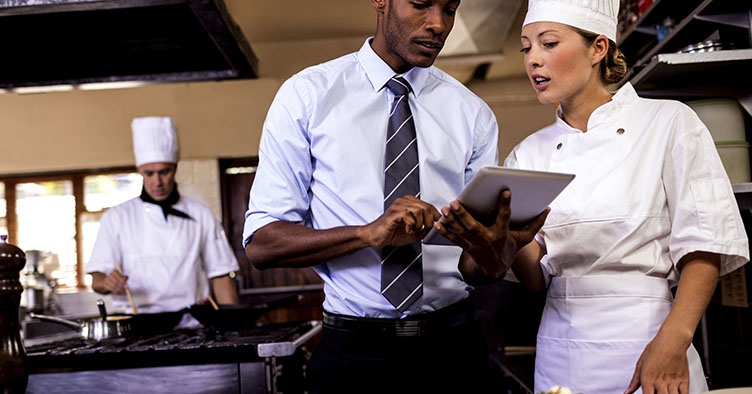 Growing with the times
Given how fast that the landscape can change it is important for the point of sale solution to be dynamic and adaptable. In part, this means that the solution in place must be designed to anticipate integrations with any number of emerging solutions and systems as are necessary to scale operations, increase efficiency, and meet evolving expectations for what a guest experience means or will mean.
The key principle in the light of this is how scalable a solution must be. The important question is always going to be how the restaurant point of sale fits in with current technology platforms. It's equally important to consider how operations will need to change as innovations emerge in line with shifting expectations. As organizations grow and as the industry itself adapts to consumer culture, world events, and other factors that affect how business is done, the point of sale should be ready for what's to come.
Necessary functionality in a new era – restaurant point of sale
What are some of the key attributes that POS solutions must reflect in a new era of the restaurant and food services industry?
We at Infor approach technology and partnerships in an industry-specific way. Learn more on our restaurants and food service management industry page – right here.