6000+ restaurants and food service outlets trust Infor's mission-critical systems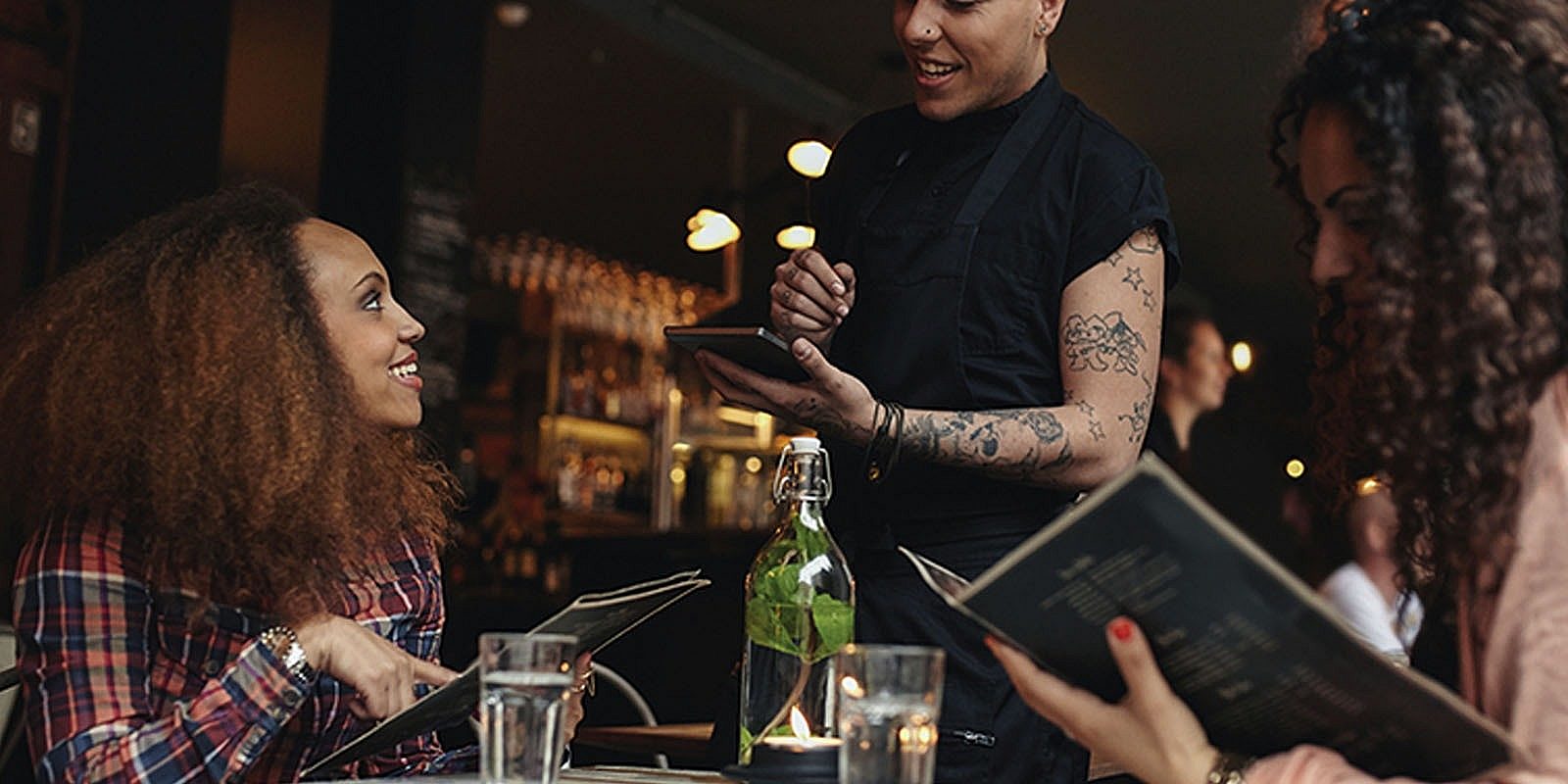 Learn the key signs your POS system might be failing you and what steps you can take now
Learn how reservations and table management technology can help organizations succeed in today's new world
Restaurants & Food Services
Restaurants and food service industry leaders seek to achieve peak operational efficiency today while building the foundations for success in the future, too. With cloud-based solutions like restaurant point of sale (POS) and advanced table and reservations systems (TRS), along with a range of applications to serve a whole spectrum of activities, here are some of the challenges and goals Infor helps our customers address every day.
Superior guest experiences
Multiple ordering options
API-based third-party integrations
Unified operations—consistency and trust
Smooth transitions—order-taking, prep, delivery
Mobile and cloud—speed and accuracy
User-friendly tools for service staff
High-quality hardware options
Visually based reservations control
User-friendly UI—efficient service
Unified processes across all stations
Portability—serve guests anywhere
Standardized offering across locations
Improved communications brand-wide
Uniform and simultaneous rollouts
SKU-level item management
Centralized pricing and specials
Consolidated reporting
Data security, payments, and brand integrity
Consistent adherence to industry standards
Secure transactional data every time
Well-managed payment integrations
Guest-preferred payment support
Automatic security updates
Scalable platform for growth and change
Brand-wide performance visibility
Easier access to key data and reporting
More inclusive data analysis
Quicker competitive strategy adjustments
Less on-site hardware overhead
Micro-vertical expertise delivers business value faster

Table Service Restaurants

Full Service Restaurants

Managed Food Services

QUICK SERVICE RESTAURANTS

Casual Dining Restaurants

Hotel Restaurants
Higher Education Food Services
Solutions for your most critical challenges
Infor CloudSuite™ Hospitality is the industry's leading software suite of restaurant and food service solutions—fully integrated and delivered in a multi-tenant cloud environment.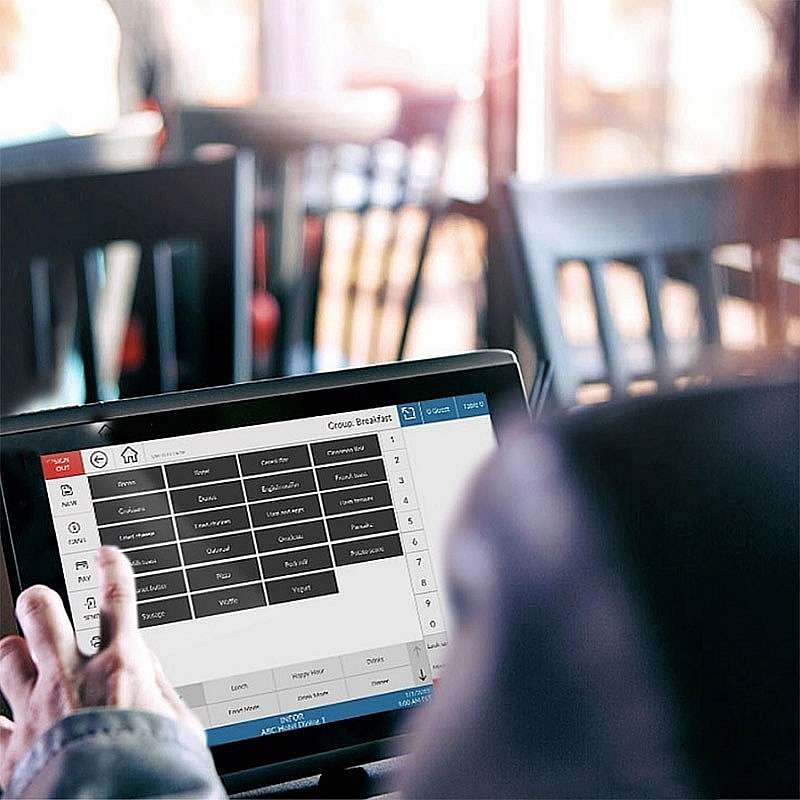 Establish a platform for success
Build the competitive momentum essential to success.
Create an environment for success—data-driven strategies, faster rollouts
Better manage corporate and franchisee-owned QSRs for smoother, faster, and more accurate processes
Invest in best-in-class hardware, integrations with leading meal plan providers, more
Support efficient and scalable managed food services in a wide range of contexts and concepts
Simplify item management in a more centralized and adaptive way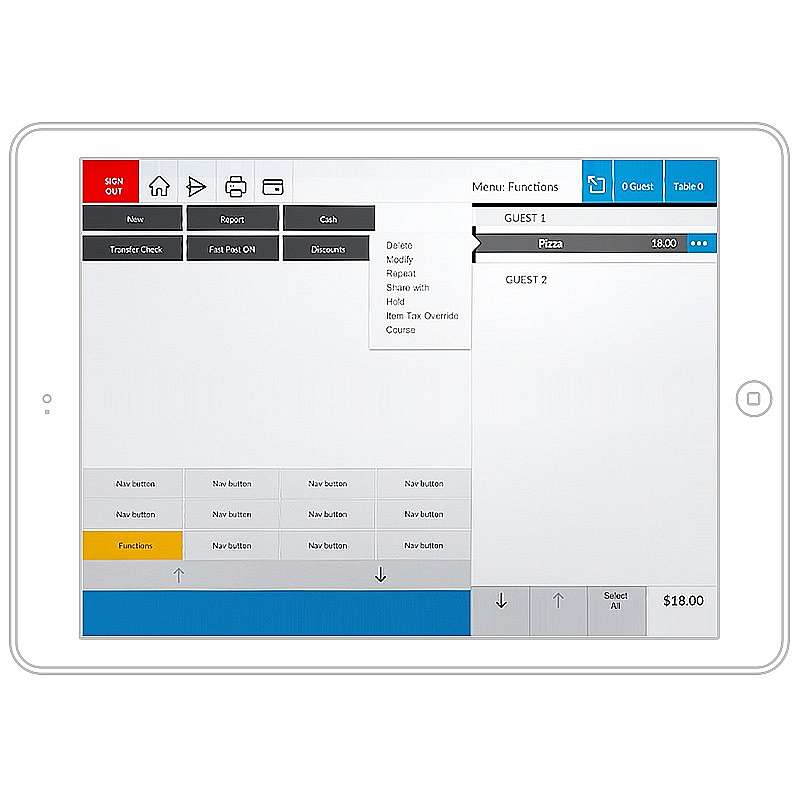 Serve up a next-level guest experience
Guest expectations are changing—change with them.
Increase order speed and accuracy via a more flexible and versatile restaurant point of sale solution
Enable self-service with user-friendly kiosks to empower guests to take control of their ordering experience
Connect to an expanding ecosystem of third-party loyalty and meal plan program opportunities
Integrate with leading-edge mobile-based apps to enable contactless ordering and delivery
Support a wider—more convenient—range of payment options easily and securely, including mobile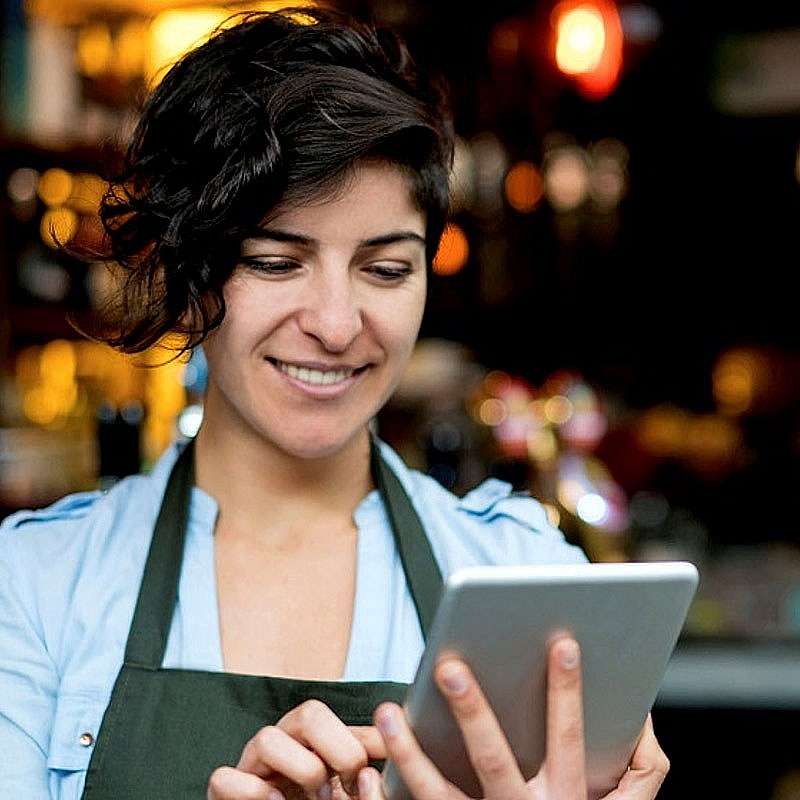 Empower staff with the right tools
Give staff the technology to do their best work.
Provide reservations processes that prompt tasks to better manage all guest traffic
Meet and exceed guest expectations with intuitive, user-friendly point-of-sale to increase speed and reduce errors
Put the power of restaurant POS in service staff hands with tablet-based hardware to serve guests tableside, bar, patio, more
Create better workflows for private events with an end-to-end process from inquiry to invoice
Connect all aspects of guest orders from the time they're made, to the kitchen, to fulfilment, to back office—all connected via API integration in the cloud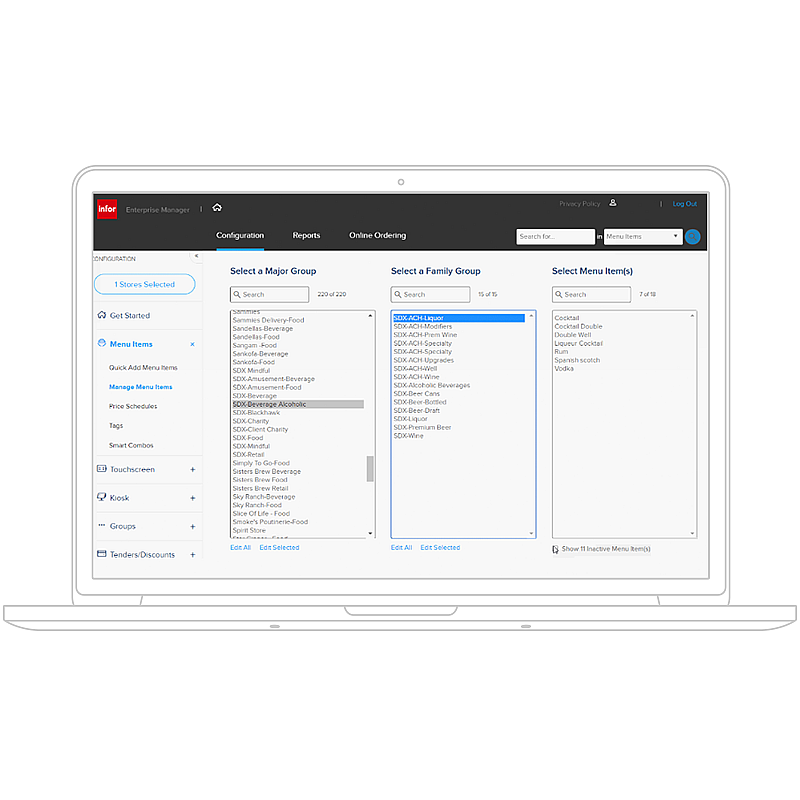 Create an advanced menu management process
Manage your offering across multiple locations simultaneously.
Bring menu management all under one roof in the cloud to support a uniform, streamlined, and profitable offering across a brand
Create and easily administer a master item list with SKU requisition and approval to manage and monitor items under different names in various concepts
Ensure consistent item selection, pricing, combo, and daypart requirements
Implement simultaneous configuration to standardize all POS terminals
Manage multiple barcodes SKUs per item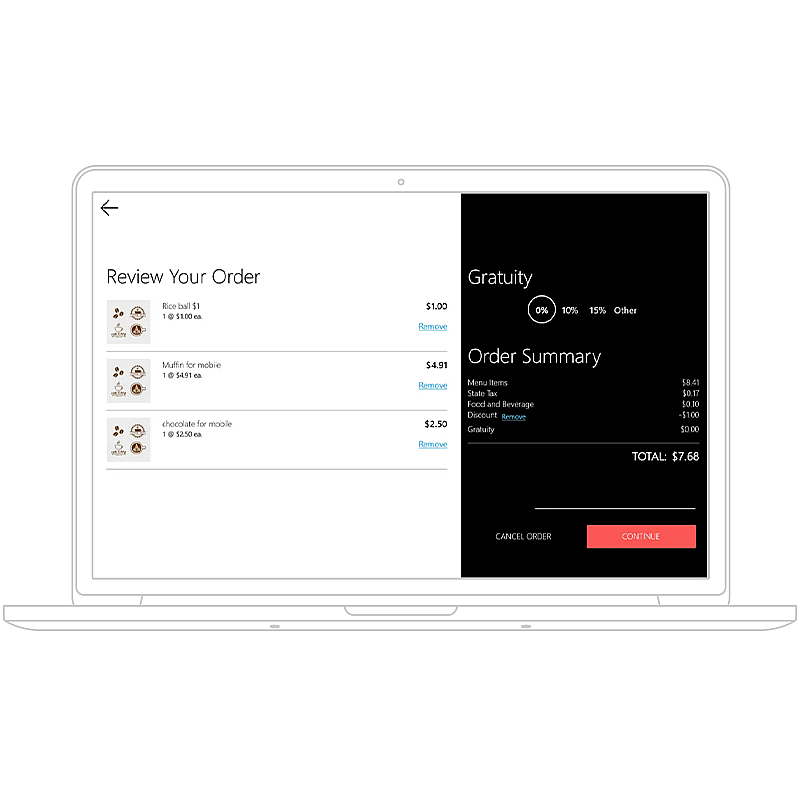 Guarantee a secure environment for business and guest data
Preserve integrity and trust with every transaction.
Support of EMV chip technology and mobile payments to reduce the need for staff to manage cards out of sight from guests
Guarantee PCI PA-DSS compliance combined with regular cloud security updates via SaaS
Invest in POS that never holds consumer data, integrated with leading payment systems
Ensure that every transaction is processed via point-to-point encryption (P2Pe)
Create a secure environment to support mobile payments and contactless credit card and debit transactions
Productivity by the numbers
50%
reduction in guest wait times
10%
increase in brand awareness in local market
10–20%
revenue growth over 2 years
BUILT FOR INDUSTRY
Restaurant and food services solutions
Let's Connect
Contact us and we'll have a Business Development Representative contact you within 24 business hours