August 14, 2020By Robert Jones
Hospitality technology, consumer expectations, and the culture that binds those forces together flow in and out of each other. That's how powerful change occurs. How do hospitality organizations create strategies and invest in the right technologies that align with these forces? The best way to do that is to start with the guest. But what is it that new generations are looking for in a modern guest experience, and how should technology solutions support it?
Let's look at 5 pervasive consumer expectations around hotel, restaurant, and food services experiences to help answer that.
1. More control over the process
Innovation in hospitality technology has changed the game. Guests can check in and out without even visiting the front desk at a hotel, thanks to mobile applications. Tableside ordering enabled by WiFi allows a server to hand the guest a pinpad rather than take their credit and debit cards out of their sight. Kiosk technology allows a guest to process their own orders when staff aren't available, or as a convenient alternative to service at the traditional POS terminal.
The value of this is about how these solutions lend greater control to your guest. They put trust in the guest's decision-making abilities. They create comfort by eliminating barriers. Importantly too, hospitality technology solutions like this acknowledge the value of a guest's time and their preferences to managing it.
2. Use of personal mobile devices
Use of mobile devices help consumers to connect one area of their lives to others when they're staying in a hotel, dining out, or in between those events. Guests use their mobile devices in so many areas of their lives. Why not while they're managing a hotel stay, booking a table at a restaurant, or paying their bills using mobile wallet applications?
Friendly environments for mobile use are about creating continuity between activities supported by a location's technology platform to support similar experiences in other areas of a guest's life. This is another important expression of how hospitality technology should create comfort, remove friction, and align with consumer expectations.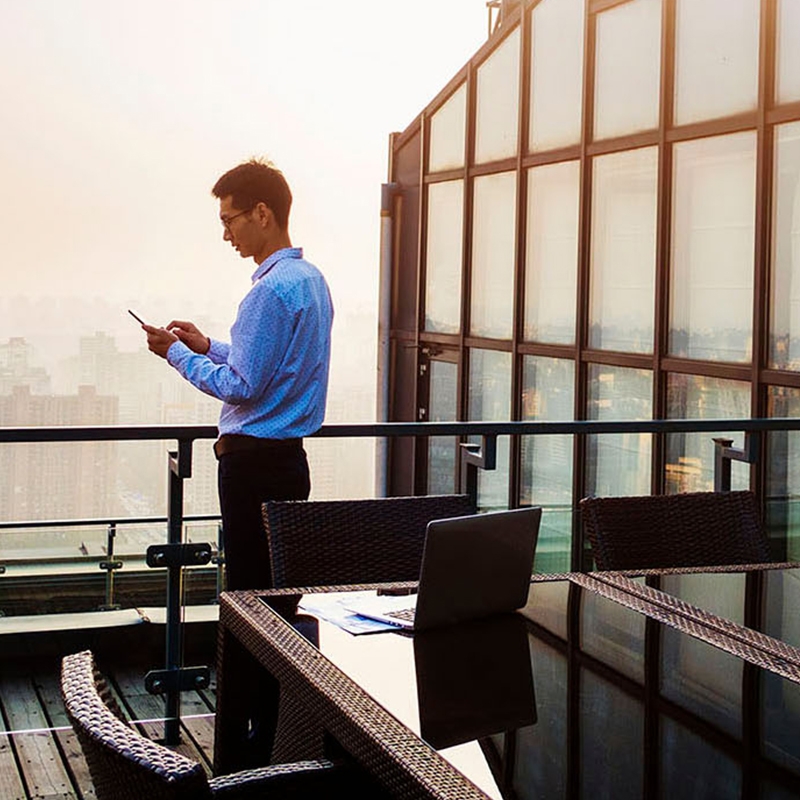 3. Pay the way they want
While hotel and restaurant chains expand globally, payment methods still tend to be very regional right now. Digital payment applications like PayPal, Alipay, and WeChat are becoming increasingly popular in Europe and Asia. Canadians are more likely to use a debit card while Americans prefer cash.
In those regional payment trends across the globe, developing plans and partnerships to serve your guests according to their payment preferences provides another important way to remove friction and serve expectations. This is an area of development around which to plan a strategy with scalability in mind as the payments industry evolves. In the meantime, payment options between revenue centers should always be consistently supported.
4. Freedom of movement
In the same way that modern hospitality guests seek frictionless processes often using their own devices, so too do they expect their physical movements to be unrestricted. This means that moving from the bar to the table they've been waiting for, or even moving to other tables to join friends during their night out shouldn't affect how complicated paying their bill is going to be.
The same principle of continuity applies here, too. So does the approach to letting the guest lead the process. When guests feel free to physically move around a location as supported by a technology platform that makes payments easier as they do so, they're more comfortable and more likely to return.
5. Personalization and communication
PMS-integrated hospitality technology solutions in hotels like SMS and other chatbot-based communications welcome your guests by name, provide recommendations around their interests, inquire about their stay so far, and more. This helps to create a rapport with guests and helps hotel staff be aware of any issues that arise before they're discovered in a bad review later. But it's also about adding that personal touch to supplement face-to-face staff efforts.
Guests want to be acknowledged as individuals, making it important for hospitality locations like yours to treat every stay as a unique experience. Hotel technology that integrates with more personalized communications helps to accomplish the organization's prime mission – to be hospitable.
The game has changed AND stayed the same
Cloud-based hotel, restaurant, and food services technology designed for seamless integrations and mobile-friendly environments has changed the way organizations deliver goods and services. That's because a culture around emerging technology has shaped consumer expectations, creating cyclical momentum that drives product development and the industry it supports into the future. But the mission of the hospitality and food services industry has stayed the same, too.
All leading hospitality organizations seek to create a welcoming environment that allows guests to feel at ease, have freedom of movement in a space, and do so in their own time. The deciding factor in support of this mission is how to sustainably support these goals and invest well in the right technology as the industry landscape continues to change. That's where organizations like yours will continue to find success.
***
How should technology support a modern guest experience? Take a look at this video to find out more.