October 4, 2023By Mona Patel, Industry & Solution Strategy Director, Infor Platform Technology
Q&A with Infor Chief Innovation Officer Massimo Capoccia on how Infor takes a unique and broader approach to hyperautomation
Infor Robotic Process Automation (RPA) is a new and integrated service of Infor's cloud platform technology, making it easier and faster to deploy bots across the enterprise to elevate workforce productivity. Infor RPA is a key component of a broader Infor Enterprise Automation solution, embracing the concept of hyperautomation to facilitate a new era of automation.
For Infor CloudSuite customers, the benefits are substantial, as they can run a multitude of prebuilt automation flows, leading to rapid value realization. These flows cover various processes, such as invoice processing, proof of delivery, compliance, and more, effectively automating and digitizing critical operations. By adopting this solution, customers can extend the depth and breadth of automation for business processes significantly.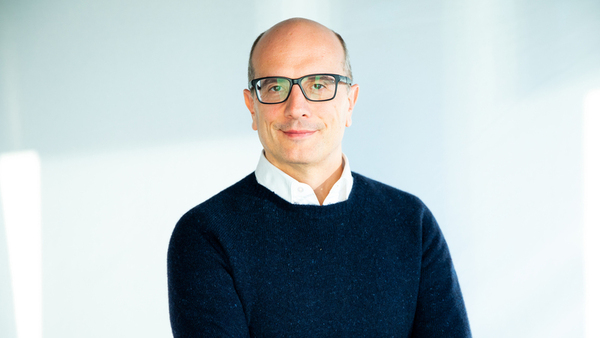 Infor CIO Massimo Capoccia
To provide insight into the value of Infor Enterprise Automation, I had the privilege of speaking with Massimo Capoccia, Chief Innovation Officer at Infor. His expertise sheds light on how this transformative solution enables continuous scalability of automation, catering to both simple and complex business processes. With Infor's cutting-edge approach, organizations can achieve new heights of efficiency and productivity.
How would you describe the industry term "hyperautomation"?
I'd like first to distinguish hyperautomation from traditional automation. While RPA aims to automate repetitive and time-consuming mundane or administrative tasks, hyperautomation goes beyond this scope. Hyperautomation strives to minimize human intervention wherever possible, enabling more automatic decision-making throughout the entire business process. It involves automating a broader range of processes, including those that are not necessarily mundane but still commonly performed by individuals on a regular basis.
Let's look at the scenario of regular compliance checks with sanctions on blacklisted vendors flagged by the Office of Inspector General (OIG) of the US government. To achieve this, you'd need a robust hyperautomation solution. First, an RPA tool would fetch the vendor list from the government website. Next, an iPaaS platform would transfer the list to your verification program. Then, an artificial intelligence and machine learning (AI/ML)-based algorithm would compare and verify vendor names, considering various factors like name variants, addresses, tax IDs, and historical data.
A manual process for this use case would be cumbersome, requiring extensive coordination between departments and posing a higher risk of human error. Through the power of hyperautomation, multiple automation technologies work together to streamline the entire process.
According to Gartner, over 56% of organizations have an average of four or more concurrent hyperautomation initiatives underway. What do you think is driving rapid adoption?
Three key factors drive its appeal and widespread implementation. Firstly, organizations are increasingly focused on maximizing efficiency and cost effectiveness. Embracing hyperautomation allows them to streamline processes, eliminate redundancies, and optimize resource allocation, leading ultimately to substantial cost savings and improved operational performance.

Secondly, the influx of younger generations into the corporate world plays a significant role. As these digital natives become part of the workforce, they expect modern and efficient tools to aid them in their tasks. Hyperautomation aligns with their expectations, as they are accustomed to using advanced software and automated processes, making it a natural fit for the current workforce.

Furthermore, hyperautomation transcends basic task automation and ventures into the realm of decision automation through AI/ML optimizations and insights. By harnessing the power of decision automation, organizations improve the efficiency and accuracy of decision-making for better outcomes and a competitive edge.

Who is using Hyperautomation today and why?

Larger organizations gain the most ROI by scaling automation across multiple, complex use cases so they run leaner, are more strategic, and increase worker engagement. These complex business processes may involve multiple systems, involving multiple people, oftentimes logging into different systems to complete a business process.

Organizations that are still paper-based or deal with much paperwork also gain the most ROI because the process of digitizing paper documents so that they can be centrally managed and accessible online is much work. With AI-based OCR (optical character recognition) technology available today, any document, even handwritten or any language, can be more accurately digitized and integrated into a business process to automate it. This is game changing.
What technologies provide hyperautomation?
Hyperautomation is not reliant on a single technology; rather, it encompasses a combination of various tools and engines. Among the essential components are RPA tools, which drive automation of tasks. APIs (application programming interfaces) play a crucial role in enabling seamless integration between different systems. AI/ML engines are integral in handling complex decision-making processes.

One crucial aspect often overlooked is security technologies. While it's commendable to achieve automation, it is equally vital to ensure all tasks are executed securely and in compliance with regulations. Many companies tend to neglect the security and compliance side of hyperautomation, which can lead to potential issues during audits or investigations.

To address these concerns, security and compliance technologies must be embedded from the outset of the hyperautomation implementation, not treated as an afterthought. For instance, Infor ensures that bots operate under the same robust security measures as user interactions through the Infor CloudSuite. This proactive approach to security and compliance is a significant differentiator, ensuring that the benefits of hyperautomation are not overshadowed by potential risks.

What are the challenges to implementing?
Start with why. Certainly, the challenges of implementing hyperautomation are worth considering. First and foremost, organizations need to establish a clear and compelling reason for adopting hyperautomation. This "why" should align with their objectives, whether it's to boost user productivity, enhance operational efficiency, or make more strategic decisions. Identifying a tangible outcome is essential as it provides a solid foundation for the entire automation initiative.

Integration. One of the primary challenges arises in heterogeneous environments with multi-cloud or multi-application deployments. When choosing an automation tool, the integration aspect becomes critical. Without prepackaged integrations, organizations may face a daunting and costly integration project. It becomes crucial to select a solution that comes with a comprehensive set of prebuilt integrations to streamline implementation and avoid unnecessary expenses. The justification for such projects can be difficult from a CIO's perspective if the cost-benefit ratio is not evident.

Right tool, targeted approach. The selection of the right automation tool is paramount. It is essential to ensure that the chosen tool aligns with the organization's specific needs and requirements. Additionally, proper project management is vital to success. Instead of attempting to automate everything at once, it's wise to start with a focused approach, targeting areas where integration points already exist. Adequate program and project management are crucial because, in essence, automation involves integration projects. Without effective management, organizations might encounter challenges and fail to realize the expected value of hyperautomation.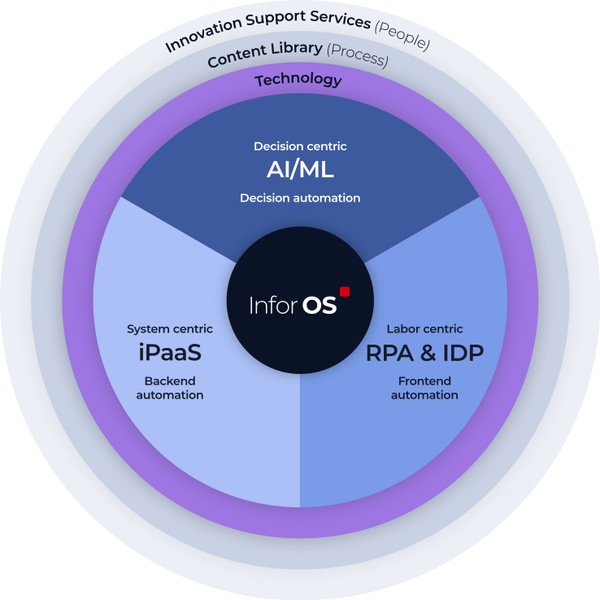 What is Infor's approach to hyperautomation to address these challenges?
Our answer to hyperautomation is Infor Enterprise Automation, a broader solution, that includes Infor platform technology, prepackaged content, and innovation support service to deliver value on Day 1 and continuous value realization thereafter.
With our Infor platform technology, we engineered all the required technology pieces together in a differentiated way that combines all levels of automation. These include robust API capabilities for smooth integration, robotic process automation and intelligent document processing capabilities for front-end automation, workflow management features for efficient process orchestration, and advanced AI capabilities for decision automation.

With our innovation support service, we help customers foster a creative culture of continuously enhancing their capabilities without having to invest in a team of people and software contracts with differing technologies and platforms. Infor Enterprise Automation helps further the customer innovation journey without having a ton of prerequisites or costs just to even get started.

What makes Infor Enterprise Automation unique?
When considering competition in the market, it is interesting to observe the different approaches taken by players like UiPath and our organization. UiPath initially focused on front-end automation, utilizing screen scraping to integrate various screens into systems. However, they recognized the need for backend orchestrations and automation, which led to their acquisition of an API gateway and orchestration engines.
Infor has been focused on backend automation through Infor OS services such as Infor ION APIs and workflows. With RPA now well-integrated with Infor OS, we offer customers a more simplified automation experience. As a result, we believe our customers can better scale automation and create a continuous life cycle of exploring new opportunities.

The future of efficiency starts today

Your journey to automation excellence starts here. Embrace Infor Enterprise Automation by visiting infor.com/EA to schedule a demo and take the first step toward a future of efficiency.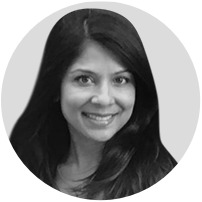 Mona Patel
Industry & Solution Strategy Director
Infor Platform Technology Team