Simplifying
Automotive
Automotive
Automotive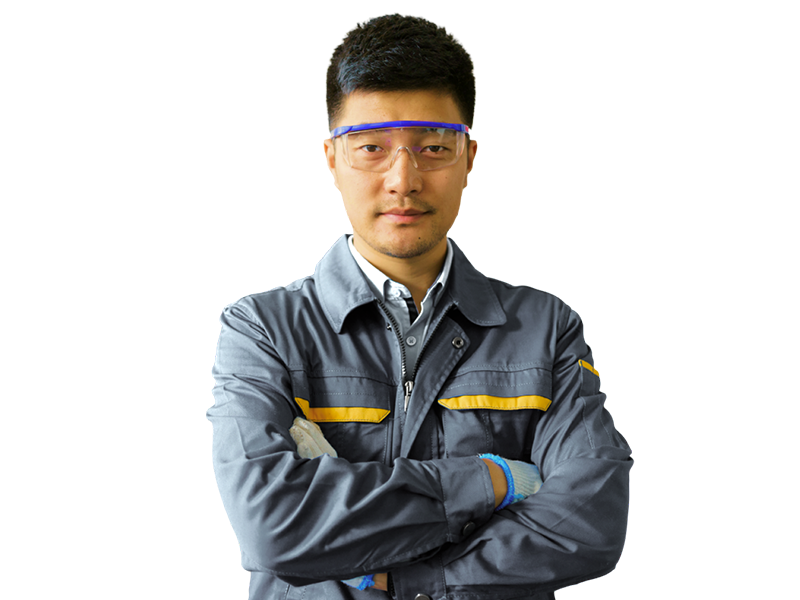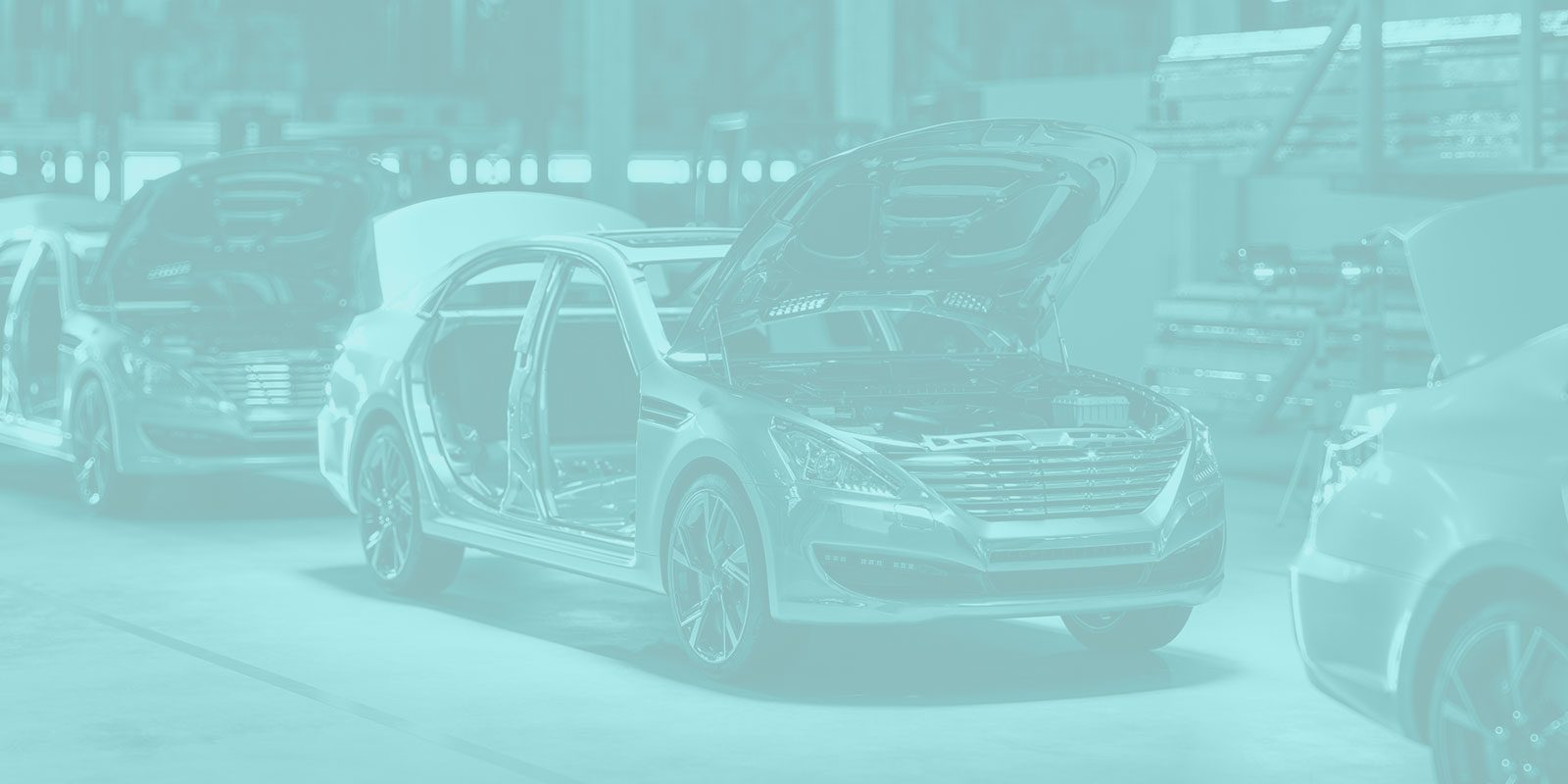 Explore the biggest technology trends impacting automotive manufacturers and suppliers.
This executive brief reveals how supply chain volatility provides unique challenges for the automotive industry.
Smart auto manufacturing: Embrace innovation, while streamlining processes and leveraging data insights
Now more than ever, OEMs and suppliers need to adapt to industry changes but do it carefully, using AI-driven insights and strategic analysis of risks and opportunities. Help your organization thrive by using a modern ERP to streamline end-to-end processes—from customer alignment to proactive supply chain management.
Adapt to unparalleled automotive market challenges
Make smart, bold decisions with confidence and fact-based risk analysis. Be strategic, remove roadblocks, set priorities, and cut through complexities.
Get the most from Industry 4.0 advances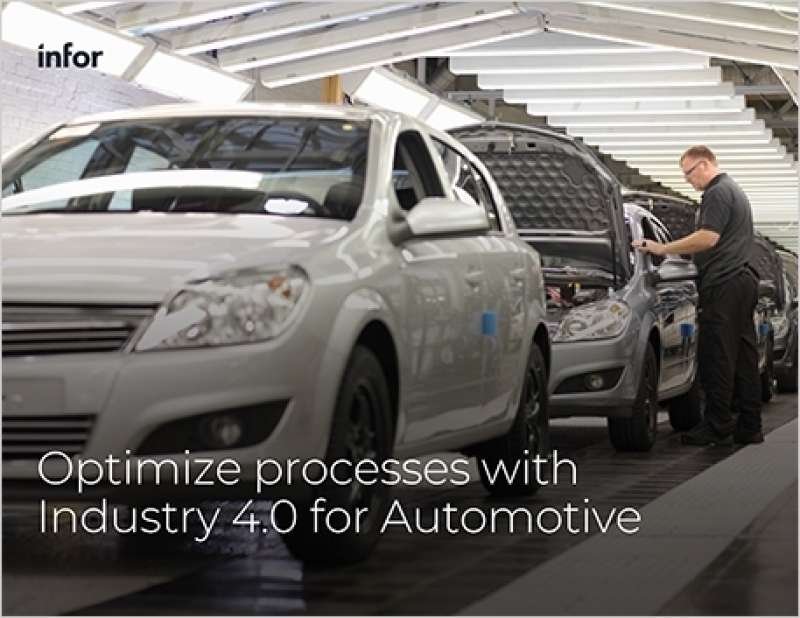 Get the most from Industry 4.0 advances
Automotive cloud ERP is transforming the auto industry, and Industry 4.0 automotive solutions are providing faster results.
Micro-vertical functionality delivers business value faster

Automotive Suppliers

Tire Suppliers

Automotive OEM

Specialty Vehicles

Aftermarket Parts & Service
Don't follow the pack. Move to the frontline.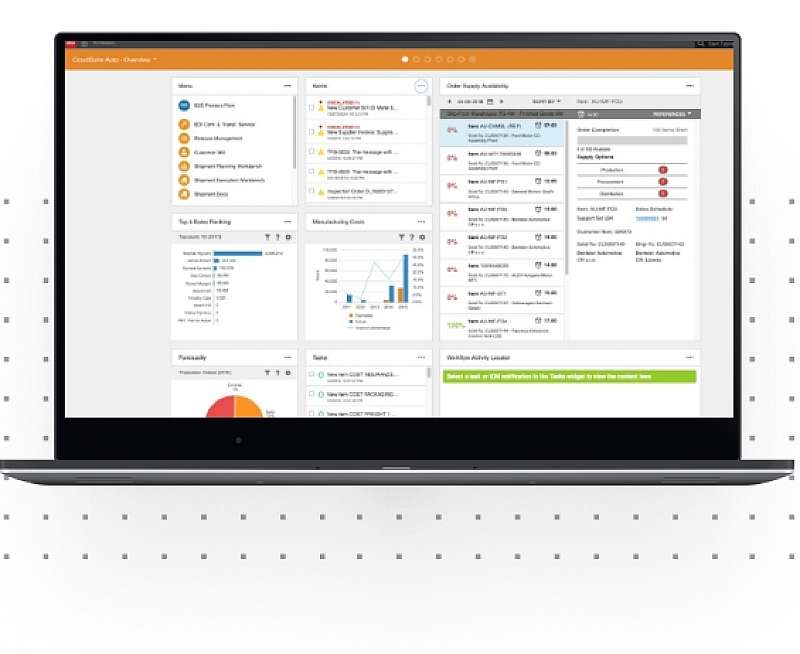 Don't follow the pack. Move to the frontline.
Become a leader in your market. Keep your eyes on the future and your data focused on growth opportunities. With accurate data to back your decisions, you can be confident and creative in your problem-solving.
Trust Infor OS platform with advanced analytics, driven by AI and ML, to provide holistic, accurate insights into your business
Empower business users with role-based dashboards and easily consumable data insights
Take advantage of Infor's platform as a service for greater flexibility
Improve operational efficiencies using sensors, machine-to-machine connectivity, and IoT technologies
New trends require new thinking, new processes, new software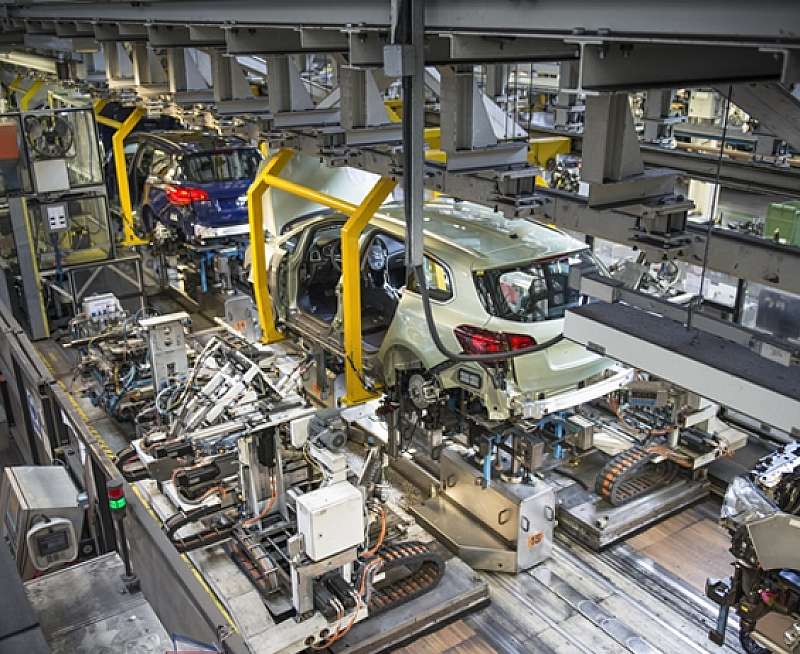 New trends require new thinking, new processes, new software
Dramatic changes in vehicle technology, means more complexity on the shop floor. Visibility helps maintain order, priorities and efficiency.
Navigate R&D and product launch processes more efficiently
Track regulatory compliance and quality control
Manage projects and stage-gating for introductions
Offer highly configured products and RFQs
Maintain APQP, MMOG, and revision control
Collaborate on complex project details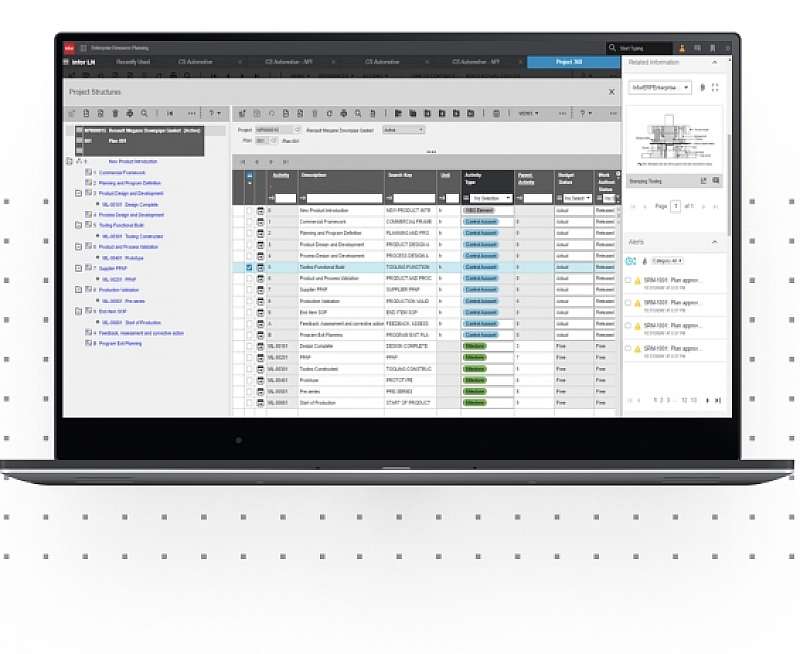 Collaborate on complex project details
Choose and rely on secure platforms that expedite your organization's goals for ever better cars, trucks, engines, and more.

Join forces and share data and design concepts with partners and customers
Use EDIs to safely share information with customers, contractors, and suppliers
Manage a highly secure global commerce network
Maintain visibility upstream and downstream
Securely navigate contracts through Infor Automotive Exchange
ERP for automotive supply chain management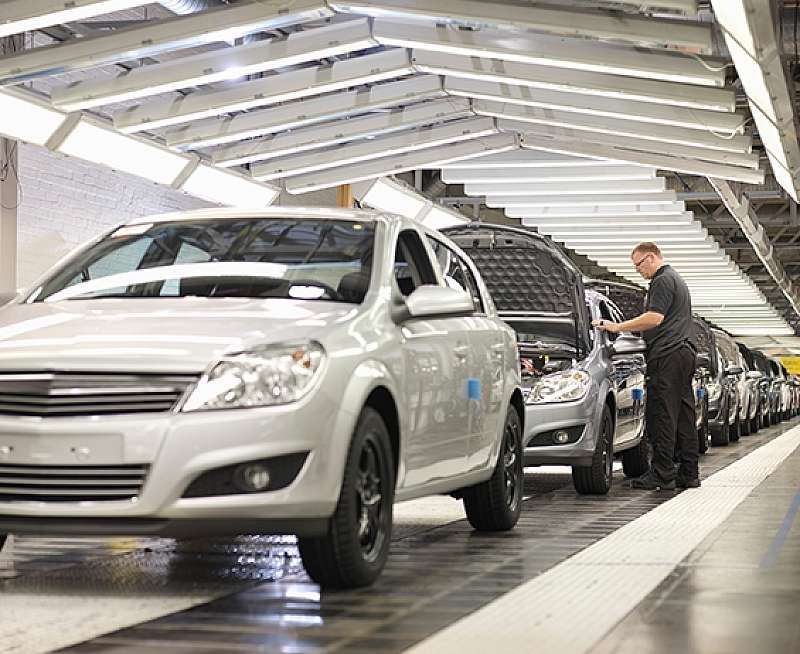 ERP for automotive supply chain management
Optimize complex end-to-end planning , communication, and execution.
Maintain global visibility to anticipate and adjust as needed
Improve S&OP and supply chain planning
Leverage advanced analytics to project outcomes and risks
Manage for multi-site, multi-logistics inventory planning
Control inventory, minimizing investment, reducing costs
Track items by lot and Serial 360
Deploy smart, simplified, preconfigured functionality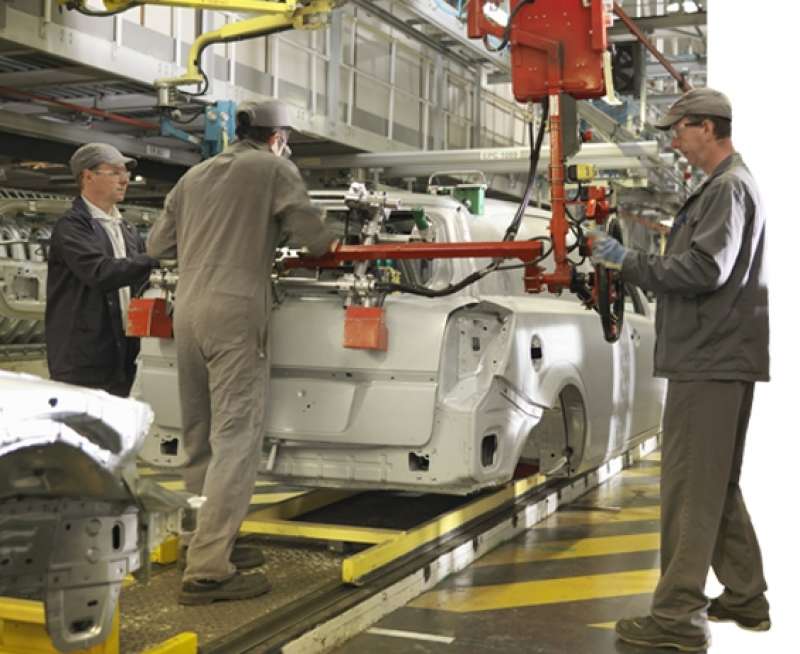 Deploy smart, simplified, preconfigured functionality
Utilize solutions that can help streamline auto or parts manufacturing as well as industry processes.
Take advantage of preconfigured, industry-specific capabilities for ease and speed of deployment
Leverage built-in, proven best practices, forms, and workflows
Manage mixed mode manufacturing, including: project, repetitive, job shop, engineer-to-order, and assemble-on-demand—with one solution
Handle shop floor operations, workforce management, and quality control
Automotive customer successes
Enhancing innovation for both passenger and commercial vehicle suppliers
SEG Automotive adopted Infor CloudSuite Automotive to help leverage sensor data, integrated analytics, AL, and ML. Thanks to Infor advanced functionality, SEG Automotive is able to leverage data in a fully transparent, holistic manner and efficiently manage real-time processes throughout the organization, from purchasing to production and sales.
Boost towing and recovery providers' productivity with advanced analytics
Miller Industries, a world leader in towing and recovery equipment, transformed its business with Infor Birst analytics. Thanks to a top-down, CEO-led initiative, all of the executive and management teams now have easy access to a single source of live, accurate information which has improved productivity and changed decision-making within the company.
Driving consistent growth for auto parts suppliers
Floby, a manufacturer of auto components, is owned by Volvo Car Group and has been making products for the Swedish automaker since 1957 with a focus on brake discs, connecting rods, and wheel hubs. Recently, Floby needed a reliable cloud solution "out-of-the-box" and so chose Infor CloudSuite Automotive for its built-in industry functionalty.
Automotive cloud software
Automotive manufacturing ERP
CloudSuite Automotive provides a comprehensive suite of industry-proven automotive solutions, including a core ERP and specialized applications to meet the specialized needs of an automotive manufacturer or supplier, such as:

Quality management functionality that streamlines APQP and PPAPs
Statistical process control (SPC) data collection for IATF-16949 compliance
Management of production planning and scheduling, including MMOG requirements
Online collaboration between automotive suppliers up and down the value chain
Certification as a Honda North America Software Solution
Manufacturing ERP software for mid- to small-size businesses
Infor CloudSuite Industrial is an end-to-end ERP solution for both discrete and process manufacturers, and is powered by more than 30 years of experience supporting small- to medium-size manufacturers. The solution provides predictive analytics, collaboration, lean production tools, and integration options. CloudSuite Industrial is a mixed-mode application for engineer-to-order, configure-to-order, highly repetitive, process, and service-based manufacturers. The solution helps manage complexity and growth, while enabling you to gain performance improvements in customer service, productivity, and cost control.
HIGHLIGHTS
Innovate faster and more efficiently
Manage production planning and scheduling
Coordinate aftermarket service and maintenance
Optimize production scheduling
Improve product quality
Leverage the highly flexible, scalable architecture to be more agile and synchronized with fast-changing customer expectations
PRODUCTS INCLUDED
Infor SyteLine®
Infor® OS
Infor Birst®
Infor Implementation Accelerators
Deployed on AWS®
Supply Chain Network / Supply Chain Planning / Warehousing
Infor® Supply Chain Management solutions deliver intelligent, real-time supply chain orchestration by digitalizing end-to-end supply chain processes, allowing companies to gain real time visibility that empowers data-driven decisions and optimal delivery to customers on time.
HIGHLIGHTS
Maximize the reliability and performance of assets
Predict equipment failure and carry out preventative maintenance
Comply with strict legal and environmental regulations
Streamline purchasing and procurement
Track labor costs and reduce downtime
PRODUCTS AVAILABLE
Infor Nexus
Infor Supplier Exchange
Infor Supply Chain Planning
Infor WMS
Talent Management
Optimize every aspect of labor management and productivity with Infor® Workforce Management. Strategically enhance workforce planning, execution, and analysis with an engaging, industry-specific, enterprise workforce management software solution built on a proven technology platform that delivers time and attendance, demand-driven scheduling, workforce scheduling, and absence management tools.
HIGHLIGHTS
Enable your people to access workforce data anywhere, anytime
Track employee time and get the right data to payroll—every time
Leverage vertically specialized shift- or demand-driven scheduling tools
Take advantage of intuitive, industry specialized software for budgeting, planning, and forecasting labor demand
Automotive analytics with AI
Infor® industry analytics deliver relevant and meaningful insights for everybody from the boardroom to the shop floor. Infor Birst® makes business intelligence and analytics easy to consume with pre-built industry and role-specific content and metrics embedded wherever business users need information. Improve decision-making with Birst.
HIGHLIGHTS
Best in class pre-built industry content
C-suite dashboards for prescriptive analysis
Intelligent drill-back with in-context insights
Open ecosystem for democratized analytics
Enterprise-wide solution for integrated data
Configure Price Quote / Field Service
Infor CPQ helps sales teams, partners, and distributors sell complex products more quickly with a rules-driven platform designed for visual quoting and dynamic pricing, to instantly produce a configuration-specific list price, dealer cost, and quoted selling price. Orders are automatically passed to your business system via enterprise integration.
HIGHLIGHTS
Sell complex products faster with quick and accurate quotes on-demand
Accelerate product innovation
Optimize your supply chain to improve demand planning and purchasing
Bring your products to life with a visual selection and configuration experience
Complete visibility into real-time data
Let's Connect
Contact us and we'll have a Business Development Representative contact you within 24 business hours
By clicking "Submit" you agree that Infor will process your personal data provided in the above form for communicating with you as our potential or actual customer or a client as described in our Privacy Policy.