United States-
Since 2002, the company has been dedicated to delivering deep industry solutions and partnering with customers to achieve their business goals
Infor is celebrating its 20th anniversary this year. For two decades, the company has been dedicated to delivering deep industry-specific enterprise software solutions and partnering with customers to achieve their business goals. Customers have always been at the heart of Infor's strategy, so the company is using this milestone to thank its customers for their collaboration and loyalty — and to renew its commitment to building a resilient future together.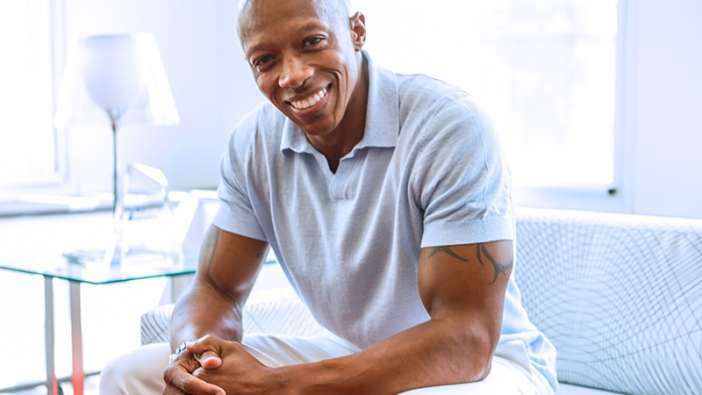 "We are grateful to our customers for their trust," says John Frank, Infor president of Customer Experience Services. "Their challenges drive our innovation. They are the keystone of our vision, which plainly states: We succeed only when our customers succeed."
A look back
The company was incorporated on May 1, 2002, under its original name Agilisys, based in Malvern, Pennsylvania. It was focused primarily on the manufacturing and food & beverage industries with 1,300 initial customers. The company changed its name to Infor Global Solutions on Sept. 1, 2004. In the years since, Infor has grown and evolved into a global leader in cloud-based business technology and services — always specialized by industry.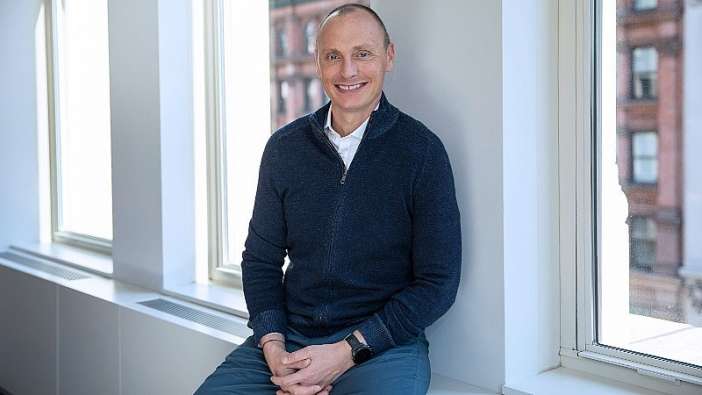 Some key employees have been with Infor since the beginning, including CEO Kevin Samuelson, who joined the new company in 2002 on its finance team.
"We called ourselves the world's largest start-up. I was excited to be part of creating something new in the business software industry: cutting-edge innovation firmly rooted in providing true last-mile functionality," Samuelson said.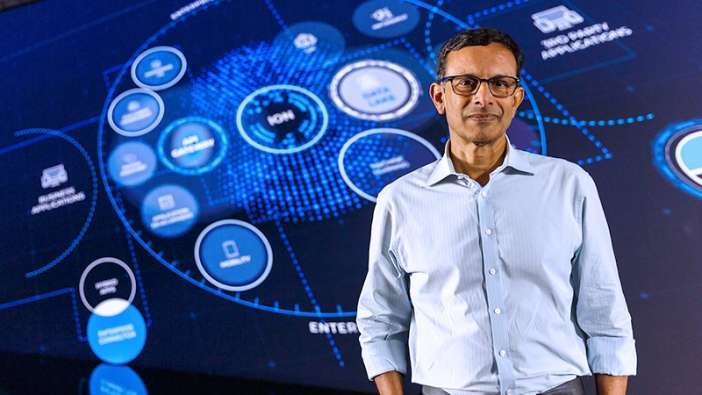 Soma Somasundaram is another 20-year veteran. In 2002, he became the company's first employee, and built its first ERP system for the food & beverage industry. Today, he is Infor's chief technology officer and president of products.
"As 'employee number one,' I've borne witness to the entire journey from inception to maturity — and it's been remarkable," Somasundaram said. "I was there in the first days in 2002, when Golden Gate Capital, recognizing a long-term investment opportunity, began acquiring best-of-breed applications like mine in food & beverage.
"We were on a mission to take those acquired assets and integration framework and build a cohesive, innovative company with a unique vision and differentiated products," he continued. "We were first in the industry to present our applications with a consumer-grade user experience, the first to leverage a public cloud provider, the first to deploy using open source — all steps along the way to maturity — to become the first multi-tenant industry-specific ERP in the cloud. They are the foundations and engines for our customers' future-proof, digitally driven organizations."
Infor's evolution has been fueled by the enormous talent and commitment of its people. Its diverse workforce has grown into a global collaborative team of more than 17,000, all passionate about helping their customers succeed.
Long-term customer relationships
Today, Infor is the trusted technology partner of more than 60,000 organizations in 179 countries.
The company's goal is to have a long-term mutually beneficial relationship with each one. And, in fact, many of its early customers are still partnering with Infor today.
"It's been 20-plus years we've been working with Infor. We've gotten great support from the software, the people, and the new technology that they're rolling out every day. It really is just great for our industry and great for our company," says Shannon Spears, Benchmark Electronics VP of business applications and data analytics.
"Infor WMS is the beating heart of our business, and the reason we've used versions of Infor products for 20 years is because it just works. It's highly effective, it's highly configurable, and it stays up," says Kevin Rowland, CIO at Fliway. "Consequently, I never have to worry about it. It's the most reliable piece of software that we have."
Highlights of the first 20 years: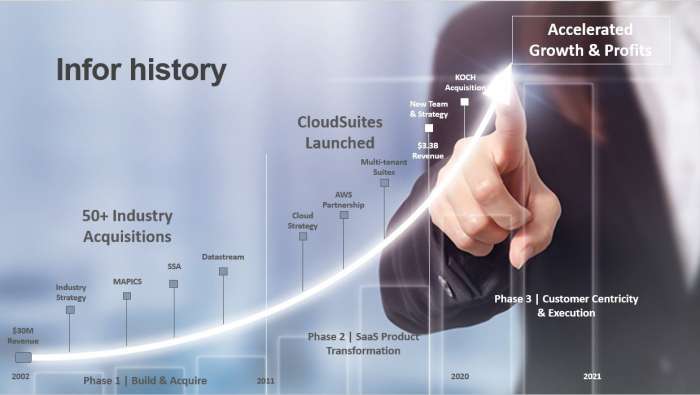 • 2002 – The company is incorporated on May 1, 2002, under its original name Agilisys, based in Malvern, Pennsylvania, and focused primarily on the manufacturing and food & beverage industries.
• 2003 – Headquarters moves to Alpharetta, Georgia, a suburb of Atlanta.
• 2004 – The company name is changed to Infor Global Solutions on Sept. 1, 2004.
• 2005 – Adds powerful SyteLine ERP for industrial manufacturing with the acquisition of MAPICS.
• 2006 – SSA acquisition delivers popular LN ERP (formerly Baan), geared for discrete manufacturing industries, including aerospace & defense, high-tech, and automotive.
• 2009 – Infor enters the hospitality industry with acquisition of SoftBrands, the first of several key hospitality-dedicated products acquired and developed. Infor Intelligent Open Network (ION) is introduced, an open-source integration and messaging platform.
• 2010 – Charles Phillips becomes CEO with a new leadership team and new industry cloud strategy.
• 2011 – Infor expands into the healthcare vertical by acquiring Lawson Software, that industry's leading software provider in the U.S.; the acquisition includes the robust M3 ERP solution built to serve the distribution, food & beverage, chemicals, equipment and fashion industries. Infor begins to rewrite applications for the cloud and invest in developing cloud-native products.
• 2012 – Moves headquarters to New York City and establishes internal design agency, Hook & Loop, to create a beautiful, consumer-grade user experience.
• 2013 – Launches industry-specific CloudSuites and partners with Amazon Web Services (AWS) to provide cloud infrastructure.
• 2014 – Enhances Human Capital Management (HCM) suite with talent science and behavioral assessments.
• 2015 – Acquires GT Nexus, the world's largest cloud-based global commerce platform.
• 2016 – 68 million users in 170+ countries are active on the Infor cloud.
• 2017 – Acquires Birst®, a cloud-native analytics and business intelligence tool. Introduces Infor Coleman, an AI platform and digital assistant named in honor of NASA mathematician Katherine Coleman Johnson.
• 2018 – Introduces artificial intelligence (AI) and machine learning (ML) applications by industry.
• 2019 – Kevin Samuelson is promoted to CEO.
• 2020 – Infor becomes a wholly-owned, standalone subsidiary of Koch Industries, one of the largest privately-owned companies in the U.S.
• 2022 – Celebrates 20 years of commitment to industry first, industry always.
Only the beginning
As business and industry needs and priorities continue to change, Infor will continue to deliver solutions. This year, Infor doubled down on its industry-first strategy by reorganizing its business units into an industry delivery model. This helps the company provide even faster time-to-value to customers and leverage massive new investments in product development and user experience.
"All of us at Infor are proud of our history in creating really brilliant software solutions that have helped our customers transform their businesses and achieve great things," Samuelson said. "We sincerely thank them for allowing us to partner on their journey. Here's to the next 20 years!"
Visit Infor's Celebrating 20 years page for more highlights and reflections from customers, employees, partners and analysts.