United Kingdom-August 29, 2023, 09:00 AM
Industry partnership drives integration of best-in-class PLM and impact measurement analytics to deliver traceability and sustainability to fashion brands


LONDON – August 29, 2023 – Infor®, the industry cloud company, today announced the availability of a dedicated interface between Made2Flow, a tech company specializing in analysis and validation of environmental data in the fashion industry, and Infor product lifecycle management (PLM). The interface will facilitate processing of data and full visibility for global fashion brands looking to increase transparency of the production supply chain. Crucially, it will support traceability and impact measurement across tiers one to four.

As fashion brands face increasing pressure to measure their environmental impact and comply with upcoming regulations such as the PEFCR and Digital Product Passport, the interface between Infor and Made2Flow will automate the necessary data flow and impact calculations. Through capturing data from the entire supply chain — from yarn suppliers and fabric companies to garment producers — Infor's interface with Made2Flow will facilitate meaningful, real-time insights from which to monitor, measure and analyse key, predefined metrics. Not only will this allow greater visibility of the wider context of the fashion lifecycle, it also will deliver the necessary collaboration to allow continuous measurement to meet targets and communicate effectively and transparently with stakeholders.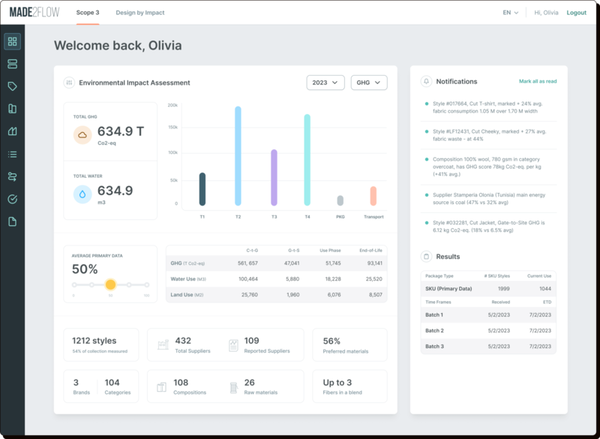 The only way to truly understand the sustainability credentials of a given garment or item is to measure the environmental impact of every aspect of its lifecycle, in relation to CO2, water consumption, and other indicators. In the fashion supply chain, this is inevitably complicated and time consuming, requiring unprecedented levels of collaboration to gather, contextualize and leverage relevant data.

"With more than 1,000 fashion customers globally, all of whom are at different stages of their sustainability journeys, we are delighted to have created this interface with Made2Flow to help supercharge the potential of what is possible," comments Helene Behrenfeldt, Infor's industry and solution strategy director for the fashion industry. "Now, in addition to being able to expedite design and development time by up to 50%, we can offer a capability that allows fashion companies to perform environmental impact measurements across their supply chains, and identify areas that can be adjusted to reduce carbon footprints with real-time recommendations."

"At Made2Flow, we developed technologies to overcome data gaps and validate data to finally be able to measure the impact of entire collections continuously in a credible manner. Thanks to our Bill of Processes (BOP) engine, we manage to normalize data and allow brands and suppliers to understand their impact hotspots," comments Tal Shogol, CEO of Made2Flow. "Developing regulations force fashion brands to use impact measurement not only as a consumer-facing solution but also for internal purposes to control impact reduction activities in real time. Thanks to the collaboration and interface with Infor, brands will be able to accurately measure their sustainability efforts and drive to faster impact reduction as an intuitive working tool and increase their sustainability ROI. At Made2flow, we are great believers in partnerships such as this one; it is the only way to transition to a low-impact industry."

Learn more about Infor Fashion.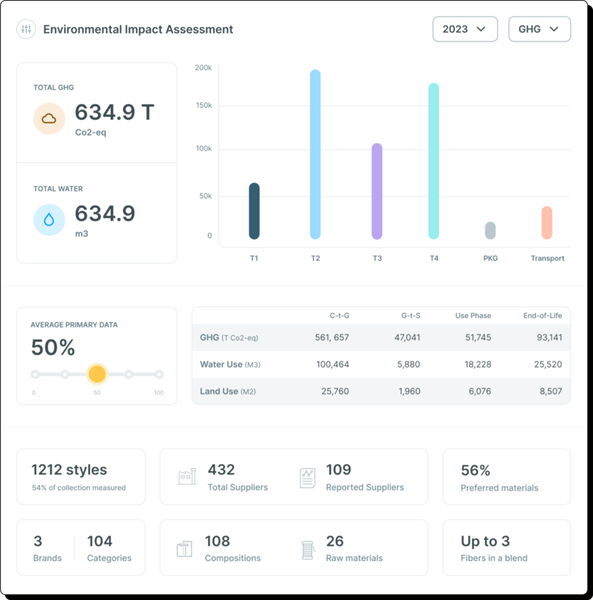 About Made2flow
Made2Flow is a German data company specializing in environmental impact measurement and decarbonization solutions across supply chains in the fashion industry (apparel, footwear and accessories). Made2flow serves leading corporates, fashion brands, and sourcing companies, and has gathered data from more than 5,000 suppliers across tiers 1-4 globally. Visit Made2Flow.

# # #

Media contact
Richard Moore
Senior PR Director, EMEA
Richard.moore@infor.com
+447976111243