United States-
Supply & Demand Chain Executive's 3rd annual award recognizes top female supply chain leaders and executives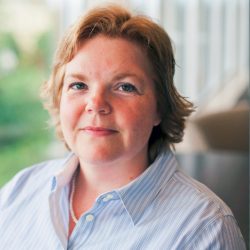 Valerie Tardif, Infor VP of Product Management, has been selected as a recipient of the 2022 Women in Supply Chain award by Supply & Demand Chain Executive. The award honors female
supply chain leaders and executives whose accomplishments, mentorship and examples set a foundation for women in all levels of a company's supply chain network.
"I am honored to have been selected. Women in Supply Chain is a group I have always admired. To be recognized as one of them is a great incentive to continue to advocate and strive toward for more diversity in supply chain," Tardif says. "I am passionate about growing maturity of processes across all aspects of supply chain management, and I believe that diverse teams with different perspectives and backgrounds only accelerates progress."
Tardif is a supply chain software product management and technology expert, with a doctorate in operations research and management sciences, and deep hands-on knowledge about how to make advanced analytics accessible to supply chain professionals. She is dedicated to enabling Infor customers' success, working closely with organizations that are maturing their planning processes through people and process improvements, technology rollout and digital transformation.
This year's list of Women in Supply Chain includes individuals from software and service providers, consultancies and academia, trucking and transportation firms, professional development agencies, sourcing and procurement divisions, and more, all who have helped supply chain clients and the supply chain community at large prepare to meet many of today's—and tomorrow's—challenges.
"This year, we received over 280 submissions. I'm so proud of everyone who participated. I'm proud to call these women mentors, role models and industry friends," says Marina Mayer, editor-in-chief of Supply & Demand Chain Executive and Food Logistics.
View the full list of 2022 Women in Supply Chain winners.
About Supply & Demand Chain Executive
Supply & Demand Chain Executive is the only supply chain publication covering the entire global supply chain, focusing on trucking, warehousing, packaging, procurement, risk management, professional development and more. Supply & Demand Chain Executive and sister publication Food Logistics are also home to L.I.N.K. podcast channel, SCNSummit.com, SupplyChainLearningCenter.com, the Women in Supply Chain Forum and more.