IDC Report: Building a Sustainable Digital-First Distribution Business on Cloud
Analyst Report
IDC Report: Building a Sustainable Digital-First Distribution Business on Cloud
The distribution business in the Middle East and Africa (MEA) region is going through a period of dynamic changes – one that provides immense opportunities while simultaneously intensifying the level of competition. The entire trade value chain — from producers in resource industries to manufacturers, distributors, retailers, and consumers – has taken a digital-led route accelerated by the COVID-19 pandemic.
The lessons learned from the pandemic have made an organization's ability to pivot and adapt to changing market conditions of paramount importance. At the same time, the age-old focus on reducing cost and improving operational efficiency remains as important as ever. To thrive in the era of ecommerce and innovative business models, organizations need to embrace automation, master software platforms, and gain real-time visibility into the extended supply chain. These are the areas in which current digital transformation efforts need to evolve into a "sustainable digital business" approach.
In this report, Jebin George, Senior Manager at IDC evaluates the dynamic changes occurring in the industry and highlights how cloud-based modern applications are foundational to building a sustainable digital-first distribution business.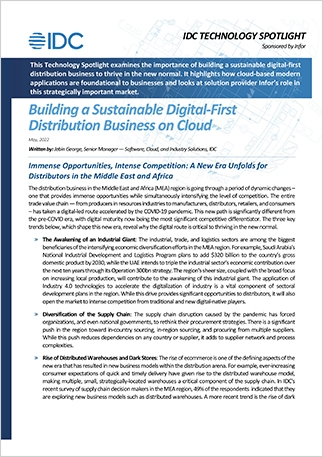 Let's Connect
Contact us and we'll have a Business Development Representative contact you within 24 business hours
By clicking "Submit" you agree that Infor will process your personal data provided in the above form for communicating with you as our potential or actual customer or a client as described in our Privacy Policy.