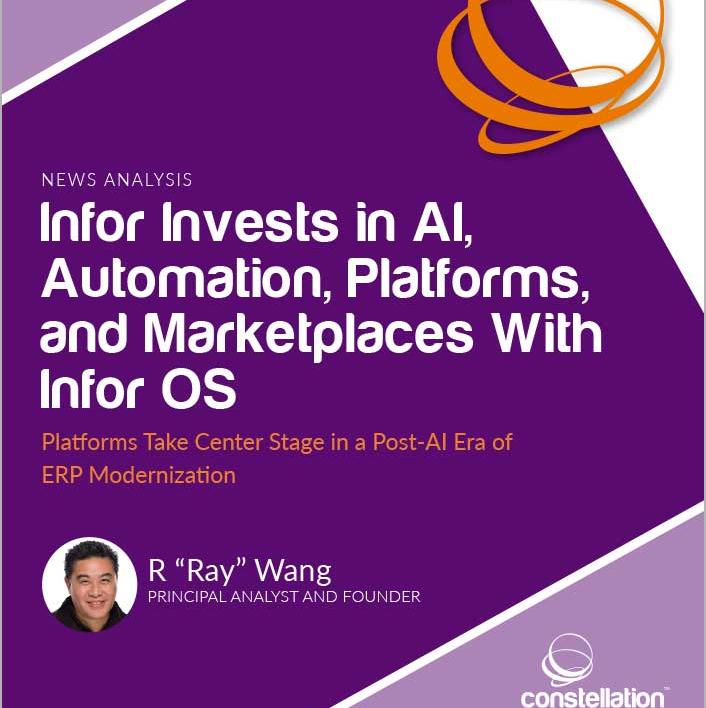 Analyst Report
Platforms take center stage in a post-AI era of ERP modernization
Overview
In a thrilling return to in-person events, Infor recently gathered key customers, partners, and industry influencers in the vibrant city of New Orleans, Louisiana. Infor Now showcased the remarkable progress and substantial investment made in our core technology.
At the October 2023 event, early-adopter customers provided compelling evidence of how Infor OS is delivering substantial Return on Investment (ROI) through the integration of Artificial Intelligence (AI), cutting-edge platforms, dynamic marketplaces, and efficient automation.
As businesses embark on their journey to modernize their Enterprise Resource Planning (ERP) systems, many are contemplating an upgrade from their existing Infor products. Moreover, prospective customers within key Infor industries are also exploring the benefits of Infor's offerings.
Constellation Research's
R "Ray" Wang
, Principal Analyst and Founder, shares his take on Infor's investments over the past five years in our core platform—Infor OS. Download the news analysis to learn more.
Please complete the form below
Fields with * are required.
By clicking "Submit" you agree that Infor will process your personal data provided in the above form for communicating with you as our potential or actual customer or a client as described in our Privacy Policy.
This site is protected by reCAPTCHA and the Google Privacy Policy and Terms of Service apply.