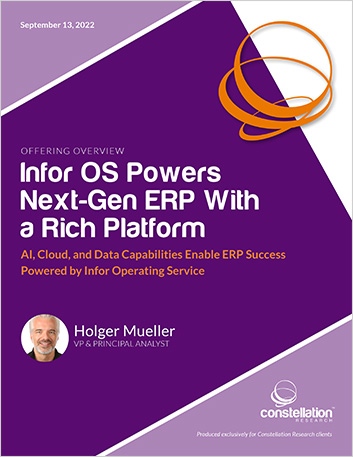 White Paper
Constellation Research: Infor OS powers next-gen ERP with a rich platform
Overview
This report provides an overview of trends around enterprise application platforms (EAPs), systems that manage, build, operate, integrate, and extend enterprise applications. It describes how Infor OS powers all Infor ERP offerings, and stands out among EAP offerings. According to Constellation Research, "Infor has one of the most functionally rich and mature EAPs in the market."
Read more for:
The eight market trends defining enterprise application platforms
An independent overview of Infor OS
Constellation Research's six recommendations for CxOs looking at Infor OS
Please complete the form below
Fields with * are required.
By clicking "Submit" you agree that Infor will process your personal data provided in the above form for communicating with you as our potential or actual customer or a client as described in our Privacy Policy.
This site is protected by reCAPTCHA and the Google Privacy Policy and Terms of Service apply.