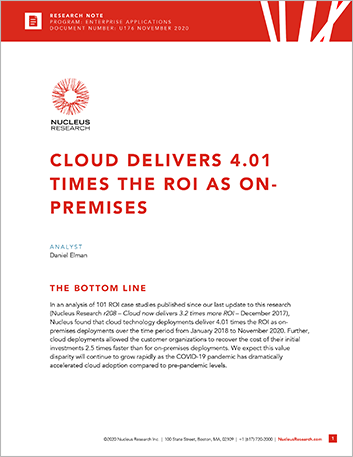 White Paper
Nucleus Research: Cloud delivers 4.01 times the ROI as on-premises
Overview
Nucleus Research has found that cloud technology deployments deliver 4.01 times the ROI of on-premises deployments and enable those organizations to recover the cost of their initial investments 2.5 times faster. Read this report to understand how these ROI values are realized and what lies ahead for cloud adoption.

Please complete the form below
Fields with * are required.
By clicking "Submit" you agree that Infor will process your personal data provided in the above form for communicating with you as our potential or actual customer or a client as described in our Privacy Policy.
This site is protected by reCAPTCHA and the Google Privacy Policy and Terms of Service apply.