Infor Workforce Management
Optimise labour productivity and compliance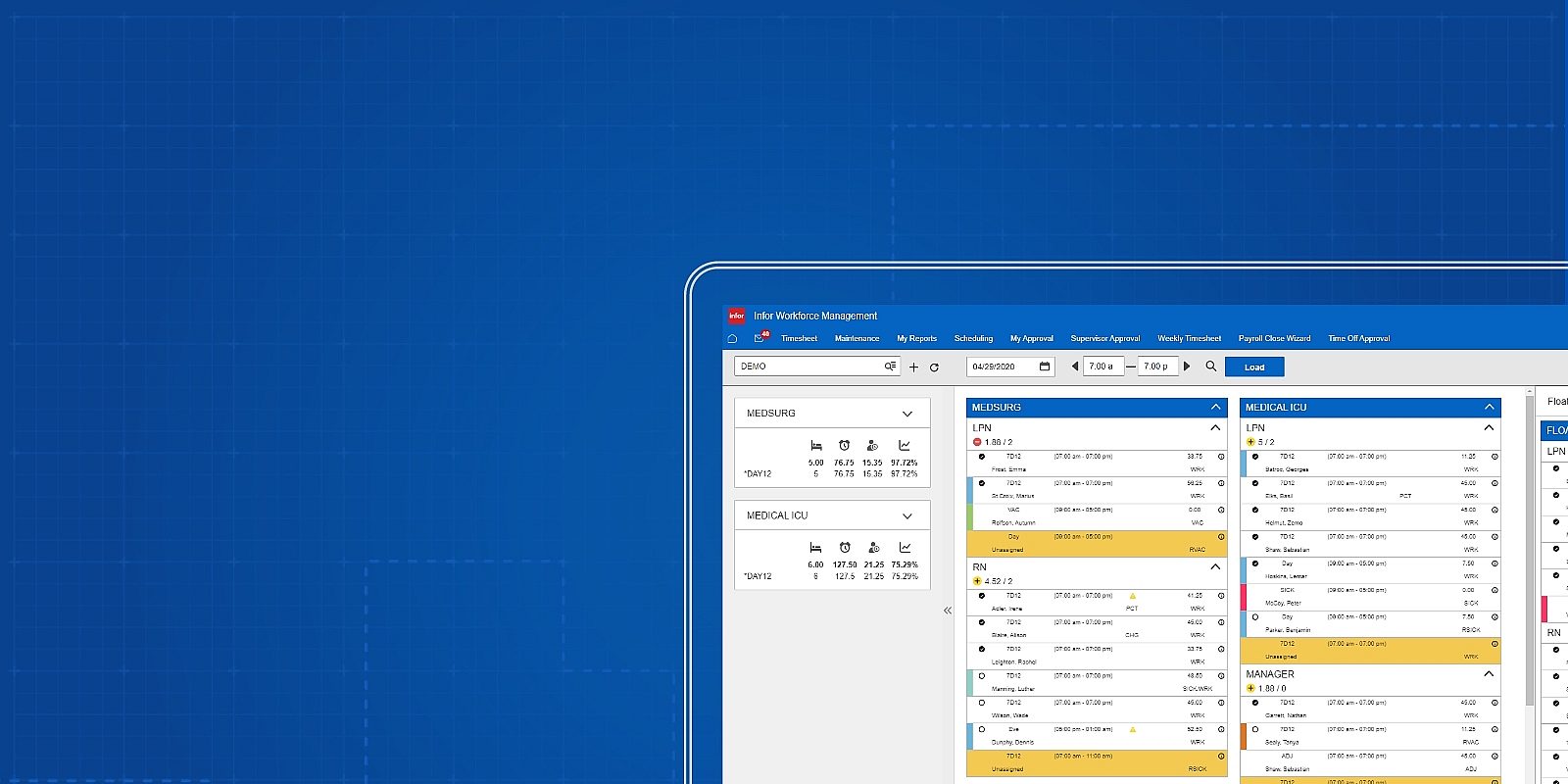 Built for the digital workforce
Optimise every aspect of labour management and productivity with Infor® Workforce Management. Strategically enhance workforce planning, execution, and analysis with an engaging, industry-specific, enterprise workforce management software solution built on a proven technology platform that delivers time and attendance, demand-driven scheduling, workforce scheduling, and absence management tools.
Infor Workforce Management Resources
Unlock opportunities for today's enterprise
Utilise a proven technology
Support multifaceted integration and data exchanges with Infor WFM's technology and architecture
Confidently comply with labour laws
Ensure legislative compliance for international, federal, state, and local labour laws
Leverage industry specialisation
Address industry-specific requirements with vertically specialised modules
Intelligent mobility
Enable your people to access and act on workforce data anywhere, anytime
Machine learning
Promote the aggregation of more and better data with broader labour models, deeper flexibility with forecasting algorithms
After a thorough evaluation of workforce management and scheduling applications, we selected Infor WFM as the best vendor and product in the market to manage both our Spencer's and Spirit Halloween stores payroll and associate schedule systems. We expect the Time/ Attendance, Labour Forecasting, Scheduling Optimisation platform to have a significant positive impact to our store operations and to assist in servicing our associates better.
Infor OS
Infor OS
A robust cloud operating platform for accelerating innovation throughout the enterprise ecosytem
Let's Connect
Contact us and we'll have a Business Development Representative contact you within 24 business hours

By clicking "Submit" you agree that Infor will process your personal data provided in the above form for communicating with you as our potential or actual customer or a client as described in our Privacy Policy.