Infor CPQ
Improve the visual buying experience for your customers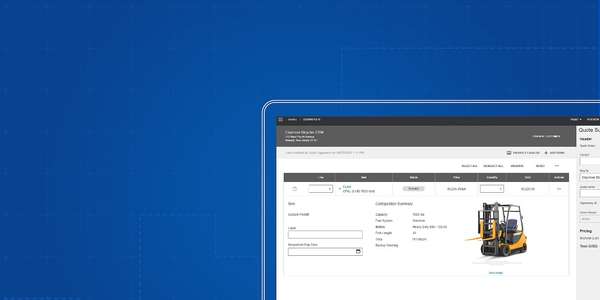 Close complex sales faster
Provide your customers with a visual selection experience during their research and engagement. Sales channels will gain a competitive advantage and accelerated path to conversion. And you'll be able to sell products quicker by eliminating costly errors and duplication of effort, while speeding up the sales cycle.
Unlock opportunities for today's enterprise
---
Drive interest generation through fulfillment with a single solution across the enterprise
---
Grow the number of opportunities and generate more quotes through an intuitive and efficient quoting solution
---
Meet customer requirements with shortened quote-to-delivery times
---
Improve win rates with less dependency on internal staff
---
Automatically create accurate proposals and downstream fulfilment information
---
Accelerate new product introduction by adapting quicker to market demands
Infor CPQ supports every part of our business from interest generation and capture, through quoting, order conversion and order fulfilment. The visual experience from the kiosks in the showroom has been a real game changer for us. We've kept our costs down because we chose an enterprise CPQ solution that is the best in the market for discrete manufacturers.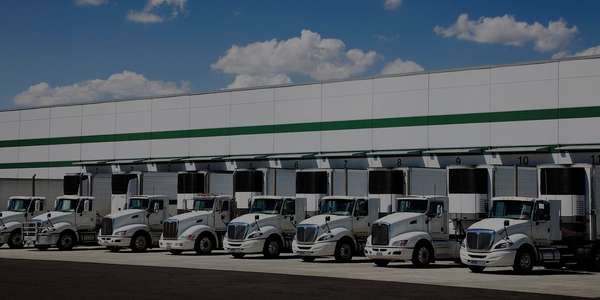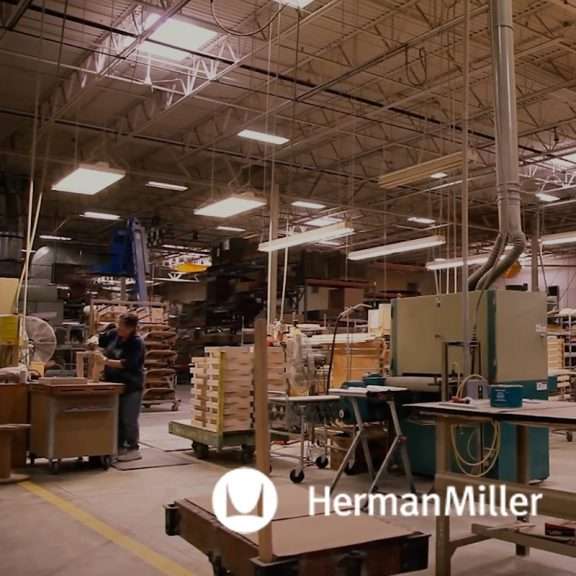 Customer success
Herman Miller differentiates itself in the market with top-of-the-line furniture that can be tailored and customised by the consumer. The company's Aeron chair alone has more than one million possible permutations. Herman Miller relies on Infor CPQ to support both front-office and back-office enterprise solutions to help meet customer needs.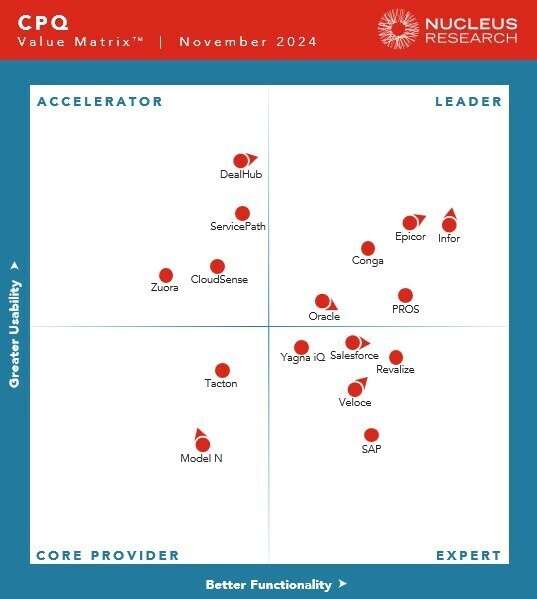 Market Excellence
Infor has paired Infor CPQ with its proprietary Infor Coleman® AI and Infor Birst® analytics technologies, enabling sales assistance, quote and configuration analytics, and voice and rapid quote entry capabilities. Sales teams utilize the added functionality to drive further value from a streamlined lead-to-order process—optimizing pricing and discounting to better align with overarching goals and sales strategies.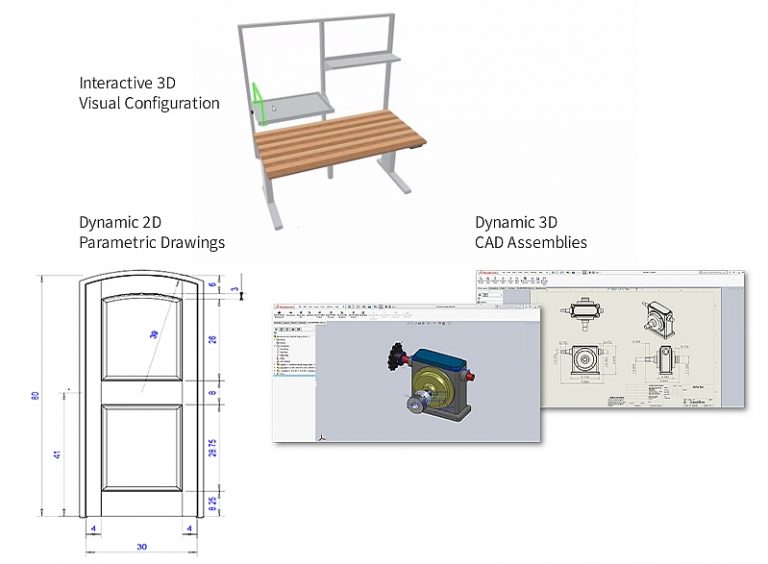 Visual configuration
Leverage a powerful, dynamic, and visually interactive experience to bring product options and final product configurations to life.
3D interactive model creation
2D parametric drawing generation
3D CAD assemblies and shop drawings creation
Augmented reality experience
Innovative quoting and ordering
Capture interest and knowledge about your highly variable products or systems once, and then share with customers and selling channels to make the selection and purchase process intuitive and error-free. In addition, applying analytics can transform quote and configuration data into insights that help drive better business decisions.
Internal and external sales channels leverage the same set of capabilities
Collaboration capabilities
Built-in pricing and engineering approval workflows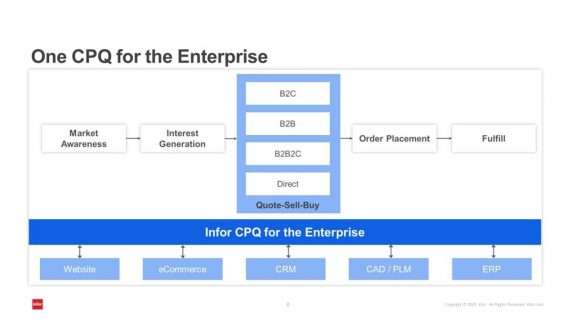 Enterprise integration
Out of the box integration for key requirements and processes—ranging from interest generation and capture, specing, quoting, and ordering, through dynamic BOM and routing creation.
Infor®, Salesforce, and Microsoft Dynamics CRM support
Support for Infor Rhythm® for Commerce and Infor SyteLine® portals
Infor, Oracle, and Microsoft Dynamics ERP support
SolidWorks, Autodesk, and Creo CAD support
Service-level integrations with dozens of additional applications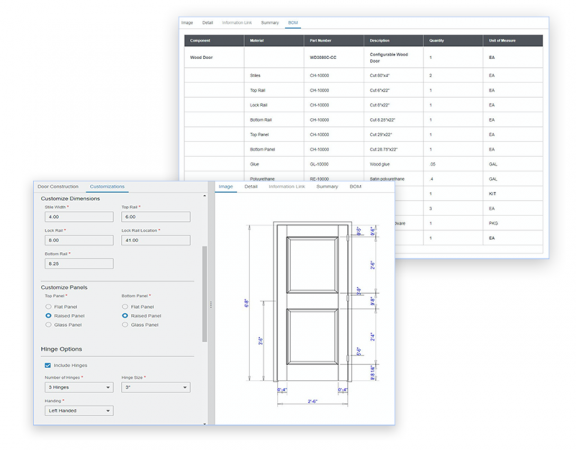 Dynamic generation of manufacturing information
Automatically convert complete and accurate quotes to orders and dynamically generate manufacturing information; both integrated with your host applications for accurate:
Bills of Material (BOMs)
Routings
Shop orders
Change orders
Productivity by the numbers
Ensuring your products are seen
83%
of buyers point to product images as the most influential factor in purchasing decisions
70%
of B2B buyers define their needs on their own before engaging
50%
of B2B buyer identify specific solutions before reaching out
Adding visual configuration to the buying experiences delivers:
40%
higher on-line conversion rates
30%
improvement in averages sales prices
80%
reduction in online returns
Related products
---
Global ERP cloud solution with a pioneering, state-of-the-art user experience design with robust industry-tailored manufacturing functionality
Learn more
---
End-to-end ERP solution for both discrete and process manufacturers with predictive analytics, collaboration, lean production tools, and more
Learn more
---
A multi-company, multi-country, and multi-site ERP cloud platform for handling the complex processes of enterprise manufacturers and distributors
Learn more
---
Integrated multi-tenant e-commerce solution that enables organisations to sell their complete product assortment in a rich, online shopping experience.
---
Cloud-based application that provides a view of every customer touch point across an organisation's sales, marketing, customer service, and support teams.
Learn more
Infor OS
A robust cloud operating platform for accelerating innovation throughout the enterprise ecosystem