Infor Sales & Catering event management software
Cloud-based, event catering and management software that automates the entire booking process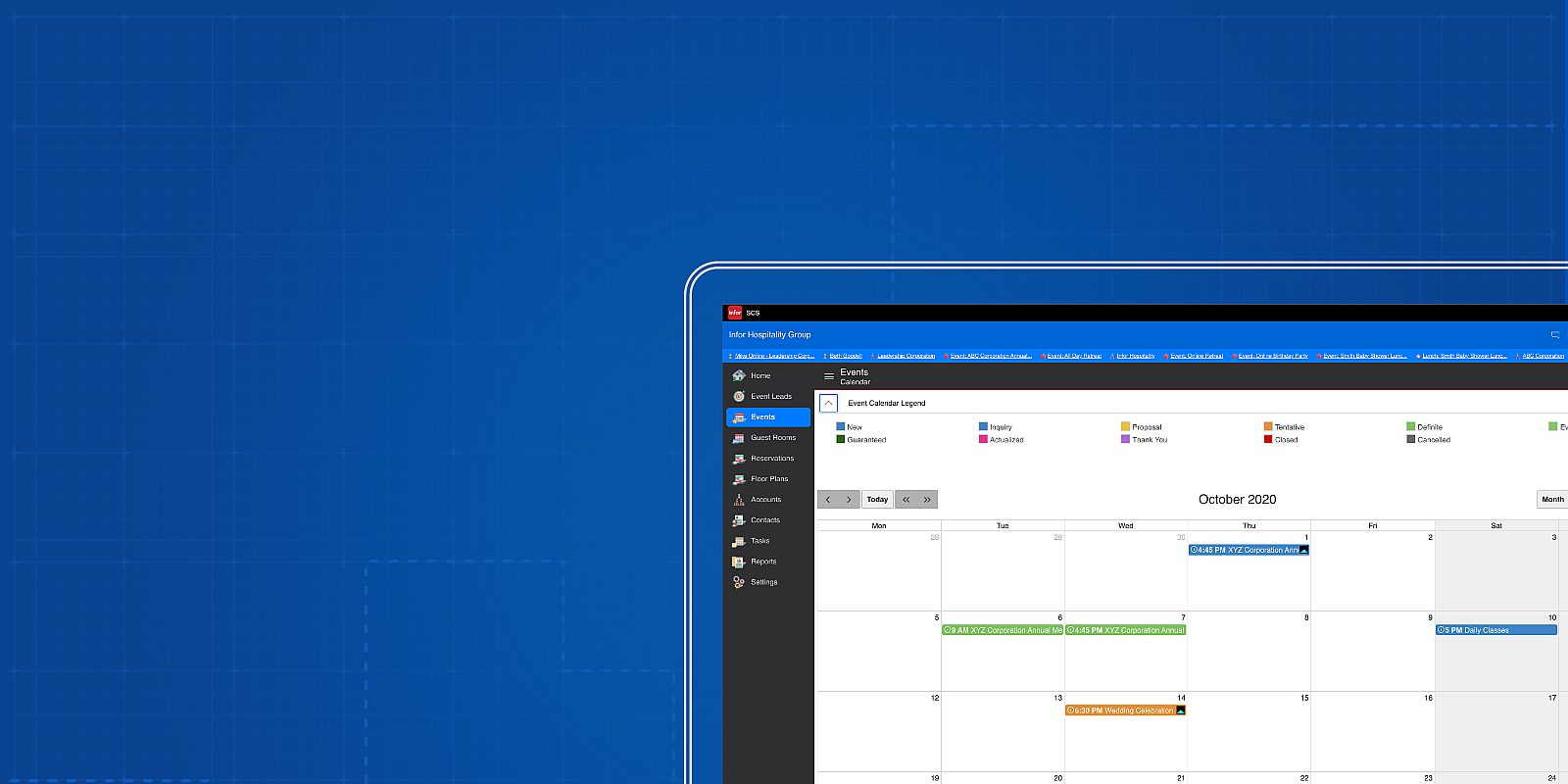 Cloud-based sales and catering software for automated booking
Event sales and catering is an essential component to your hotel, restaurant, resort, or other venue business. Precision is key to creating the seamless and frictionless experiences that guests and attendees expect, whether it's a large-scale conference or smaller-scale, single-evening event. Sales and catering software should empower your teams to do their best work, connect to other essential systems, and allow you to track each event with optimum visibility from end-to-end to help you ensure the best possible experience every time.
Infor® Sales & Catering is a fully integrated, event-management software solution in the cloud. It automates and streamlines the entire event booking process, from initial inquiry to final invoice, with customizations to support each stage in the lifecycle of an event. Infor Sales & Catering can help you transform and grow the group sales and event management side of your business.
Infor Sales & Catering event management software Resources
Multi-tenant cloud architecture
Grow your hospitality business with a stable and secure, AWS®-based architecture
Versatile event management
Be ready to serve a range of event types, from industry conventions to birthdays
Automated lifecycle functionality
Leverage intuitive, end-to-end, task and timeline management
Integrated CRM and communications
Utilize relationship-enhancing communication options and easy tracking
Hospitality cost management
Use straightforward processes and displays for managing associated costs
Hospitality business analytics
Drive strategy with detailed performance analysis and financial reporting
We needed an enterprise sales and catering system so we could efficiently manage all of our hotels, share leads, and generate comprehensive report data. Infor Sales & Catering has exceeded our expectations. We have also enjoyed working with their team. Their attention to detail and follow-up is exceptional.
Let's Connect
Contact us and we'll have a Business Development Representative contact you within 24 business hours
By clicking "Submit" you agree that Infor will process your personal data provided in the above form for communicating with you as our potential or actual customer or a client as described in our Privacy Policy.