March 19, 2021
Greater attention must be given to protecting the environment to ensure a superior quality water supply and build resilience to shocks such as flood and drought.
World Water Day aims to promote the United Nations Sustainable Development Goal (SDG) 6, access to water and sanitation for all. Living in first world countries with water literally on tap, it's easy to dismiss the day as an awareness effort for those less fortunate.
But the reality is, sustainable access to water and sanitation is a complex challenge for most economies. According to a previous report, 60% of the world's population live in areas of water stress, where the water supply cannot or will not continue to meet demand.
Building resilience in Australia.
Australia's climate system is changing, and is unquestionably the driest inhabited country on the planet, with 70% classified as either arid or semi-arid land. And whilst we are all-too willing to pack away our sprinklers, install water-saving toilets and taps, and buy our own rainwater tanks for our gardens, it's simply not enough; the government had to make the controversial step to rainfall independent solutions to secure Australia's water supply for future generations.
The drought that propelled reform
The millennium drought was the worst drought in Australia's recorded history – lasting from late 1996, until mid-2010.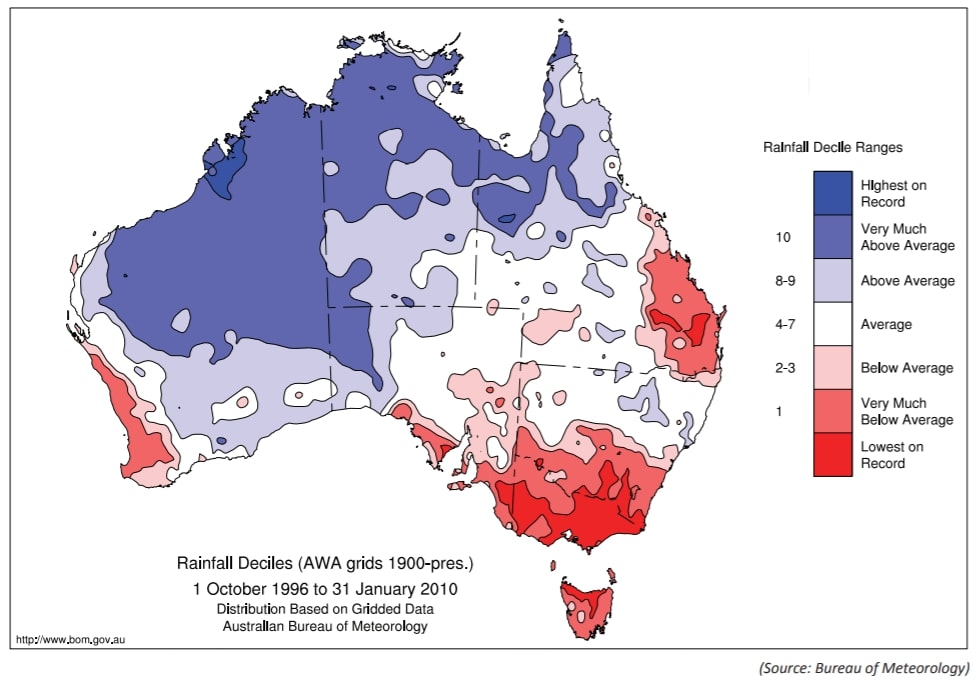 It placed extreme pressure on agricultural production, and urban water supply, and brought long-term water restrictions to the country's highly populated southeast and southwest, triggering major reforms.
Driven by the dual challenges of declining water supply, and growing demand, Australia stepped up its efforts to secure water. The nation shifted from controlling demand with water restrictions, to securing supply with major infrastructure investment.
Water security: a drop in the ocean
In 2007 the Victorian Government released a plan to secure water supply for the state's growing population and economy. Critical to this plan was the construction of a new desalination plant to provide climate-independent water to Melbourne, Geelong and neighbouring regional areas.
The Victorian government contracted Aquasure, a consortium of Suez, Thiess, and Macquarie Group, to finance, design, build, operate and maintain the Victorian Desalination Project.
Victoria's award-winning desalination plant is historically one of Victoria's biggest infrastructure projects and has the capacity to supply up to 60% of Melbourne's daily water requirements, independent of rainfall.
Similarly, in NSW Sydney's desalination plant was constructed and declared 'ready for water' on 18th January 2010. After operating for two years, the plant was put into standby mode for the state's water security strategy, recently restarting in January 2019 when the dam levels fell below 60%.
Going one step further to secure water supply, Victoria invested $1 billion dollars in upgrading the Goulburn-Murray Irrigation District, and expanding the water grid, including building the Sugarloaf pipeline.
The 70km Sugarloaf Pipeline was completed in 2010, and connects the Goulburn River near Yea, to the Sugarloaf Reserve in northeast Melbourne. It provides water security to towns and communities in both directions, proving it's feasible to pump water north with the right infrastructure investment.
Going with the flow
Australia's desalination strategy has been a controversial topic over the years, and one that has found itself on the ticket of many state elections. Nonetheless we're now starting to learn about positive effects on the marine environment; a recent study by University of New South Wales, found there's a 279% increase in fish life around the discharge outlets.
With most of Australia's population living on coastlines, together with growing public awareness and investment in infrastructure and innovation, desalination is an increasingly accepted strategy to address low water resource availability.
And with 15,000 desalination plants globally, this technology will continue to improve as governments and industry collaborate on water resource management for all sectors: urban, irrigation, domestic and stock, or environmental.
Coming soon:
In our next blog, we'll talk about the water reforms in the pipeline for New Zealand and explore strategies to optimise the water supply process from catchment to customer.