CloudSuite Distribution Enterprise brings flexibility and modernisation to Cellnet
Case Study
CloudSuite Distribution Enterprise brings flexibility and modernisation to Cellnet
To stay competitive and maintain a positive relationship with its customers, Cellnet—a leading distributor of consumer electronic accessories based in Brisbane, Australia—needed to accelerate and prioritise its business process evolution, to ensure its technology could support digital transformation. Read the case study to learn how CloudSuite Distribution Enterprise is enabling Cellnet to innovate and drive competitive differentiation.

"We knew that we wanted to move to the industry's best-practice cloud ERP and we selected Infor CloudSuite Distribution Enterprise on that basis. The Infor technology stack including Infor OS, delivered in a true cloud platform, now allows us to focus on the future and the functionality required to remain nimble, flexible, and responsive to changing market conditions and competitive pressures."
BRETT PERKINS
COO, Cellnet Group Ltd.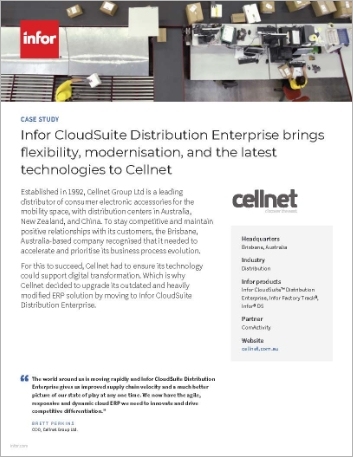 Let's Connect
Contact us and we'll have a Business Development Representative contact you within 24 business hours

By clicking "Submit" you agree that Infor will process your personal data provided in the above form for communicating with you as our potential or actual customer or a client as described in our Privacy Policy.