June 14, 2023By Vincent Barnes, VP of Infor Nexus, EMEA
An industry under great scrutiny
Over the past decade, numerous articles in the press have shed light on the scale of the global fashion and apparel industry, and its significant environmental impact. These articles have brought attention to the industry's role as a major polluter, with concerns raised about its contributions to water pollution, carbon emissions, and waste generation.
The global and expansive nature of the industry, encompassing everything from raw material production to garment manufacturing and distribution, has led to increased scrutiny of its practices and calls for more sustainable processes. As public awareness grows, there is increased pressure on adopting more eco-friendly practices and ensuring that all operations are transparent and can live up to greater on-going scrutiny from government bodies as well as consumers.
According to Financial Times, European Union states have put forward a ban on the destruction of unsold clothing which, according to the EU's own sources, amounts to over 6mn tonnes annually with less than a quarter being recycled. A formal vote on these new measures by EU ministers will take place later this month and comes on the back of many other EU environmental and social regulatory measures designed to encourage more sustainable and ethical practices and ensure greater transparency of this important global industry.
Having worked in the fashion retail sector for over three decades, I have witnessed massive transformation as leading brands have sought to provide their customers with greater choice and value by taking advantage of global sourcing and overseas production. By sourcing materials and manufacturing from different regions worldwide, brands have tapped into cost advantages offered by countries with lower production costs or specialized expertise. Moreover, global sourcing has facilitated faster product innovation by providing brands with a larger pool of options and the ability to respond quickly to changing trends. It has allowed brands to explore a broader spectrum of designs, materials, and manufacturing capabilities, leading to enhanced agility and speed to market.
Competing supply chains
The development of advanced supply chain technologies to support this huge growth has been a key contributor to the success of the industry. But it is now time to re-evaluate traditional business practices to identify more sustainable approaches.
Experience has shown that the best brands operate the best supply chains. Or to put it another way; fashion retail is all about competing supply chains, and those brands that continually invest and innovate become the winners in a very dynamic and competitive global market.
Modern supply chains utilize a plethora of technologies supporting complex business processes that typically operate in separate information silos. Whatever the size of the business, most companies organise themselves by breaking down complex global processes into a series of separate activities over multiple teams and departments. The overall objective is to effectively sense and align ever-changing consumer demand with efficient supply and fulfilment, (the right product, at the right place, at the right time, etc.).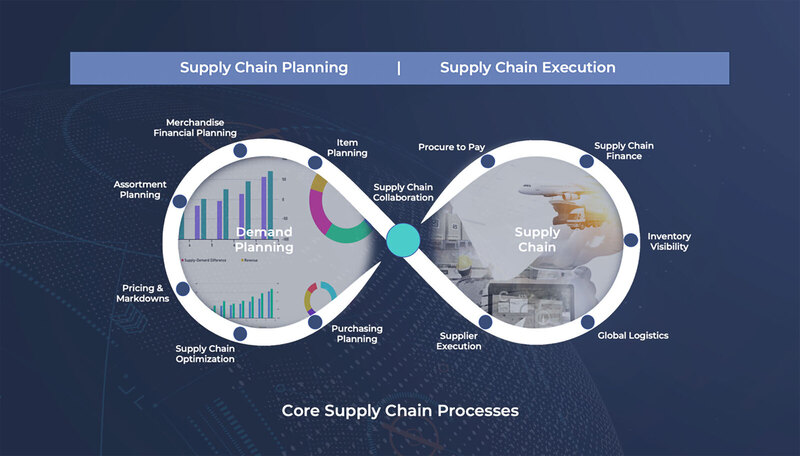 We need to stop planning in isolation
Demand planning is a critical and integral process that involves predicting and meeting customer demand for products across the various sales channels and ensuring alignment with business objectives and resources. Another crucial aspect of demand planning is merchandise financial planning, which aligns financial objectives with merchandise assortment strategies to maximize profitability and minimize risks. Commonly this includes setting sales targets by channel and region, determining required inventory levels, and establishing pricing strategies. However, despite this detailed level of planning, retailers, and fashion brands, operating in complete isolation, hedge their bets and build in a buffer of safety stock for unplanned eventualities.
The use of buffer or safety stock has long been a standard practice and is typically set based on historical demand lead time and supplier performance without considering real-time changes in customer demand and supplier capacity. This often leads to overstocking of certain items and understocking of others, resulting in stockouts or overstocked items that go unsold and ultimately end up in landfills. This practice is not exclusive to the fashion and retail industry as it is prevalent in various other industry supply chains as well.
In order to maintain specific service level agreements and contractual obligations with their downstream customers, each party within the supply chain is incorporating extra buffer stock and contingency to every commitment. Across the entire supply chain, every party is factoring uncertain and building in additional capacity and contingency which, at the end of the season, often contributes to massive over stock and wastage.
As most of the negative environment impact occurs early in the supply chain (tier 3), there is a key sustainability opportunity in the fashion industry.1 If we can come together on an open network, better collaborate, and align to a common understanding of consumer demand and fully align production and supply, we can eliminate millions of tonnes of waste going to landfill and reduce water consumption and carbon dioxide emissions.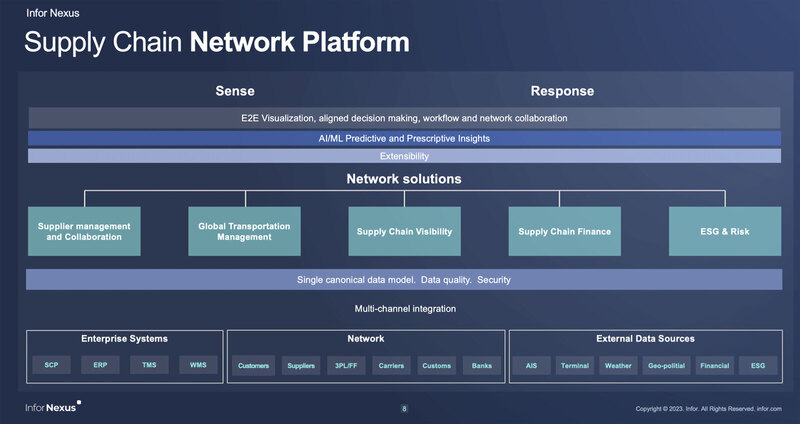 Visibility and collaboration are the cornerstone of efficiency
Fashion brands and retailers should foster stronger collaboration with their supply chain partners to establish a shared understanding of consumer demand. This can be achieved by developing a shared demand forecast and reaching a consensus on the most efficient supply plan. This involves sharing real-time sales data, inventory levels, and the latest customer insights, enabling all parties to better plan and adjust their raw materials procurement, production, manufacturing, shipping, and delivery plans accordingly.
By fostering transparency and facilitating information sharing, visibility promotes effective collaboration between suppliers, manufacturers, distributors, and retailers, enabling streamlined operations and efficient flow of goods. It empowers planners and supply chain teams with actionable insights, allowing proactive adjustments to address disruptions, optimize sourcing, and meet customer demand. Ultimately, visibility forms the bedrock of supply chain efficiency, driving down costs, streamlining processes, and the delivery of exceptional performance.
This no-doubt represents a massive change to established business practices and is totally reliant on breaking down silos, sharing knowledge and building trust. But the key change is to acknowledge that we can only make significant progress by working together in true partnership. Through closer real-time visibility and collaboration, the whole supply chain will become more agile and adjusting to demand fluctuations and supply chain disruptions, ultimately leading to more reliable and sustainable growth as well as delivering shareholder value.
Summary
The global fashion and apparel industry is facing increased scrutiny for its environmental impact, necessitating the adoption of more sustainable practices. To address this, the industry must re-evaluate traditional approaches and embrace collaborative planning and visibility throughout the supply chain. By breaking down silos and establishing a shared understanding of consumer demand, fashion brands and retailers can optimize their supply plans and improve efficiency. Strategic partners like Infor Nexus™ offer digital capabilities that enable real-time visibility, collaboration, and transparent operations, empowering the industry to achieve a resilient and sustainable supply chain.
Infor Nexus™
is the world's leading business network for multi-enterprise supply chain orchestration and optimisation—connecting businesses to the entire supply chain for enhanced supply chain visibility, collaboration, and predictive intelligence. With advanced planning, execution, and finance capabilities, businesses can intelligently sense and respond to supply chain activities in real time. Find out more about Infor Nexus™
here
.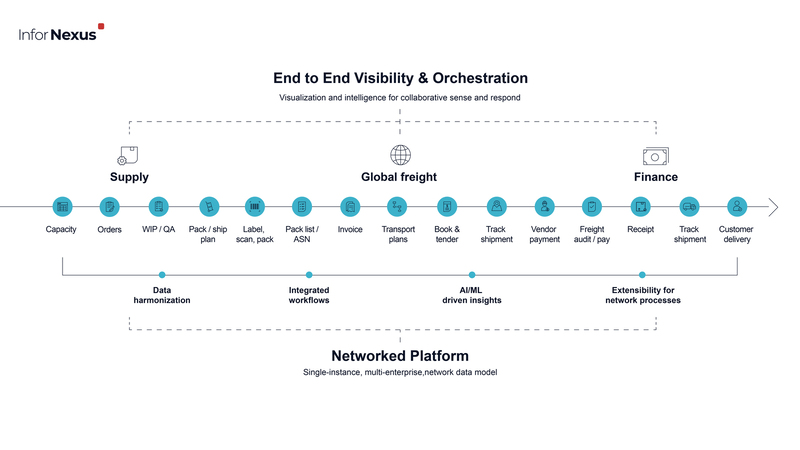 Author: Vincent Barnes,
VP of Infor Nexus, EMEA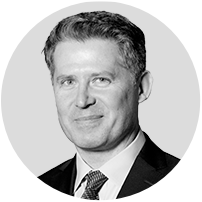 Source: World Economic Forum