United States-March 01, 2021, 02:00 PM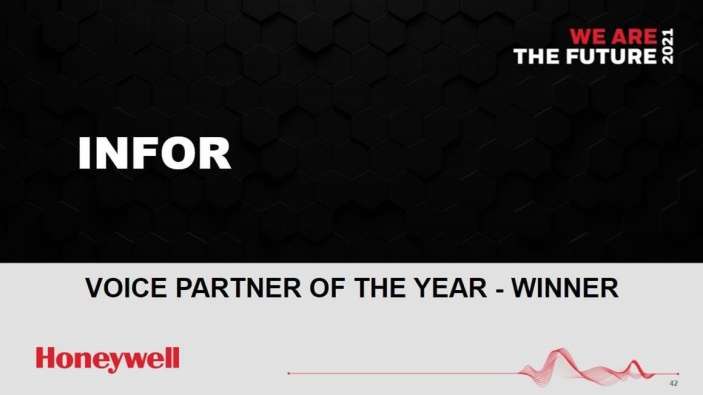 Honeywell has named Infor its Voice Partner of the Year. The honor recognizes Infor as the top Vocollect solution provider of 2020. Infor pairs Voice with Infor WMS, its Gartner-rated Tier 1 warehouse management solution offering best practices for several warehouse workflows.
"For 2020, Infor had outstanding year-over-year growth within its retail / wholesale grocery industry space by close to 100%," says Kevin Dehoff, Honeywell president of productivity solutions and services. "In addition, Infor added new distribution centers across multiple customers, and added numerous new logos for new revenue growth."
Infor uses the Honeywell Vocollect Voice solution to convert warehouse management system information to speech, providing audible instructions to warehouse operators — directing them to the next location and guiding them through the required tasks or steps to complete processes, such as picking, inventory replenishment, maintenance and repairs.
Voice is a best practice for many workflows in warehouses and distribution centers. It is used in many of Infor's industry verticals. Doug Bilsborough, product manager and senior account manager for Infor Voice, says businesses deploying voice-enabled systems often report productivity increases of 15% to 35%, and accuracy increases to levels approaching 99.99%. Training time is often reduced between 50% to 75%. Safety increases due to having workers' eyes and hands free. Multiple studies have shown Voice increases employee satisfaction and turnover goes down.
"Combining the benefits of increased productivity, accuracy gains, training time reduction, increased safety and lower turnover, a typical ROI for a voice solution is 6 to 9 months," Bilsborough says. "We are really pleased and proud to pair Honeywell's best-practice voice technology with Infor's WMS to help our warehouse customers optimize operational excellence."