United Arab Emirates -October 12, 2022, 12:15 AM
Future Enterprise Award presented to Infor based on its proven technology partnerships with customers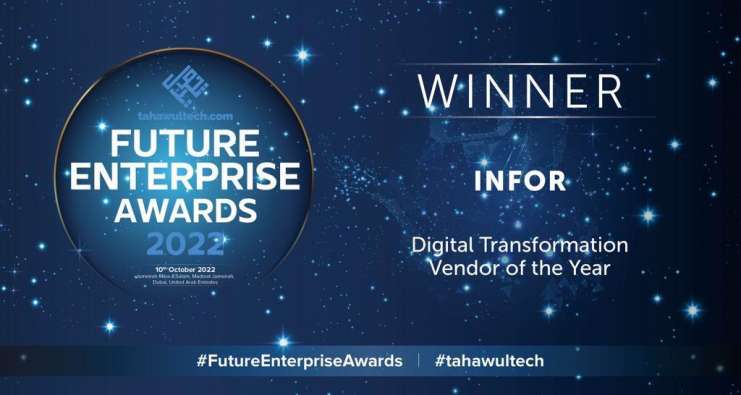 Infor has been named Digital Transformation Vendor of the Year at the Tahawultech.com Future Enterprise Awards 2022, based, in part, on its proven technology partnerships with customers. The award was presented during a ceremony hosted by the CPI Media Group at Jumeirah Mina A'Salam, Madinat Jumeirah, Dubai, on Oct 10, the first day of the GITEX Global conference.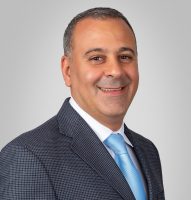 "Infor is deeply committed to helping its customers in the Middle East region prosper through the transformative power of our cloud solutions," said Salem Machaka , Infor VP of Consulting Services Middle East & Africa, who accepted the award on behalf of Infor. "We are delighted to receive this recognition of our sincere endeavors, affirmed by our customers' successes."
Infor's Middle East team consists of 150 employees with a regional headquarters in Dubai. Infor reaches its customers both directly and through a network of highly committed, skilled channel and alliance partners.
Infor has created experiences that people love by providing personalized service delivered by experts who understand their solution, their industry, and their business. To help ensure that each customer is successful using Infor software, the company strives to:
Build a holistic customer experience across all Infor Support disciplines
Make it faster and easier for customers to get answers and find solutions with automated tools and expanded engagement channels
Maximize knowledge sharing and inspire innovation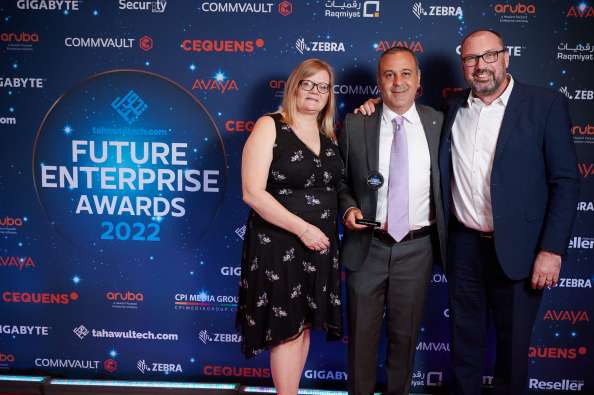 A few examples of companies Infor is helping transform in the region:
Al-Jazira Equipment Co. Ltd., (commercially known as AutoWorld), a pioneer in auto leasing has offices covering all major commercial and industrial cities throughout Saudi Arabia. It serves hundreds of customers and has more than 10,000 vehicles in its fleet. It provides and maintains vehicles for all types of organizations. AutoWorld has ambitious plans to grow its business across the country, by enlarging its current core operation and expanding into the fast-growing consumer rental sector.
AutoWorld selected Infor to help it transform. Infor CloudSuite Equipment and Infor People Solutions, supported by Infor Consulting Services and running on AWS, is now supporting AutoWorld's digital transformation project, SWITCH. AutoWorld is standardizing key business functions across its operations in Saudi Arabia with the aim of building a more effective workforce and delivering enhanced customer acquisition and retention.
Khaled Almoslih, IT and digital transformation manager at AutoWorld, said Infor cloud is a key enabler to digital transformation. "It enables us to simplify, standardize, and digitally transform our business practices. It also gives us a level of agility, efficiency and security allowing us to grow more and quickly adapt to changes in the market." Learn more.
Supertech Group, a diversified conglomerate based in Dubai, is digitally transforming with the help of Infor LN, enhancing its ability to meet growing demand for industrial products and discrete manufacturing across sectors. Supertech Group has transformed its sales, engineering, distribution, and after-sales support operations with Infor LN, a powerful, industry-focused, enterprise resource planning (ERP) application. The solution has enabled the company to increase visibility, reduce complexity and boost efficiency across its business. Supertech Group also transformed its human capital management (HCM), with bespoke HR solutions especially built into Infor LN. Learn more
Zahid Tractor, a Saudi Arabia-based company that supplies construction machinery and commercial vehicles, is using Infor enterprise resource planning (ERP) to streamline and gain visibility across all departments. The integration of Infor M3 for Equipment allows Zahid Tractor to continue to distinguish its customer-centric offering and commitment to excellence across the Kingdom of Saudi Arabia's construction, transportation and rental sectors. Learn more
Mooneh, Jordan's largest logistics hub and a third-party logistics storage and distribution provider operating on behalf of leading international pharmaceutical corporates, has deployed Infor WMS warehouse management system. In addition to establishing an efficient and effective warehouse operation, the solution is set to deliver full traceability of all inventory.
"The in-depth functionality of Infor WMS supports our warehouse operation from goods received to shipment," said Oday Abu Shehab, Mooneh executive director. "The system generates insights built on gathering, analyzing and synthesizing intelligence, thus, enabling us to utilize strategic alignment and response capacity." Learn more