Transforming Public Sector with Infor powered by AWS
eBooks
Transforming Public Sector with Infor powered by AWS
FifthQuadrant, alongside Infor and AWS, have identified four key areas where cloud technology can be used to address current public sector challenges:
Finance First––Improving the management of both costs and receipts, to support effective decision-making.
Customer First––Using technology to optimize operating processes and address the demands of customers and citizens through self-service portals.
Workforce Engagement––Aligning hybrid working patterns to meet organisational and customer demand; using artificial intelligence to profile customer demand versus employee availability and ensure timely service and issue resolution.
Digitalisation––Applying technology across all areas of the value chain to improve and/or automate critical aspects, reduce cost of service, improve service delivery, and enhance overall customer experience.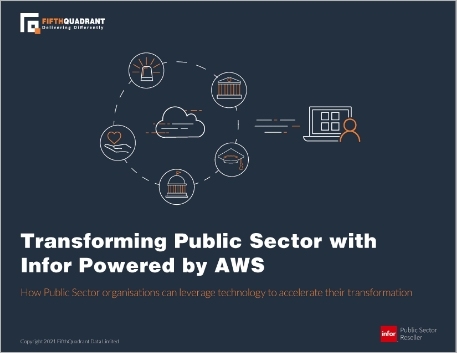 Let's Connect
Contact us and we'll have a Business Development Representative contact you within 24 business hours

By clicking "Submit" you agree that Infor will process your personal data provided in the above form for communicating with you as our potential or actual customer or a client as described in our Privacy Policy.