Global Human Resources (HR)
Create a global people connection with a shared source of workforce data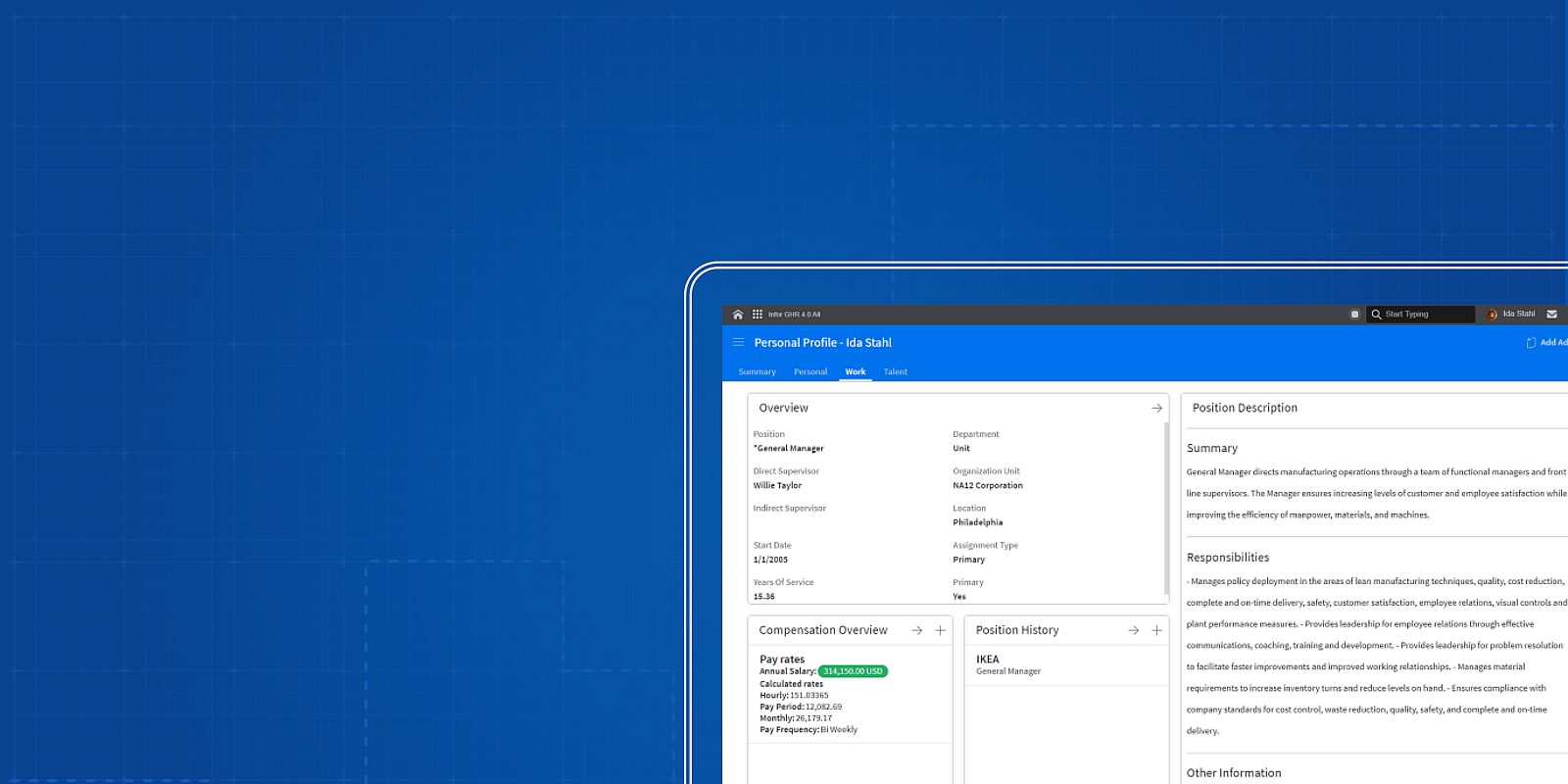 Provide administrative support beyond expected HR business functions
Capture global workforce information for employees and non-employees in a secure, single people record. Infor® Global Human Resources is a comprehensive suite of HCM software featuring HR-related business processes interconnected with multiple talent management disciplines. Experience an industry-specialised foundational single source of workforce information for all Infor People solutions.
Global Human Resources (HR) Resources
Customer video

News Bulletin
Key capabilities
Global enterprise foundation
Provide a single destination for information about an enterprise's global, diverse, and industry-focused business and people.
Single record for your people
Experience a secure, trusted data source for people information to enable fast, efficient processing of end-to-end HR business tasks.
HR application connectivity
Enable sharing and use of HR foundation and people data for processes and workflow across all Infor People solutions.
Workforce agility
Leverage real-time organisation and people insights to quickly respond and adapt to changing internal and external business challenges.
Global HR extended solutions
Extend Global HR's footprint with specialised HR functions: position budget management, occupational health, employee safety, employee relations, and transition management.
Leading-edge technology
Adapt to any organisation's needs with a cloud-based, mobile solution that delivers a sleek user experience powered by Infor OS and Landmark technology architectures.
Our team members have one place to go now for all systems and are completely mobile. The fact that most of our implementation is available via mobile—priceless.
Infor OS
Infor OS
A robust cloud operating platform for accelerating innovation throughout the enterprise ecosystem
Let's Connect
Contact us and we'll have a Business Development Representative contact you within 24 business hours

By clicking "Submit" you agree that Infor will process your personal data provided in the above form for communicating with you as our potential or actual customer or a client as described in our Privacy Policy.