Colombia-May 03, 2022, 02:30 PM
Italcol's goal is to lead the market in the region using Infor's leading technology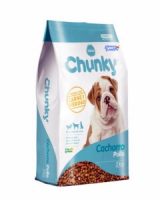 LATIN AMERICA – May 3, 2022 – Infor, the industry cloud company, today announced that Italcol, Colombian pet food manufacturer, has selected Infor CloudSuite™ WMS as its software to improve inventory control. The warehouse management system also will help increase service quality, enhance resources, process information in real time for better decision making, and improve productivity indicators. The sale and implementation are being conducted by Cerca Technology, Infor's channel partner specializing in improving supply chain processes.
"Cerca Technology was selected due to its experience and knowledge of logistic processes, fundamental to fulfill Italcol's goals in its distribution centers with Infor WMS," states Ricardo Alberto Corredor, Italcol IT corporate manager.
Italcol's aim is to lead the pet food market in the region—by achieving three main goals with the Infor WMS project:
Inventory accuracy, improving precision related to product reference and location, and obtaining exact product tracking,
Improve staff productivity, following good practices to reduce operational costs, with fewer errors, and maximize space in the warehouse enabling operational growth in e-commerce activities,
Increase customer satisfaction, with faster delivery times, increasing accuracy, offering more visibility in real time for customers, including kitting and product life cycle management.
"Italcol is looking to reach more maturity of its logistic operations with a world-class tool such as Infor WMS that optimizes processes, so it can face current challenges and support future business growth. For Cerca Technology, it is an honor to lead them in this transformation," states Paola Quiroga, Cerca Technology sales manager.
The Infor WMS implementation project will begin with the distribution center in Palmira, Valle del Cauca, Colombia, and will continue later at more of Italcol's DCs.
"Italcol demonstrates how specialist industrial and distribution companies in Latin America can leverage digital solutions to drive innovation, raise productivity, enable growth and exceed customers' expectations," said Adriana Gutierrez, Infor Latam channel director. "With Infor WMS, Italcol is positioned to optimize its performance, supply chains and workforce."
About Italcol
Italcol is a Colombian company specializing in manufacturing, distribution, sales and export of concentrated pet food. It has 20 plants in Colombia, Ecuador and Panamá that manufacture annually more than 2 million tons of food and about 500,000 tons of raw material. It has more than 1,800 distributors and 33,000 staff that are part of the success of the company´s growth. https://italcol.com/
About Cerca Technology
Cerca Technology is Infor´s channel partner with more than 25 years of experience implementing technology for supply chains in Latin America and the Caribbean. It is present in 15 countries and has five offices in Colombia, Chile, Venezuela, Panamá and the United States. Consulting experts have successfully implemented more than 220 projects and have more than 80 customers. https://www.cercatechnology.com/

# # #
Media contact
Claudia Vazquez
Infor
+54 11 4010 8079
Claudia.Vazquez@infor.com