United States-June 21, 2023, 09:00 AM
Infor recognized, for the second consecutive year, for the functionality and usability of its solutions

NEW YORK – June 21, 2023 – Infor®, the industry cloud company, today announced that Nucleus Research has positioned Infor as a leader in its June 2023 Enterprise ERP Technology Value Matrix – and its Small and Midsize Business (SMB) ERP Technology Value Matrix.

Infor was one of only two vendors to be positioned as a leader in both reports, for the second consecutive year. In the SMB ERP Value Matrix, Infor also was one of two vendors positioned furthest to the right in the leaders quadrant, making it one of the highest ranked for solution functionality.
Download a complimentary copy of the 2023 Nucleus Enterprise ERP Technology Value Matrix.
Download a complimentary copy of the 2023 Nucleus SMB ERP Technology Value Matrix.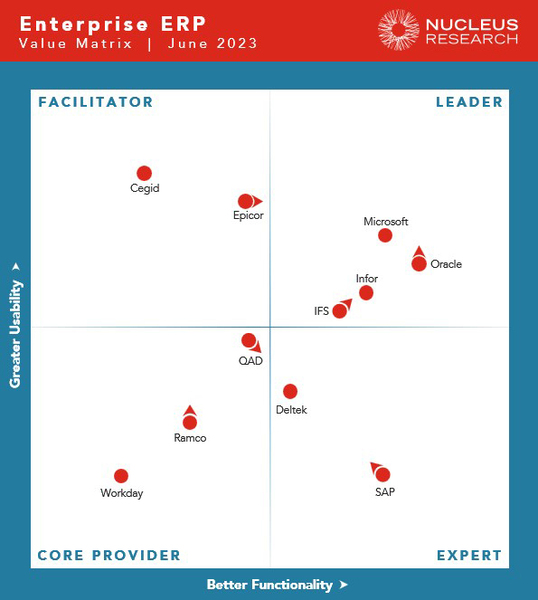 In its Enterprise ERP Value Matrix, Nucleus ranked ERP vendors with a proven track record of serving organizations with more than $500 million in annual revenue on the functionality and usability of their solutions, as described by their customers. In the SMB ERP Value Matrix, it used the same criteria to rank ERP vendors serving organizations between $10 million to $500 million in annual revenue.

"Infor's ERP solutions, which are built on AWS infrastructure services and the Infor OS cloud platform, provide cloud, hybrid, and on-premises deployment options," Nucleus states in the Enterprise ERP report. "Infor serves both large enterprises and small and mid-sized businesses. Infor is a strong competitor in the ERP market due to its combination of flexibility and industry-specific ERP functionality."

Soma Somasundaram, Infor chief technology officer & president of products, said, "We are honored to be positioned by Nucleus, for the second consecutive year, as a leader in both its Enterprise and SMB ERP reports, as this demonstrates the value we deliver to organizations of all sizes. Our CloudSuites are powered by three distinct ERP hubs, which specifically are designed to support businesses in the discrete manufacturing, process manufacturing and services industries, respectively. This unique approach enables customers to take advantage of industry best practices, straight out of the box, which shortens their time to value and helps them avoid costly customizations."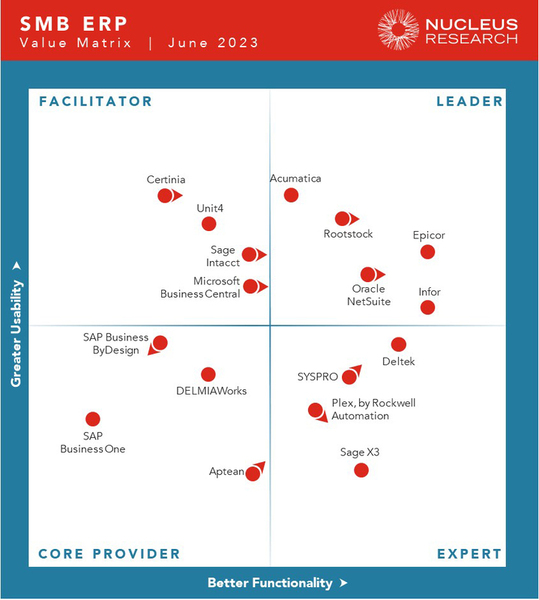 In its 2023 Enterprise and SMB ERP Value Matrix reports, Nucleus cited several product/technology innovations, partnerships and business expansions that Infor announced during the past year:

• Achieved the AWS Manufacturing and Industrial Competency designation for Infor CloudSuite Industrial and other SaaS solutions. This designation recognizes Infor for its expertise in providing customers with software solutions and professional services for an end-to-end industrial manufacturing software toolchain.

• Introduced an Augmented Intelligence Service, which makes AI/ML accessible to organizations of any size with prepackaged, industry-specific AI/ML uses cases that deliver prescriptive business outcomes in 90 days. The company combines the Infor OS platform that covers integration, automation, extensibility, data management and insights with proven AI/ML models for anomaly detection, asset intelligence, product/pricing recommendations, demand forecasting and people intelligence with dedicated data science support services.

• Partnered with Foresight Retail, a leader in delivering merchandise and assortment planning, to help fashion brands and retailers improve inventory management and better balance supply to demand and, thereby, avoid stock-outs, markdowns, obsolete inventory and potentially landfill.

• Announced the expansion of its India operations with the opening of a new development center in Hitech City, Hyderabad. The 350,000-square-foot development center has capacity for 3,500 employees. Infor's India development center is among the company's two largest locations in the world, with more than 3,700 employees in the country. This expansion aims to harness India's diverse talent pool to pioneer digital technologies such as cloud, mobility, data analytics, AI, and IoT, driving innovation through engineering, operations, and R&D teams focused on industry-specific features and functions.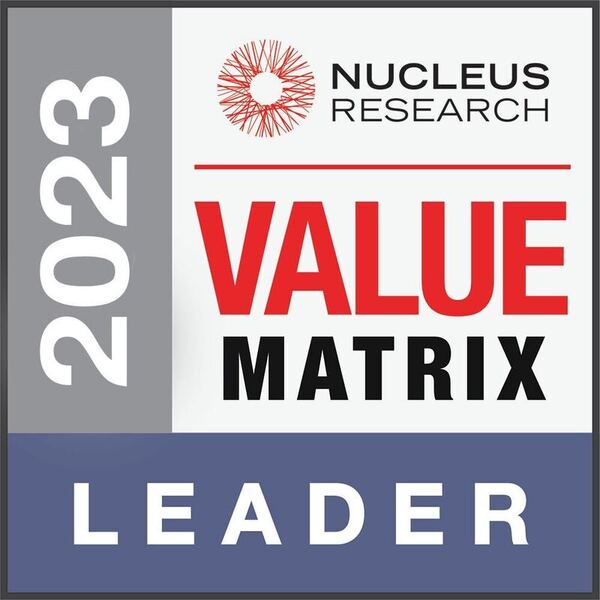 # # #

Media contact:
Steve Bauer
Infor
(650) 670-7135
steven.bauer@infor.com