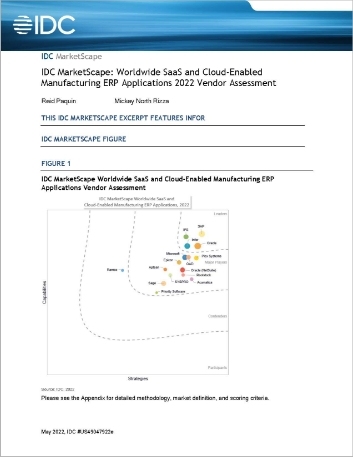 Analyst Report
Infor named a "Leader" in IDC MarketScape for Cloud-Enabled Manufacturing ERPs
Overview
IDC has positioned Infor as a Leader in its 2022 IDC MarketScape for Worldwide SaaS and Cloud-Enabled Manufacturing ERP Applications.
IDC surveyed customers in both discrete and process manufacturing industries who called out Infor's strengths in industry expertise, innovation, and implementation experience. Multiple customers noted that Infor has "exceeded their expectations" in helping customers achieve "tangible manufacturing outcomes through the use of new technology (AI/ML, IoT, etc.)."
Soma Somasundaram, Infor Chief Technology Officer and President of Products, said, "We believe this recognition from the IDC MarketScape reinforces that Infor is delivering to our customers smart, preconfigured and modern cloud solutions that enable them to keep pace with industry challenges and better compete and innovate. Our solutions are designed to address customers' industry-specific needs, out-of-the box, simplify the deployment process, provide an intuitive user experience and, ultimately, help them achieve business results faster."
Download the report to learn more.
Please complete the form below
Fields with * are required.
By clicking "Submit" you agree that Infor will process your personal data provided in the above form for communicating with you as our potential or actual customer or a client as described in our Privacy Policy.
This site is protected by reCAPTCHA and the Google Privacy Policy and Terms of Service apply.