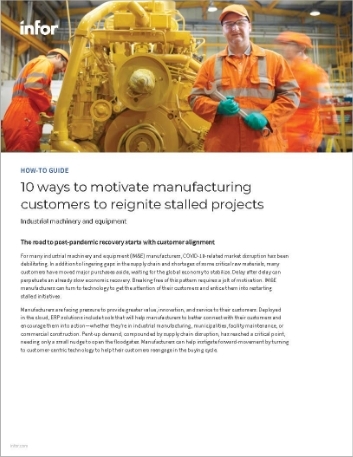 eBook
10 ways to motivate manufacturing customers to reignite stalled projects
Overview
For many industrial machinery and equipment (IM&E) manufacturers, COVID-19-related market disruption has been debilitating. In addition to lingering gaps in the supply chain and shortages of some critical raw materials, many customers have moved major purchases aside, waiting for the global economy to stabilize. Delay after delay can perpetuate an already slow economic recovery. Breaking free of this pattern requires a jolt of motivation.
Read this guide to learn ten steps IM&E manufacturers can take to get the attention of their customers and entice them into restarting stalled initiatives.
Please complete the form below
Fields with * are required.
By clicking "Submit" you agree that Infor will process your personal data provided in the above form for communicating with you as our potential or actual customer or a client as described in our Privacy Policy.
This site is protected by reCAPTCHA and the Google Privacy Policy and Terms of Service apply.