Infor Talent Science®
Building an ideal workforce with Predictive Talent Analytics®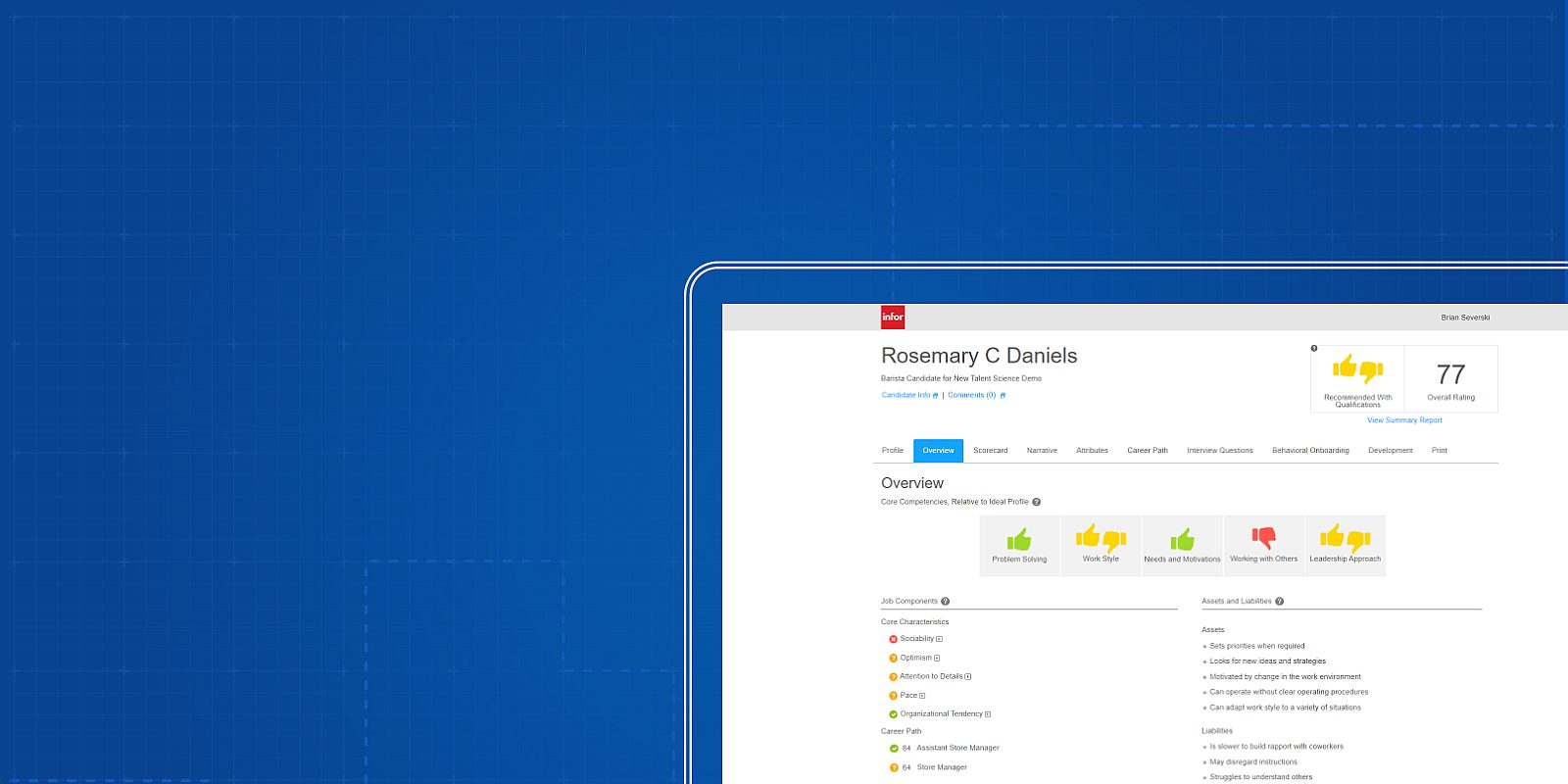 Your organization's Behavioral DNA®
Put the right talent in the right roles with Talent Science, a patented, cloud-based predictive talent analytics solution. By leveraging large quantities of behavioral and performance data, Talent Science helps organizations build diverse teams and personalized career pathing strategies.
Increase productivity, creativity, and long-term engagement—all from a singular behavioral assessment. With insights that can be customized into predictive models, Talent Science makes it more efficient to select, retain, and develop the right talent across the entire employee life cycle and over time.
Infor Talent Science® Resources
BEST PRACTICE GUIDES

EXECUTIVE BRIEFS

See the software

Join us today
Unlock opportunities for today's enterprise
Create distinctive talent algorithms to fit your organization
Uncover what makes your top performers different from everyone else, leverage patented and proven technology to measure person-to-role fit, and drive the right KPIs for your business
Match talent to the right role
Expand talent pools, support succession planning, and deliver intelligence into talent mobility—all using a single assessment solution to instantly understand best fit across many positions
Get more out of assessments
Discover a person's Behavioral DNA from a single assessment and support the talent life cycle with tools for hiring, onboarding, development, and career planning
Drive team alignment and productivity
Use Infor Team Dynamics to bring self-awareness to teams, uncover opportunities for collaboration, and provide managers and teams with actionable insight to improve teamwork
Support diversity and inclusion
Drive workforce diversity with better science to remove bias and uncover hidden talent
Improve legal defensibility
Responsibly leverage data and analytics built on a platform committed to data privacy, security, compliance, and digital accessibility
Harness advanced talent analytics
Fuel informed business decisions with aggregated talent data and benchmarking
Attain measurable ROI
Proactively measure how Talent Science is impacting your KPIs and evolve your talent algorithms over time
Enhance user experiences with quality integrations
Effortlessly utilize dozens of standard integrations available with top applicant tracking systems
Customer success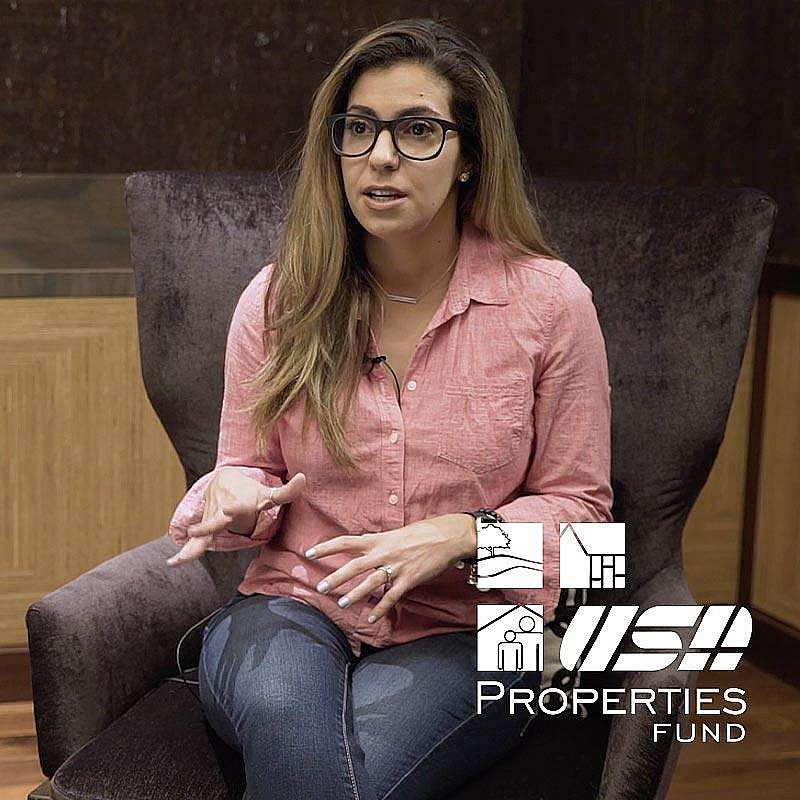 Customer success
USA Properties Fund partnered with Infor Talent Science to incorporate a seamless talent screening assessment to their high-volume hiring process, offering candidates a better experience and retaining employees longer.
Assessment experience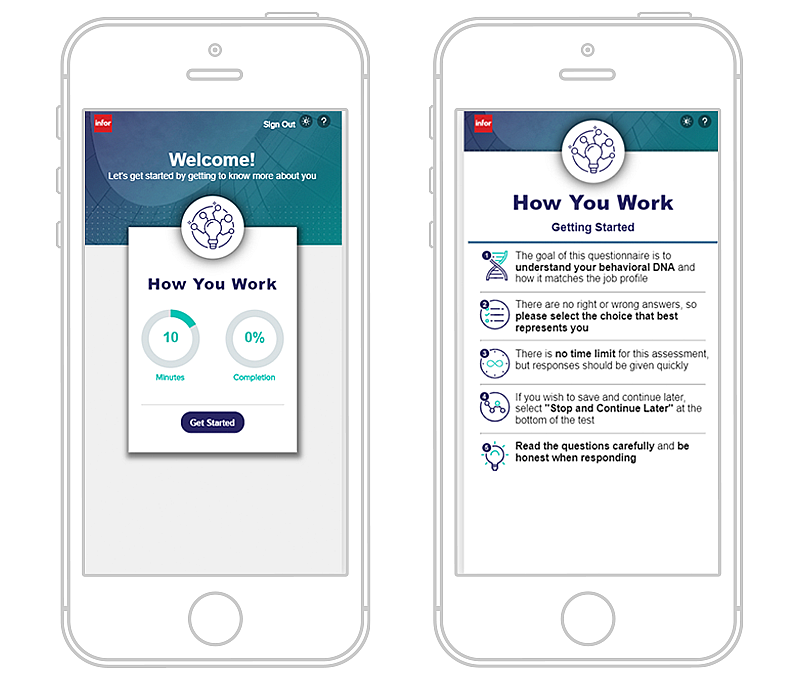 Assessment experience
96% positive experience for candidates and employees
Highly configurable branded experiences
Personalized feedback reports instantly available
96% assessment completion rate
Digital accessibility for all users
Try the assessment for yourself and instantly receive a copy of your own feedback report.
Hiring experience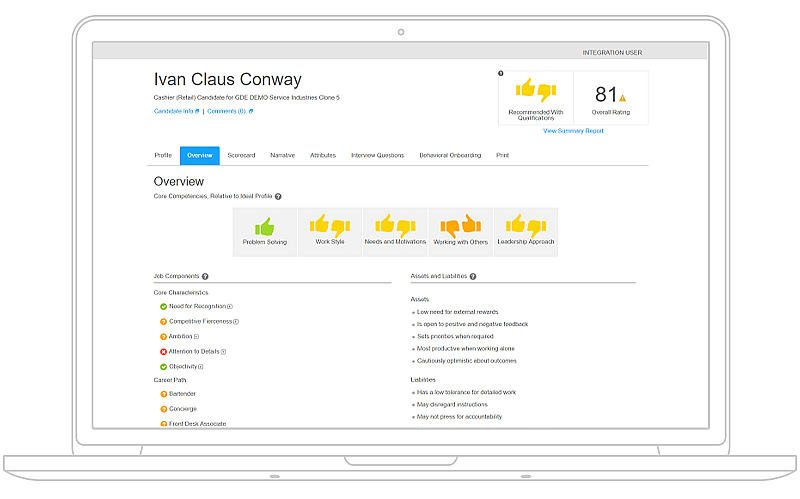 Hiring experience
Make the process easier for your hiring and talent teams
Take advantage of deep and easy-to-understand insights for managers, recruiters, and interviewers
Easily and efficiently put the right person in the right role so your teams can hit peak productivity
Create a better interview with personalized guides designed to help interviewers remain focused regardless of experience
Groom top talent with guided coaching and development sessions for an employee's current role or next role in a career path
Employee experience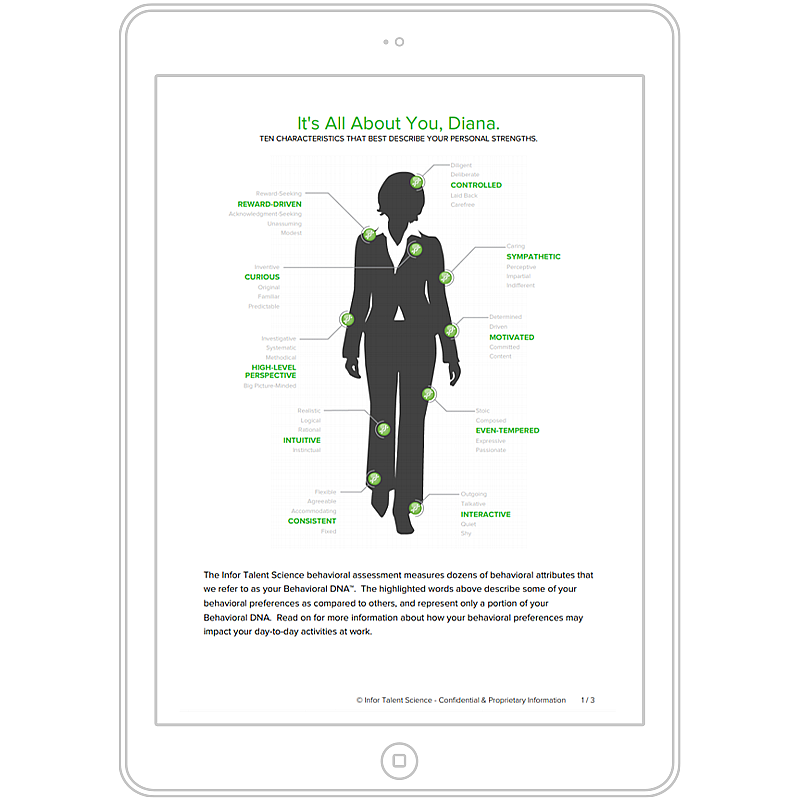 Employee experience
Provide assessments to employees
Democratize information and deliver insights directly to your people so they can discover their potential and be ready to take on the job
Automated feedback reports designed to bring self-awareness to unique behavioral strengths and traits
Onboarding tools to help newly hired or promoted employees understand how they can better take on new tasks, work with their manager, and more
Prepare high potential talent for leadership roles
Team Dynamics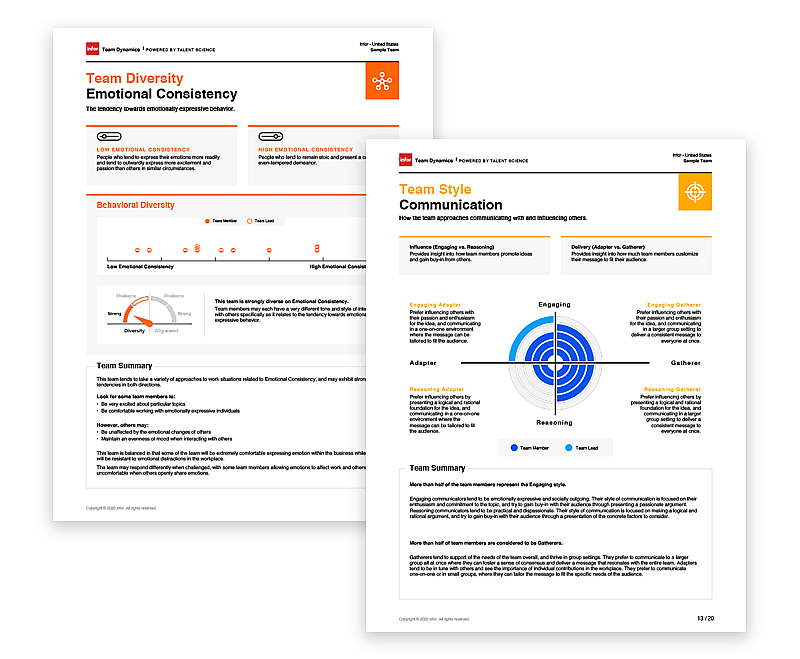 Team Dynamics
Use team assessments to break through the barriers of effective team communication and collaboration
Optimize team performance with effective communication and collaboration
In-depth analysis of the behavioral characteristics driving a team
Develop strategies to promote team productivity and collaboration
Empower leaders and plan for success using data-driven insights into team functions and team interactions
Better integrate established and newly forming work groups
Proven predictive insights for your workforce
46%
higher sales in global retailer
27%
increase in diversity
31%
lower safety incident rate
32%
lower employee turnover in nursing
66%
less time spent interviewing at nationwide US service restaurant company
44%
lower employee turnover for employee coached using talent science tools
32%
US working population assessed
10M
assessment reports generated annually
Leading the healthcare workforce with data science
Infor OS
Infor OS
A robust cloud operating platform for accelerating innovation throughout the enterprise ecosystem
Let's Connect
Contact us and we'll have a Business Development Representative contact you within 24 business hours
By clicking "Submit" you agree that Infor will process your personal data provided in the above form for communicating with you as our potential or actual customer or a client as described in our Privacy Policy.