Bridge the gap between hotel and casino with a modern PMS
eBooks
Bridge the gap between hotel and casino with a modern PMS
Creating seamless and memorable experiences for guests and top players is a key goal for hotels and casinos. What's involved behind the scenes in achieving that goal? One vital element is the hotel property management system (PMS) that helps operators track player activities and histories in order for staff to deliver the best possible guest experience. But sometimes discontinuity between systems can keep this goal from being a reality, for guests and for operators alike. So, what should hotel and casino organizations look for in a robust, advanced PMS that serves both the casino floor and the front desk and other important revenue centers in between? This eBook helps to outline the challenges of bridging those gaps, and what it takes to create cohesion between gaming and lodging that keeps players coming back again and again.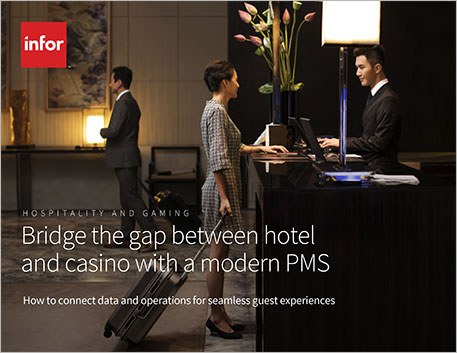 Fyll i följande formulär
Fält med * är obligatoriska.