United States-April 12, 2023, 10:00 AM
Partnership aims to offer last-mile solution for fashion brands



NEW YORK – April 12, 2023 – Infor®, the industry cloud company, today announced that it has developed a partnership with Foresight Retail, a leader in delivering merchandise and assortment planning to help fashion brands and retailers improve inventory management and better balance supply to demand, and thereby avoid stock outs, markdowns, obsolete inventory and potentially landfill.

"We are delighted to partner with Infor," said Gary Lalli, Foresight Retail SVP global sales. "Working with the team at Infor enables us to offer a solution that supports the needs of fashion businesses, and our combined knowledge and experience will mean that we can provide fashion brands and private brand retailers with not only a quality solution, but also a team that can deliver real business insight and support."

A fashion brand needs to
1) Set seasonal targets and budgets based on last season's performance.
2) Create an overall line plan to give guidance to product development of new collections.
3) Plan estimated demand by sales channel, including initial allocation to stores.
4) Propose a suitable buy plan to make sure supply aligns with demand.
5) Monitor in-season progress to propose accurate replenishment of stores.

The pain point for fashion brands is that this process is often managed outside the ERP system, in Excel for example, making it prone to error and time consuming to manage. The major risk is that the overall planning mechanism is not accurate, leading to inventory excess or shortages.

Together, Infor and Foresight Retail can provide a more robust fashion offering, with support on merchandise and assortment planning that includes financial planning, range planning for different sales channels, forecasting, inventory allocation and replenishment. Foresight Retail's modern solution offers preconfigured accelerators to cover standard planning needs and help speed deployment — with a possibility to fine tune as needed to suit unique needs.

"We are excited to partner with Foresight Retail to offer merchandise and assortment planning for our fashion and retail customers," said Helene Behrenfeldt, Infor director of fashion strategy. "Planning sits at the heart of fashion companies. It has a big impact as more accurate planning will better help designing the right collection and having the right level of inventory to serve market needs while avoiding markdowns and obsolete inventory."

Learn more about Infor CloudSuite Fashion.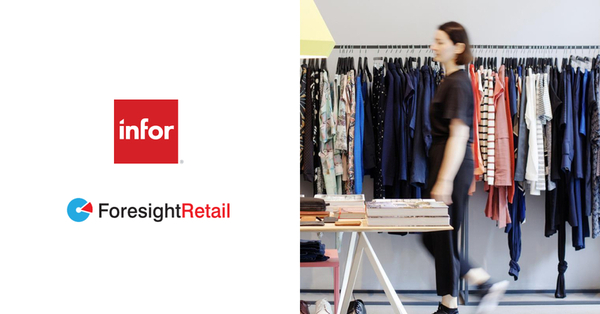 About Foresight Retail
Foresight Retail is the most innovative leader in delivering merchandise planning, assortment & allocations/replenishment software. Powerful, yet simple. Foresight Retail's solutions use key principles of planning, leveraging the latest approaches and technologies. With offices in North America, the United Kingdom, and Australia, Foresight Retail utilizes its global team with more than three decades of experience across numerous solution providers, delivering planning solutions to brands, retailers (both in-store and online) and wholesalers. Foresight Retail has delivered many successful implementations globally. Foresight Retail's vision is to design and build solutions that drive innovation in changing the planning solution landscape, while maintaining its key principles of professionalism, openness and high customer satisfaction. Visit foresightretail.com.

# # #

Media contact
Alexandria Truby
Infor
Alexandria.truby@infor.com
812.241.3515