Mitigate risk, and rebuild a safe, compliant workplace
eBooks
Mitigate risk, and rebuild a safe, compliant workplace
Whilst most industries have successfully transitioned to new ways of working, the world awaits a much-anticipated return to 'normal'. For businesses, reopening is not as simple as it once was, facilities management now means meeting heightened government requirements for cleaning, hazard and contamination management, and ultimately, ensuring the safety and wellbeing of employees and customers. The 2020 global pandemic is redefining what it means to be "safe and clean." Successful enterprises are working to stay ahead of the curve, embracing a new level of asset management to not only address official guidelines, but to minimise risk to employees and customers, strengthen organisational resilience and optimise analysis and reporting. This five-step guide helps you to understand how to rebuild a safe, productive, and compliant workplace.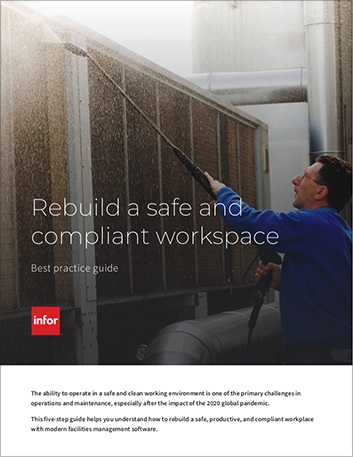 Please complete the form below
Fields with * are required.
Let's Connect
Contact us and we'll have a Business Development Representative contact you within 24 business hours