1,500+ global banks, insurance firms, and financial services organizations trust Infor enterprise software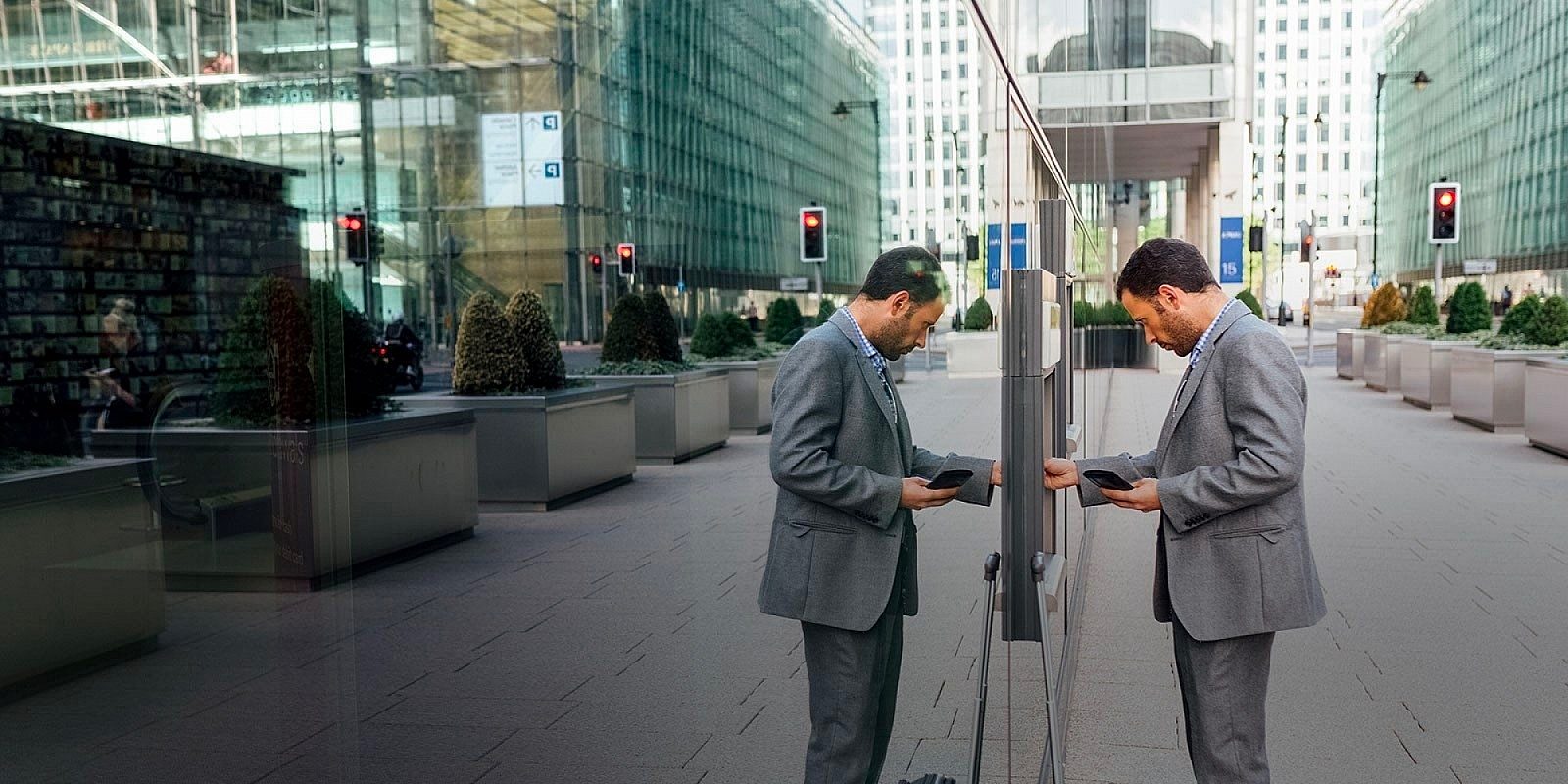 Prepare for instant payments in cash and treasury
Manulife sees significant ROI with Infor Financials
Banking and Financial services
Infor helps power financial services, banking, insurance, and capital markets institutions that are more informed, proactive, and competitive than ever before—and ready to address their most pressing challenges. Here are just some of the obstacles we partner with customers to overcome.
Business insights
Both real-time decision and evaluation of growth strategies are difficult and complex
Operational inefficiencies
Financial, workplace and operational processes are interconnected, but are processed in different systems
Customer loyalty
New customer expectations challenge traditional approaches to brand excellence, customer engagement and loyalty
Talent management
Identifying, training and managing the workforce is difficult and often left to individual branch or manager discretion
Security and compliance
Security breaches and associated compliance concerns put enormous pressure on legacy technology solutions and IT departments
Micro-vertical expertise delivers business value faster
Retail & Commercial Banking

Insurance

Capital Markets

Credit Services

Investment Management
Solutions for your most critical challenges
Solutions for your most critical challenges
CloudSuite Corporate is the leading suite of ERP and related applications, integrated and delivered in a multi-tenant cloud.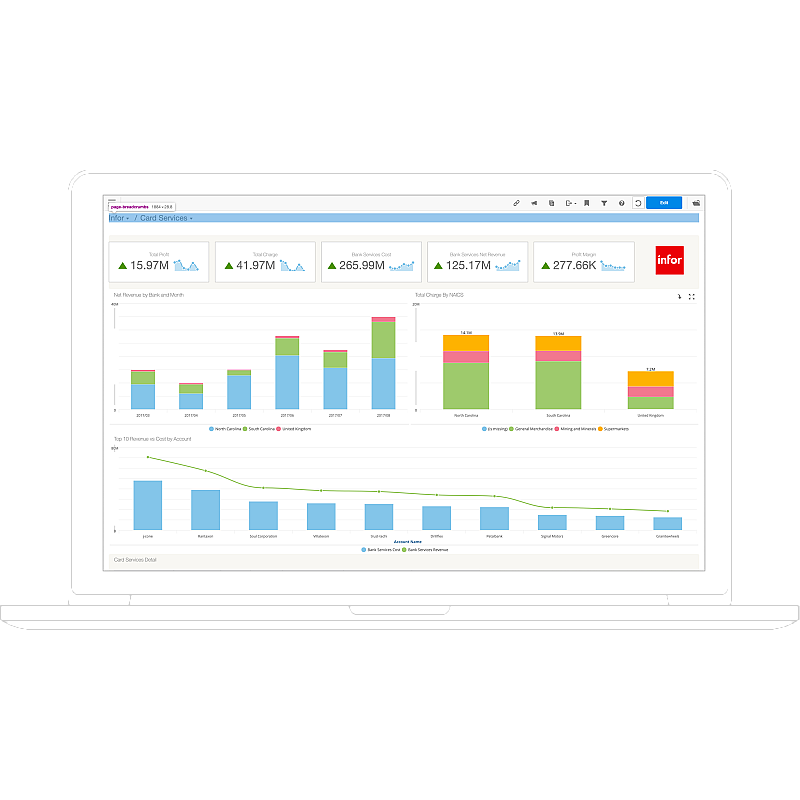 Connect teams and applications for smarter decisions
Deliver enterprise banking intelligence and a networked analytics platform.
Embedded in-context analytics at the point of decision
Personalized self-service with smart AI-generated insights
Patented automated data refinement from any data source
Meet business objectives based on key service-line metrics
Maximize efficiency and margins, while identifying and minimizing cost and risk
Unify systems with a platform designed to power your enterprise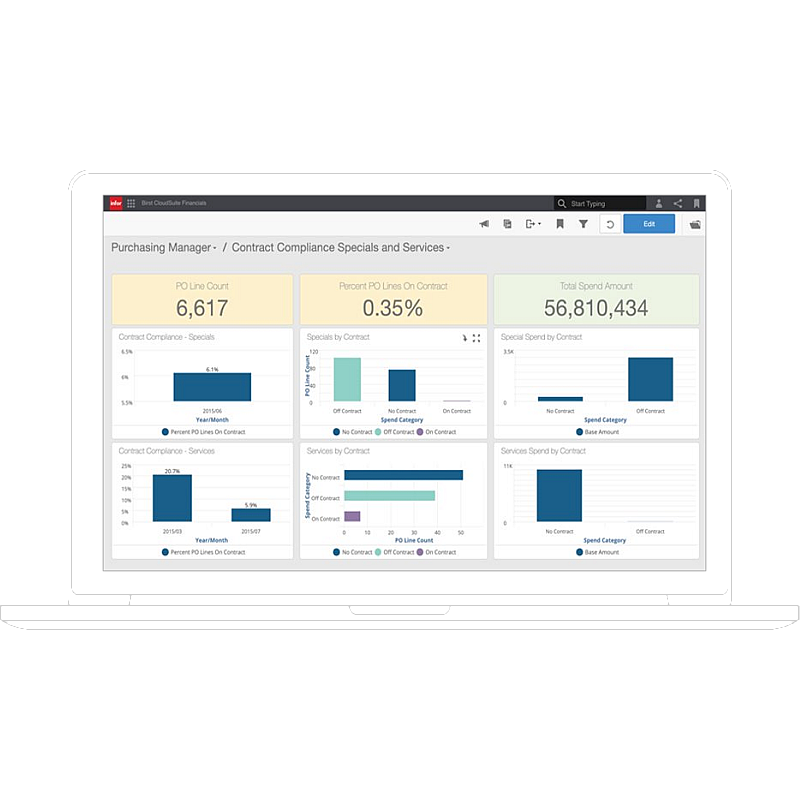 Unify systems with a platform designed to power your enterprise
Accelerate productivity with mobile-first design, open source compatibility, and robust integration.
Drive spending and cost reduction with comprehensive source-to-settle solution
Increase productivity with continuous accounting with AI and automation
Expanded ledger dimensionality improves insights and reporting
100% visibility into cash positions with real real-time intraday liquidity monitoring, real-time payments processing across your banking relationships
Enrich the customer experience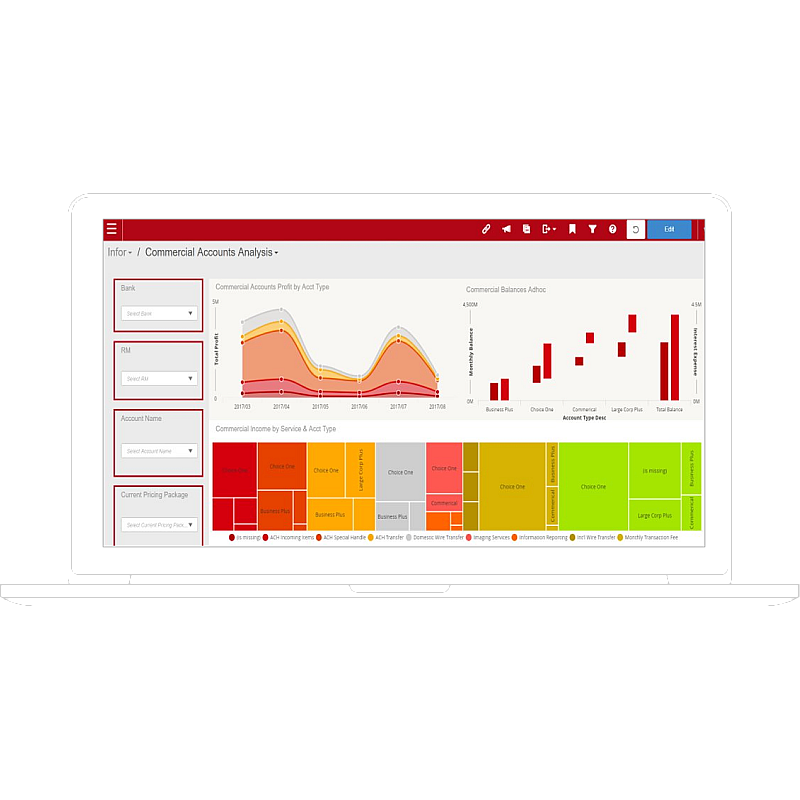 Enrich the customer experience
Manage and improve customer interactions across all channels with financial services customer engagement software tools.
Coordinate sales efforts throughout the customer lifecycle
Predictive models form next best action for future decisions
Closed-loop analysis enables self-learning system to retain all information for future use
Select, retain, and develop the right talent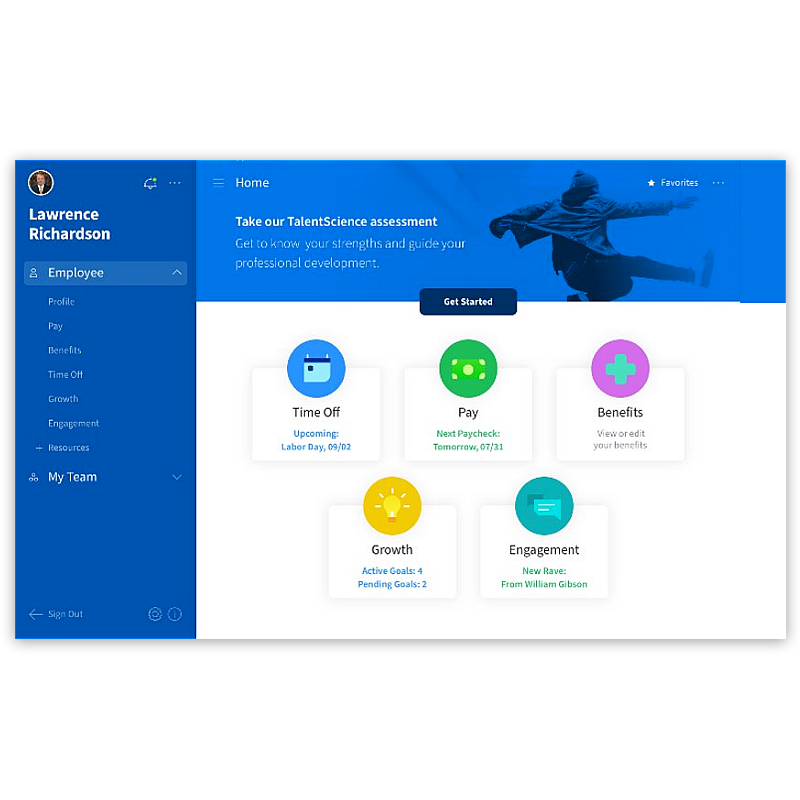 Select, retain, and develop the right talent
Keep critical talent engaged and motivated using behavioral science-infused applications.
Automate resume screening and prioritize candidates
Eliminate candidate cultural bias evaluation
Leverage role-specific predictive models
Develop employees through personalized plans, behavioral data insight, and performance management
Leverage interactive career planning and retention
Promote continuous learning with on-demand learning content
Productivity by the numbers
18%
REDUCTION IN RECRUITMENT COSTS
33%
improvement in reporting & analytics
100%
visibility into cash & liquidity
BUILT FOR INDUSTRY
Banking and financial services solutions
Infor CloudSuite™ Corporate
CloudSuite Corporate powers all your financial, supply management, human capital management, and enterprise performance management needs. Role-based, data driven, consumer-inspired, and mobile enabled, you can grow your business and work the way you live.
HIGHLIGHTS
Unlimited ledgers and basis reporting
Establish a single close process across the entire organization
Real-time visibility into customer payments and approval processes
Get complete, end-to-end project accounting for capital projects, cost, and revenue activities and efficiently manage day-to-day grant transactions
Access it anywhere, anytime using any number of mobile devices
PRODUCTS INCLUDED
Infor Financials & Supply Management
HCM
Payroll
Infor OS
Infor Birst
Infor Financials & Supply Management
Infor Financials & Supply Management is an integrated finance and supply management software solution suite that couples modern financial functionality with tools to track supplies and streamline order processes. End-to-end, fully integrated capabilities are designed specifically for today's users.
HIGHLIGHTS
Personalized home pages
Beautiful and intuitive role-based user interface
Unlimited financial calendars
Unlimited ledgers and basis reporting
Unlimited dimension strings
Full visibility of indirect spend
Strengthened supplier relationships
Increased policy compliance
Multiple cost savings opportunities
Powered by data science
Embedded analytics directly in users' work streams
PRODUCTS INCLUDED
Infor Financials & Supply Management
Infor OS
Infor HCM
Infor HCM is a leading-edge, end-to-end talent-focused solution that helps organizations strategically align people initiatives and talent capabilities to overall business strategies.
HIGHLIGHTS
Get all the human capital management functionality you need in one complete solution, with the broad capabilities from a single cloud HR vendor.
Utilize a consumer-grade, personalized, role-based user interface with prebuilt, interoperable components across your HR organizational structures-world-wide.
Use relevant and timely data, based on behavior science and analytics to engage employees and reach their greatest potential.
Apply modern HR cloud technology to give you complete employees visibility; optimally hire, develop and retain the right talent.
Boost employee performance, improve workforce effectiveness, and maintain control over your company's talent strategy and HCM technology with a flexible, secure, and cost-effective cloud infrastructure.
PRODUCTS INCLUDED
HCM
Talent Management
Global HR
Talent Science
LMS
HRSD
Infor Workforce Management
Optimize every aspect of labor management and productivity with Infor® Workforce Management. Strategically enhance workforce planning, execution, and analysis with an engaging, industry-specific, enterprise workforce management software solution built on a proven technology platform that delivers time and attendance, demand-driven scheduling, workforce scheduling, and absence management tools.
HIGHLIGHTS
Enable your people to access workforce data anywhere, anytime
Track employee time and get the right data to payroll—every time
Leverage vertically specialized shift- or demand-driven scheduling tools
Take advantage of intuitive, industry specialized software for budgeting, planning, and forecasting labor demand
Infor Talent Science
Put the right talent in the right roles with Talent Science, a patented, cloud-based predictive talent analytics solution. By leveraging large quantities of behavioral and performance data, Talent Science helps organizations build diverse teams and personalized career pathing strategies.
HIGHLIGHTS
Create distinctive talent algorithms to fit your organization
Expand talent pools, support succession planning, and deliver intelligence into talent mobility
Discover a person's Behavioral DNA from a single assessment
Use Infor Team Dynamics to bring self-awareness to teams
Drive workforce diversity with better science to remove bias and uncover hidden talent
Complete Billing System
With Infor Complete Billing System, banks like yours can transform enterprise revenue management and billing into a powerful system for increasing revenue, controlling risk, forecasting demand, and reducing costs. Implementing these pricing and billing systems can help position you for future growth and stability.
HIGHLIGHTS
Powerful and scalable platform
Deal forecasting and modeling
On-demand billing summary
Support for workflow review and approvals
Multi-currency support
VAT/GST compliant
Realiti Liquidity Management
Realiti® is the only liquidity management software on the market with the proven ability to manage intraday cash and liquidity in real time. Realiti's suite of insight and analytics modules combine a deep knowledge of the financial industry, intraday experts, and an innovative regulatory compliance management system in one modern software solution.
HIGHLIGHTS
Business configuration and drill-down
Approvals workflow
Industry standard message formats, such as SWIFT
Grid views and graphical insight
Regulatory reporting including BCBS248
Security and alerts
Export charts, summarized data, and detailed transactions
Interaction Advisor
As demand for personalized, multi-channel marketing experiences increases, you have to find new ways to reach customers in such a crowded digital marketplace. Interaction Advisor can deliver real-time, targeted content that has the greatest statistical chance of appealing to the recipient. By optimizing the experience to intuitively deliver the information and offers that will interest these users the most, you can increase conversion rates.
Highlights
Predictive analytics and self-learning offer management engine
Real-time campaign updates
Maximum enterprise scalability
Closed-loop response tracking
Personalized interactions
Infor Birst
Infor industry analytics deliver relevant and meaningful insights for everybody from the boardroom to the shop floor. Infor Birst® makes business intelligence and analytics easy to consume with pre-built industry and role-specific content and metrics embedded wherever business users need information. Improve decision-making with Birst.
HIGHLIGHTS
Best in class pre-built industry content
C-suite dashboards for prescriptive analysis
Intelligent drill-back with in-context insights
Open ecosystem for democratized analytics
Enterprise-wide solution for integrated data
Let's Connect
Contact us and we'll have a Business Development Representative contact you within 24 business hours
By clicking "Submit" you agree that Infor will process your personal data provided in the above form for communicating with you as our potential or actual customer or a client as described in our Privacy Policy.