October 12, 2023By Soma Somasundaram, Infor President & CTO
The latest Infor product enhancements deliver enhanced completeness, more insights, and increased productivity.
Our world has changed exponentially in recent years—and so has the way we all do business. As an organization that provides end-to-end solutions to multiple industries, from healthcare to manufacturing, our teams witness the ever-evolving demands Infor customers must meet daily. Today, we are proud to share the fall release of our updated CloudSuite solutions and the new ways our innovation will help customers across industries achieve more at a faster rate.
Three key principles drive every innovation at Infor as we strive to enhance our customer experience—and all are reflected in this latest product release. Let me take a moment to break down each piece.
Complete, Industry-Specific Solutions
Infor was founded on the belief that industry specificity matters. Anticipating patient needs and streamlining care delivery is not the same exercise as predicting and preparing for emerging fashion trends.
Customer operations require last-mile functionality that allows them to seamlessly perform the unique functions they need to without resorting to workarounds or costly software modifications. With this update, our commitment to industry completeness remains steadfast. We don't simply add buttons onto interfaces or tack standalone capabilities onto offerings—we reach beyond the boundaries of Infor software to create integrated solutions and gather specific information that make our customers' day-to-day lives as simple and streamlined as possible.
For example, we know that many of our customers regularly use Shopify, so we created a Shopify integration that allows our solutions to work seamlessly with the Shopify platform. To us, it doesn't matter so much where Infor ends and another software begins. It matters that we are combining Infor's innovation with industry innovation to meet our customers' needs.
Our industry specificity doesn't stop with function features like these, either. This update also includes data-driven insights and industry KPIs to help each customer tangibly improve their business. This way, hospital executives can confirm the success of their nursing retention programs by watching their attrition rates drop below the industry average. Similarly, distribution leaders can easily access current pricing trends, enabling them to identify opportunities for cross-selling and upselling in real time.
Infor is investing in and expanding our global footprint to ensure that wherever our customers operate, we have the localized knowledge to support their endeavors. For example, food and beverage suppliers must meet different label requirements when stocking grocery stores in various locations, while fashion and retail businesses need to remain mindful of sustainability regulations that vary worldwide. This launch gives customers the information they need to maintain global operations holistically without employing regional workarounds or incurring local fines along the way.
A Digitally-Enabled Open Platform
We believe two key ingredients are vital to any business's transformation: a rich API library and easy access to relevant data. With both of these components, our latest product launch makes it simpler for customers to speed up operations and consolidate disparate processes into a single workflow.
With Infor's extensive API library, customers can access industry services beyond the experiences we deliver. This access and visibility opens the door to innovative possibilities. It also enables new revenue streams that exceed what our function features can directly provide, prioritizing end-to-end transformation and streamlined user experience above all else.
For years, Infor has collected terabytes of data from the industries we serve in a giant repository we call our data lake. With our latest product release, we have taken the value customers can glean from this information a step further by applying industry-specific data models with end-to-end visibility. These models allow our customers to keep up with the fast-paced nature of the modern business world, center activity around the metrics that matter most to their business, and quickly access up-to-date, accurate, and easy-to-use data.
Together, the Infor API library and industry-specific data models create a digital backbone for our customer's organizations, allowing for cross-operation visibility and powering change with high-impact data.
Hyperproductivity, Unlocked
What is hyperproductivity? To us, it's the ability to achieve faster operations with greater precision. When it comes to tedious tasks, we believe that the best user experience is no experience at all. With the latest in Infor robotic process automation (RPA) capabilities, time-consuming manual activities like expense report reviews and vendor compliance checks are fully automated, with little to no human involvement necessary from start to finish. This drastically decreases the room for error within these processes and expedites them exponentially to avoid impacting the efficiency and quality of other operations.
Even when a task cannot be fully automated, we strive to simplify necessary user action wherever possible. For this, we harness the power of AI/ML to create recommendations that help with better decision-making. We observe customers' usage patterns and optimize user experience by reducing clicks, screens, and tabs to allow users to spend less time with the system and more time in their respective roles in the organization. For example, nurses should spend more time caring for patients than staring at a computer screen, completing steps in a system. These changes enable customers and their staff to focus on the core functions they were hired for and give organizations at large more room to grow.
Discover What's Possible
I couldn't be more excited about this fall release and the significant difference it will make for your business.
We pride ourselves on deeply understanding and anticipating the headwinds your industry is up against, and this release is just one example of us pushing the envelope to ensure that our solutions help solve these challenges innately.
Navigating an ever-changing world and driving innovation in your business can feel like a constant struggle, but with Infor's partnership and focus on industry specificity—it's automatic.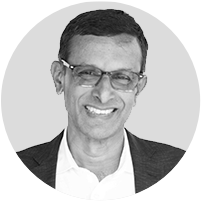 Soma Somasundaram
Infor President & CTO